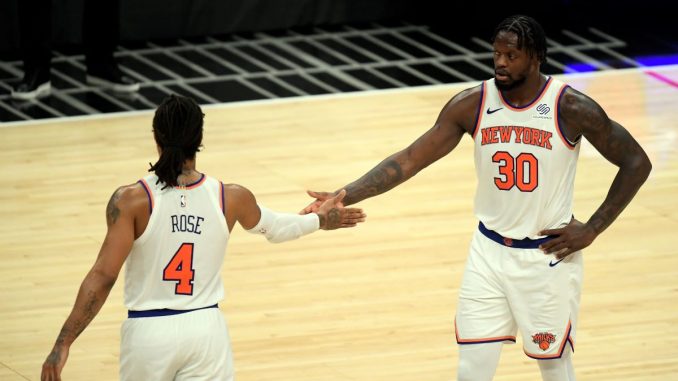 By Johan Abdu
   The New York Knicks may have lost against the Raptors on Monday, Nov. 1, but they have a lot to look forward to in the East. The Knicks are second in points scored this season, holding a 5-2 record. They were just about to win their first three matches of the season for the first time since 2012, before losing to Orlando Magic 104-110 at home. 
   Nevertheless, they started strong with an away win on Oct. 20, narrowly beating the Boston Celtics 138-134 before steamrolling the Magic two days later in Orlando 121-96. On Oct. 24, their loss to the Magic would be a tough pill to swallow, but they would bounce back just two days later with another win against the 76ers 112-99.
   Led by Julius Randle, Kemba Walker, and Derrick Rose, the Knicks are playing like a squad that knows how to attack the basket, with Rose being the best passer on the team. Their problem is, their attack can't afford the turnover. They need to transition back to defense just as well though, as the Magic were quicker in transition during their home loss. Giveaway passes in the 4th quarter gave room for players like Cole Anthony and Terrence Ross to drive into the paint at break-neck speeds, both scoring 20-plus points against the Knicks. 
   This was also evident against the Chicago Bulls last Thursday, Oct. 28, who were unbeaten at the time. The Knicks found it difficult on themselves with sloppy play after sloppy play to get the Bulls back into the game in the final quarter of the game. 
   Shots by Randle and defensive showings by Barrett to stop Bulls Forward DeMar DeRozen would give them the edge, give the home crowd a hard-fought win, and hand Chicago their first loss of the season.
   Since then, they went on to face the visiting New Orleans Pelicans on Saturday, Oct. 30, and won 123-117, with Barrett scoring 35 points. The Knicks traveled to Toronto on Monday, Nov. 1 to face the Raptors, losing 113-104. 
   The performance this season gives fans hope that the team's rebuild may payoff after years of heartbreak. A chance at playoff contention is possible if the Knicks can stay fit, prevent their defense from falling apart, and keep a winning streak going.