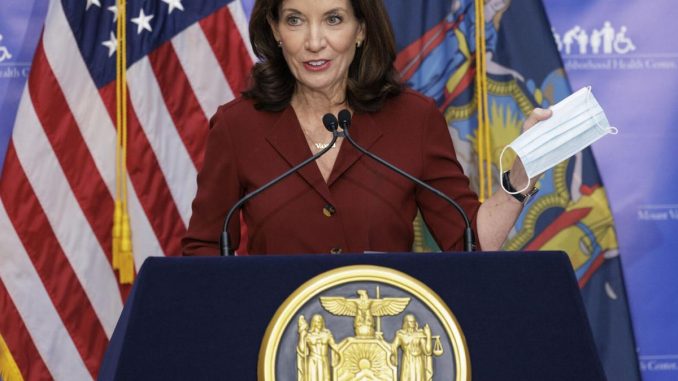 By Gabriela Flores
   To incentivize parents to vaccinate their 5 to 11-year-olds, New York Governor Kathy Hochul rolled out "Vaccinate, Educate, Graduate," a five-week-long program that will give 50 eligible vaccinated children a chance to win a full scholarship to CUNY or SUNY. Though more than 50,000 children in the age group were vaccinated during the first week of eligibility city-wide, many parents have doubts about letting their kids get the COVID-jab.
   "Honestly, I wouldn't risk my kids' lives for some incentive, they to me, they're too valuable," said Christian Taveras, a Brooklyn father of two, about Hochul's initiative. 
   Children 5 to 11 must at least have their first vaccine dose to qualify for 1 of 50 available CUNY or SUNY scholarships that cover tuition, room-and-board, and other expenses. The program comes after the Food and Drug Administration approved emergency use of Pfizer for children aged 5 to 11, according to The Mayo Clinic. Studies have shown that after receiving two injections with doses lower than those administered for people 12 and above, children in the 5 to 11 age group have a 91 percent efficacy rate in COVID-19 prevention. About 46 percent of surveyed parents with kids less than 18-years-old in America, however, are hesitant that the vaccine is safe for those between 5 and 17, per an ABC News poll.
   "This is very new so I'm going to wait it off and see the effects of it like I did for myself. The worry is not only for your kids but for the safety of this vaccine. Like what are the effects? You don't know how your kids may react to it," said SUNY Downstate alum Darice Solis, a mother of two aged 5 and 11. Though she understands Hochul's efforts to promote vaccination, Solis will consider vaccinating her children once more reports about the "positive effects" are released, such as a lower hospitalization rate among 5 to 11-year-olds who tested positive for COVID-19. 
   Other parents thought the scholarship effort in itself is not sufficient nor incentivizing given the many thousands of children living in New York.  
   "I think school should be free regardless because us parents pay a lot of money in taxes. So CUNY and SUNY should be free anyway," said Edith Ortega, a Laguardia Community College alum with a 5-year-old son. "It's only 50 kids out of the many kids living in New York City. It really doesn't make sense to leave it to chance to pick 50 kids." For Ortega, until the Department of Education or state government implements a vaccine mandate for children, she will not consider vaccinating her son due to medical reasons. 
   "A healthy child would probably have less risk, but sickly kids? I personally would not want to sacrifice my sickly child to get a COVID vaccine and then he might get worse," said Ortega. 
   In the US, over 8,300 children aged 5 to 11 have been hospitalized due to COVID-19, AP News reported earlier this month, with "about a third requiring intensive care." At least 94 coronavirus-related deaths have been recorded by the CDC and more are under investigation. As vaccinations continue for people 5-years-old and above, many parents in NYC think that state and medical officials should ensure and discuss more extensively how the shot is safe for children. 
   "Talk to people and let them know it is safe with proof, you don't just want them to tell you it's safe but you need proof of the vaccine being safe for kids," said Taveras, who is considering vaccinating his 13-year-old son, but not his 11-year-old daughter yet. "That's why I'm still iffy about it."