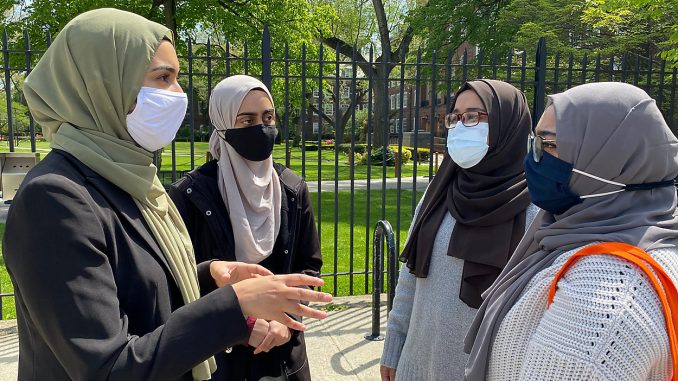 By Radwan Farraj
   A joint resolution calling on CUNY to recognize Eid al-Fitr and Eid al-Adha as formal holidays recently passed through the Undergraduate Student Government (USG), following student advocacy and petitions across CUNY in Spring 2021. The passing of this resolution comes before the swearing-in of a new undergraduate government in January.
   "I feel like this is something that just needs a…push," USG President Aharon Grama told The Vanguard, noting he intends to get a head start on the next academic year. Petitions and resolutions to CUNY are written every year and the slow transition of power between student governments tends to cause delays, according to Grama.
   "So what we're trying to do again this year is reignite that process where it starts with the local student government to escalate to the USS [University Student Senate], and then it escalates to the Board of Trustees," said USG Vice President Iqura Naheed, who will assume her position as president next semester. 
   Efforts to change the academic calendar started in March when Hunter College USG members and Muslim Student Association leaders wrote a resolution to the USS and to CUNY Chancellor Félix V. Matos Rodríguez advocating for classes to be canceled on Eid. A circulating petition also received thousands of signatures in support of this change, with both students and non-students advocating for CUNY to recognize the holiday.
   "CUNY values the rich diversity of its students and the wide array of cultures and traditions they represent. The University's policy on religious accommodation enables any and all students to request scheduling accommodations for classwork and finals that interfere with their religious beliefs and customs," a CUNY spokesperson wrote to The Vanguard. As of press time, Brooklyn College's spring 2022 academic calendar, passed down by CUNY, does not mention classes are canceled for Eid al-Fitr in May. 
   "Students should not have to choose between risking, losing some part of the material from this semester," said Naheed. "We're making the choice between education and personal and religious observances."
   Grama told The Vanguard that each resolution passed by Brooklyn College's USG, like the call for CUNY to acknowledge Eid, is forwarded to fellow USG presidents at other campuses. Rather than passing resolutions separately, Grama said that sharing relevant resolutions with other CUNY student governments makes it easier to identify what issues are important to students.