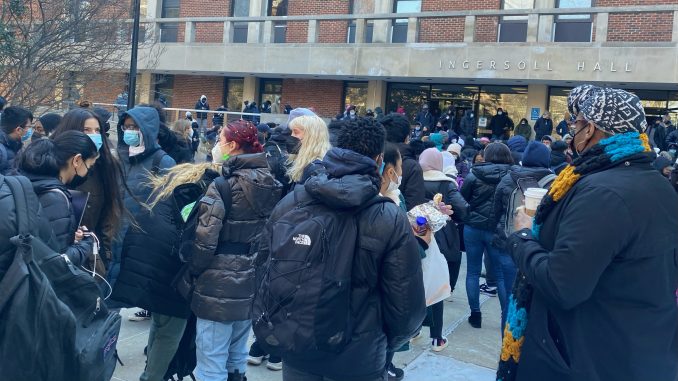 By John Schilling
Reporting Assistance by Matt Hirsch
   Students poured out of Ingersoll Extension on Monday, Feb. 14 at 11:20 a.m., when it appeared that a fire alarm had gone off. After about 10 minutes, students were quickly let back into the building and returned to class.
   Despite speculation about a scheduled fire drill or someone pulling the fire alarm, the Public Safety staff immediately confirmed to the Vanguard that the incident was "a false alarm."
   "A smoke detector was activated inside a mechanical room on the 6th floor of Ingersoll Hall," Richard Pietras, Brooklyn College's Media Relations Manager, told the Vanguard. "There was no apparent smoke or fire detected by Public Safety staff when they checked the area. Personnel will continue to monitor the area."
   This news came as a relief for students but with some frustration. Despite the "false alarm," the activation of the smoke detector forced students outside of Ingersoll Extension, where they were met with a cold temperature of 22 degrees that felt more like 7 degrees due to strong winds, according to the Apple weather app.
   "It was cold as hell outside," said senior Amanda Curcio, who was in the middle of class in Ingersoll Extension's Journalism Lab when the smoke detector went off. 
   "It was unexpected," added senior Tyrell Ingram, who also had class in Ingersoll Extension. "I wish class was canceled, though."