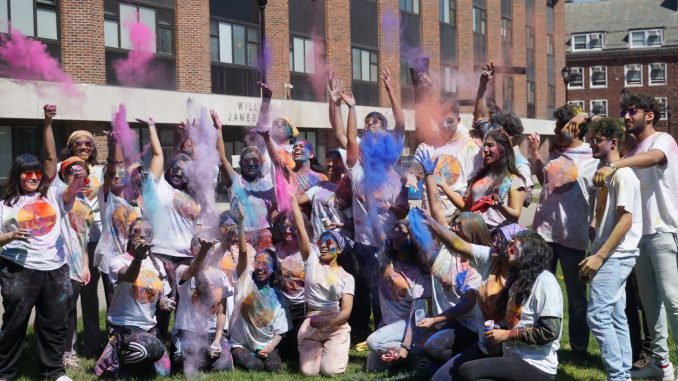 By Gabriela Flores 
    To ring in the spring, Brooklyn College's Desi Club invited students to throw color powders on the West Quad and embrace the warm days ahead. In observance of Holi, a popular Hindu festival of color, participants enjoyed the club's first in-person event since the pandemic shutdown. 
   "I feel like we need to amp up school spirit, and also, campus life," said Surya Thomas, Desi Club's co-president. "And this is a great event for people to come outside, meet new people.  There's plenty of new people I'm meeting today, and it's just a fun time for everyone."
   The event began after a rainy morning on Tuesday, Apr. 12. Earlier that day, about 10 people were shot in a Sunset Park subway, prompting major delays on several train lines and safety concerns among students. 
  "Considering the circumstances of what happened today, we expected less people, but this is a great turnout," Thomas said. "So we're fortunate enough that people were able to come."
    The festival was stationed outside of James Hall, where anyone curious about the vibrant music blasting from tables filled with white t-shirts, snacks, and pouches of color powder, could see Holi festivities. Before Tuesday's event kicked off, however, some students did not know about the celebration's meaning. 
   "There were people emailing me, asking me what Holi is, so they can understand what we're doing exactly," said Sahaam Ahmad, Desi Club's secretary. 
   Though the Desi Club's Holi celebration was held in April, the festival of spring and color took place this past March. In India, where it is widely celebrated, the festival begins on the evening of a full moon, with observers carrying out rituals around a bonfire – symbolizing the power of good over evil, according to holifestival.org. The next day, or Holi, observers play with color with friends and family, leaving behind winter in exchange for spring. However, with New York City's unpredictable weather, the organizers decided to push back the on-campus celebration. 
   "Just with time and stuff, also with the weather, we wanted to have it in April," said Thomas. "And today, fortunately, the weather is great." 
   Despite not observing the festival personally, Thomas and others were happy to drench their fellow Brooklyn College students in vibrant colors. 
"I've never seen something like this before, and it's a lot of fun," said USG Chief of Staff Yisroel Shulman. Though the Undergraduate Student Government did not lead Tuesday's event, they lent a hand to the Desi Club members with promotions and a t-shirt supply. 
    As spring progresses, the Desi Club is eager for its next hit: Desi Night, which is set for May 6 at the Student Center. There, all BC members are welcomed to dance, eat good food, and have more fun. Those interested in supporting the club could also purchase new merch from members.