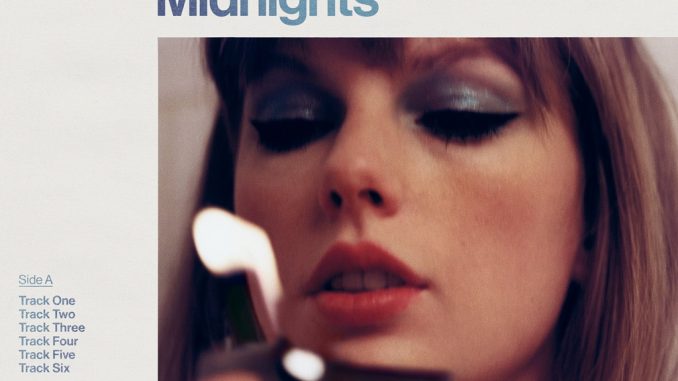 By Michela Arlia 
   Taylor Swift broke Spotify…or at least her dedicated Swifties did.
   "Midnights," Swift's 10th studio album (if you don't count the re-booted "Taylor's Versions"), was released, you guessed it, at midnight on Oct. 21. Of course, everyone has something to say about it – myself included.
    I had the honor of attending what was arguably Swift's last good album and accompanying stadium tour for her fifth album, "1989," back in 2015. Since then, I have not been able to find an album of hers that would hold up to the standards of her past release, but held on tight for "Midnights" to change my mind. I was partially wrong. 
    I will admit I logged into Spotify at the stroke of midnight to see what the hype was about, so does that earn me a pass into the T.S. fan club? If not, no skin off my nose, I'll still be listening nonetheless. 
   I believe that the first track of an album holds the same weight as the hook in a writing piece – it sets the tone. Track one, "Lavender Haze," blew me out of the water because it wasn't what I was expecting one bit. All parts were catchy, danceworthy, and filled with genius lyrics. I was stunned as it set such an optimistic tone for the entirety of the album. 
   I was sure this first track would be the single to come off the project. But then, I got to "Anti-Hero."
   This song is the perfect anthem for anyone who ever felt ostracized. Its accompanying music video is another work of art, as Swift is able to capture hardships of not fitting in by portraying a "bad" version of herself. Only two hours later, I heard this track on the car radio and was shocked at the turnaround from release time to chart topper track. 
   While I do not consider myself a hardcore fan, I do appreciate her music, both past and present. I found myself thinking I was enjoying the music, when in reality, I was just obsessing over the lyrics. 
   As the queen of revenge lyrics speaks her truth, I can't help but place them under a microscope. Swifties have quit their day jobs to create TikToks dissecting lyrics and accompanying them with photo evidence from Swift's life. 
   There's a phenomenon with Swift and her songs, and that is her baggage. Publicly dragged through the tabloids and our social media accounts, we all feel like a part of Swift's world. When she was breaking up with her boyfriends, so were we. We cried and yelled together as "We Are Never Ever Getting Back Together" was blasting in the background. 
    Because of this, we feel this obligation to deep dive into what each song is really about, or in Swift's unique case, who it's really about. 
    Part of me feels this is the only therapeutic outlet she has left, to sing about all those who did her wrong, as she drops easter eggs that fans are left picking up in a maze of confusion. If you truly think about it, this in itself is a genius marketing tool, for she is able to produce multiple streams per person as they obsess over the minutiae details of her songs and coherently, her life.
   Now I'd like to discuss the definition of the word "featuring" on a music track. To feature someone on a song is to briefly include a second artist to a guest appearance. For Taylor's track "Snow On the Beach" featuring Lana Del Rey, there was no Lana Del Rey in sight. As a fan of Del Rey, everytime I anticipated her voice on a new verse, or even in the bridge, I was wildly disappointed. 
   At around the midway point of "Midnights," track number seven, "Question…?," seems like the last good song in this era of Swift's music. Everything following is slow and not what you would expect to lead her into her first stadium tour in four years. 
   At 3 AM on the album's release date, Swift then released an extended version of her album called "the 3am version," and these songs included some real hard hitters that should have been on the original album in the first place.
   While I can't say I hated this album, it was still filled with some holes and missing links throughout select tracks. I would also like to point out that while this album caused mayhem on social media, let's not overlook the equally talented Meghan Trainor who dropped her latest album "Takin It Back" on the same day. Just spread the love.