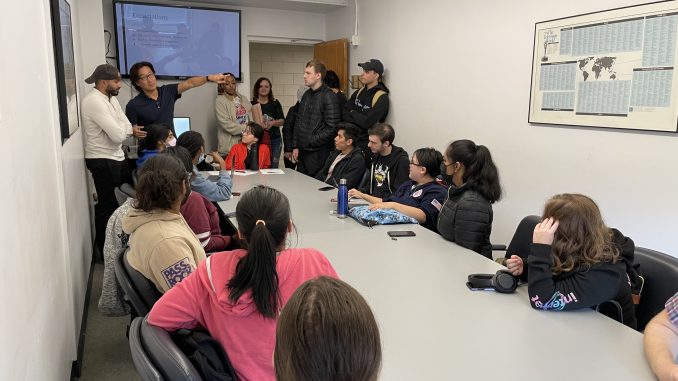 By Gabriela Flores  
   The Brooklyn College TV Club returned to campus, offering another medium for students to tap into their creative wits and develop skills needed for productions. At the core of their goal, members aim to create a space independent of classes to harvest diverse ideas.
   "You just need the ambition to want to learn," said Alexa Whyte, the club's treasurer. "And the ambition to want to collaborate with others, whether that's with scriptwriting or you just have an idea tucked away in the back of your mind, or you want to learn to do something. […] We're there to help you through all paths of production."   
   Since last May, the organization has been working to return to BC's radar. Now that it's back, several students across departments have shown interest in their club's purpose and in collaborating on student-led projects. No matter their academic background or experience with multi-camera production, students are welcomed with open arms at BC TV. 
   "You get an idea of how other people think because they're not in the same studying field as you," said Qadri Wahab, the organization's president. "So with the multi-cam, the diversity part, it brings different brains, different ideas together." From narrative-driven works to recapping the latest BC Athletics matchups, this group is gearing up for what's ahead. 
   After the club was defunct for nearly two years due to the pandemic, Professor Young Cheong from the Television, Radio, and Emerging Media department recruited Wahab and some other leading e-board crew. Working closely with Cheong, the group collectively hit the ground running again about three weeks ago. Though camera work is seemingly synonymous with the club's name, each of its leaders comes from different walks of life and experiences. For many, the development of their production skills began and grew at BC. 
    "I've always had an interest, but I never knew where to start. I came into college unsure, I just stayed around in the TREM department, just figuring out what I wanted to do, trying different majors and whatnot," said Alexis Sarmiento, TV Club's secretary. "And ultimately with the multi-cam and single cam, this is where I realize, 'This is something I really enjoy, I really like the aspect of learning as you're going.'"
    In finding their way to producing moving visuals, each member has explored what it means to be in tune with their fellow collaborators. As e-board members learned earlier on in their work with multi-cam production, collaboration and a willingness to know your role in the mix of it all is vital. 
    "I don't know, somehow I learned how to read another camera operator's mind so we can cover all the stage, and that is very important work for multi-cam production – like communicating in real-time," said Gidong Kim, the club's vice president, whose studying music composition and film. Though not apparent in their similarities, camera work and playing in an ensemble share the commonality of being in tune with your colleagues, Kim explained.
    The joy of working in any of the roles involved in a production isn't rooted in titular accolades. Instead, it's the joint pride that comes after completing a project together with your crew. With each project they've tackled before their arrival at the TV Club, e-board members have evolved in skill, leadership, and in their overall character. Doing so has also made them more prepared to troubleshoot any future issues and make better use of the visual medium to captivate audiences. 
    "I think it's also repeating to yourself, 'Okay, even if you don't think you're that capable, you are.' Because if you have that mindset where you're not even at the point of where you should be, and you'll still get there – then that motivates you to keep going," said Whyte, whose start in media began in photography. 
    In extending its creative abilities and the production spaces available at BC, the club also intends to expand its equipment. With their studio space housed in Whitehead Hall's basement and access to only two digital single-lens reflex cameras, members are working on getting more gear to ensure production needs are met. The organization's leaders and members are planning and solidifying projects before the fall closes out, including a potential collaboration with BC Athletics to recap game highlights and interview players or coaches. On Tuesdays during common hours, members hash out ideas in their current meeting location, 307 Whitehead. When they're not meeting formally, the club is at Professor Cheong's office, 303C Whitehead. 
     For one of their first filming endeavors, members will be capturing a concert on Nov. 7 for the Composers' Collective, a group of musicians and composers that Kim leads. While they get a handling of leading their newly-revived organization, BC TV leaders are collectively getting a hold of the ropes.     
    "I feel like I'm still new to this and getting a grasp of this. For me, I just try to lend a hand in this group, and as far as I know, we've all helped each other in different ways – whether that was through productions or taking classes together," said Sarmiento, who is graduating this fall. 
   Similarly for Wahab, who's set to graduate soon, tapping into his first club leadership role has been a worthwhile experience. 
   "This is all new to me, and I'm just really excited to see this group of passionate people and get things going with productions, assignments, or whatever it is," Wahab said. "Learning different things – I'm here for it."