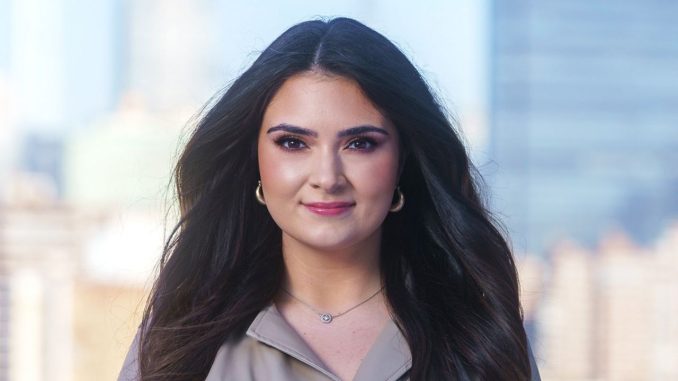 By Serin Sarsour
   Throughout her week, Victoria Manna works as a journalist at Spectrum News NY1, but on Saturdays this fall, she's returning to her roots and teaching student journalists at Brooklyn College.
   "I credit a lot of my success to being at this school and I want to help other people do it, as well," Manna told the Vanguard. "I think it's a hard industry to break into if you don't know the right people, so I feel like helping people have the skills to get into the business is important."
   After graduating from BC in 2017, Manna has been working at NY1 for a little over five years, starting off as a video editor for her first three and a half years. Today, she is currently filling in as the general assignment reporter at the television station, along with possessing the role of the NY1 Staten Island reporter. One of her parts of journalism is thinking creatively about her reporting and work at hand. 
   " […] Especially when you get excited about whatever you're reporting on or you take a lot of time to shoot it or edit it, and then you finally see it on TV," Manna said. Presenting content that she's worked hard on is another rewarding aspect of the field for her, as well as getting to meet new people and hearing diverse and inspirational stories.
   Manna decided to return to her alma mater after Dr. MJ Robinson, professor and chairperson of the Department of Television, Radio, and Emerging Media, invited her to speak to several classes about the industry. She wanted to further guide and teach student journalists at BC about what she has learned inside and outside of the classroom, along with offering them tips and tricks she has learned over the years. When Robinson suggested teaching a full course at BC called Videography for Journalists (TREM. 3891), Manna was more than happy to take on the opportunity.
   "I think that I understood what it was to be a student not that long ago. So I remember going into New York One [thinking], 'Oh wow, I wish I would've learned a little bit more about this when I was in college,'" said Manna. 
   She notes that many of the skills needed to succeed in the journalism field can't be picked up by reading a textbook or by writing a paper. Manna believes sending her students out to film and interview people on the BC campus and on the street about different topics will allow them to get a taste of what the industry is really like. 
   "In this profession, I think it has to do with actually going out there and doing it to learn," she said. Aside from these reporting tasks, Manna utilizes her classroom to teach her students vital editing skills and how to produce news stories with various shots, visuals, and audio.
   Manna credits watching "Good Morning America" every morning with her parents while she was growing up for her initial interest in journalism. 
   "I don't know, in my fifth-grade mind I was like, 'I want to do that. I want to be a reporter.' And I even wrote it in my fifth grade yearbook that I wanted to be on 'Good Morning America' as a reporter," Manna recalled. She later went on to write for her high school newspaper, and eventually entered and graduated from BC with a degree in broadcast journalism.
   When she is not working or teaching, Manna likes to explore New York City with friends.
   Manna highlights the importance of never giving up, working hard, networking, and doing internships for those interested in pursuing journalism as a career. She also added that, "Being a nice person goes further than you think."