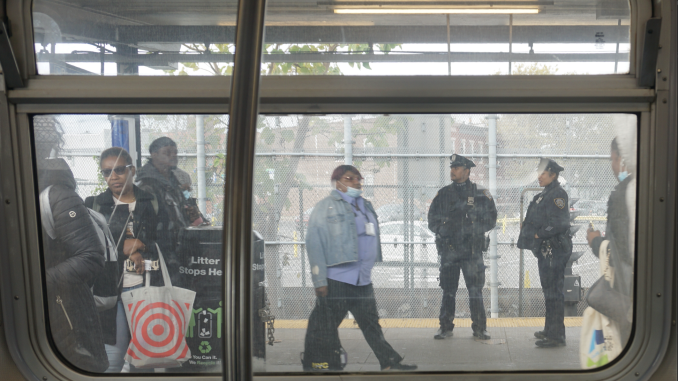 By Michela Arlia 
   Governor Kathy Hochul joined Mayor Eric Adams on Oct. 22 to expand initiatives that would improve New York City subway rider safety. To address the ongoing crime within the transit system, the pair will increase police presence on platforms by about 1,200 officers working overtime shifts. 
   "Our expanded subway safety strategy of Cops, Cameras, and Care will crack down on subway crime, help those experiencing homelessness get the support they need to get out of the system, and alleviate concerns of riders to ensure New Yorkers feel safer throughout the subway system," said Hochul at the official announcement. "Building on our ongoing collaboration with the City, we will continue to work hand-in-hand with the Mayor and the NYPD to deliver the safety and security New Yorkers deserve." 
   With a significant investment from New York state's public emergency fund, the NYPD and MTA Police Department will work to add approximately 10,000 daily overtime hours of platform patrols, and two psychiatric center units to assist people experiencing serious mental health illness. More cameras will also be installed in stations and all subway cars by late 2024.
   "This effort will help with two things New Yorkers desperately want: The addition of hundreds of additional strategically deployed officers on our trains and help to those suffering from serious mental health illness so they can find a way out of the subway system," added Mayor Adams at the announcement made at Grand Central Station. 
    As the goal to decrease crime and increase rider confidence is laid out, riders across the city should be feeling a sense of relief. But for Brooklyn College students, an occurrence of mixed feelings raises questions of whether this new roll out will be beneficial. 
   "Adding more police officers to the subways would not make me feel safe – it would mean I would be somewhat safe on the subway – but in more danger somewhere else," wrote JD Duncan, a senior at BC, to the Vanguard. 
   For other students, like senior Sanaa Bhatti, more policing on subways could be beneficial in curbing crimes overall.
   "I believe that having police on the subways will keep everybody safer and prevent crime, hatred and people doing crazy things for no reason," wrote Bhatti to the Vanguard. "Not only that but I just feel like it brings a peace of mind to everybody riding the subway because of what has been happening lately, all of these crazy people acting so wild on the subway, hurting people for no reason."
   In an Instagram poll conducted by the Vanguard, 25% of voters responded that they do not feel safe at all while riding the train, with 50% responding that they "manage" getting by on the subway. A total of 375 complaints of offenses on subways were reported to the Transit Bureau this past September. Transit District 32, which includes the Flatbush Avenue – Brooklyn College station where the 2 and 5 lines run, received a total of 34 complaints. Another 15 reports were received by District 34 that includes Avenue H, a Q-line station near BC.  
   "So I see the good in having cops in the train stops because it will help reduce some of the fighting and jumping and harassing in the train, especially after they promised to have cameras in the train," said Iliana Calderon, a current BC student. "At the same time, I feel like it won't last. Anytime they promise some change in the MTA, especially to protect us, the commuters, it doesn't really go anywhere."
   To further address the mental health crisis the city is facing, the partnership between city and state has also allowed for the deployment of what is called Safe Options Support crisis intervention teams, where the New York State Office of Mental Health has created two new, 25-bed units. OMH will also provide crisis intervention training for all police and other emergency personnel who will be stationed underground.
   Following their point to better address mental health for a more positive rider experience, a personal point of concern for Duncan is whether they are to actually feel safer with more police presence, or if they will fall victim themselves at the hands of the officers. 
   "I may feel safe to see cops on the subway – until I become a target of NYPD's misconduct," wrote Duncan. "I am ultimately a Black-male passing person, and that does make me more likely to experience misconduct at the hands of officers. As such, am I really safe if I have a lingering thought in my head that I may be the victim of officer misconduct?"
   The mental health portion of the initiative is set to begin Nov. 1 at the Manhattan Psychiatric Center, and rollouts of police in stations are already underway.