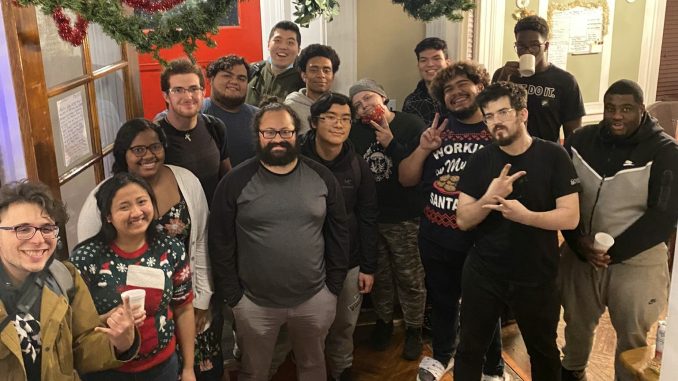 By Gabriela Flores 
    Sitting on Glenwood Road is Brooklyn College's Newman Catholic Center, where Catholics, Christians, and non-religiously affiliated students alike gather and bond. Through their shared space and experiences together, Newman members and their friends find others with similar values, welcome those who have a curiosity about their faith, delve into thought-provoking conversations, and, of course, enjoy good company.  
    "We want to be [as] inclusive as possible. I think, when it comes to religion, it is a subject that many like to tread lightly on. However, you can't ignore the fact that religion can be the difference for how someone lives out their life," said Phoebe Marbid, Newman Club's treasurer and a BC sophomore. "At the same time, you have to realize that no matter if you are Roman Catholic, a Christian, or a non-Christian, everyone is on different walks with God."
    Channeling the teachings of St. John Henry Newman, the center aims to provide a Catholic space for BC students to embrace their faith. Since around the 1950s, the Newman Center has provided the BC community with mass services, bible studies, and different secular events like its traditional New Orleansesque Mardi Gras. After returning from its remote run during the peak of COVID, Newman came back to people who were eager to make their college experience worthwhile and connect deeper with their religious and student communities.   
  "I only became Catholic during the end of my high school time, so I wanted to find more people that were also Catholic. That's why I was looking to find Catholic organizations within the college," said Alexander Ocasio, Newman's president, who was formerly Protestant-leaning. After only joining last spring, Ocasio and Marbid have become two of the center's newest leaders, ensuring that they welcome BC students from all walks of life while remaining in tune with the religious and emotional needs of their peers. 
    "I do find value in building up both the intellectual and community aspects simultaneously since I do want to ultimately lead to people having a closer and stronger relationship with Christ. And so that they might have a greater understanding and experience of their faith," Ocasio said, who values having philosophical conversations and debates surrounding religion. 
     Staying connected to their Christianity, Newman members have weekly masses on Tuesdays and occasionally on Thursdays, and other regular activities like Tea and Litanies, the brainchild of Marbid, where students can unwind and later pray for those who might be suffering.
   "Not only do we want spiritual growth, regardless of whatever religion you may have, but also your intellectual growth. And I think, when it comes to academics, we tend to get caught up in hustle culture and on the grind," said Marbid, who noted the importance of taking breaks while studying. Specifically, during Tea and Litanies, Newman members recite the "Litany of Divine Mercy," where they are "entrusting the safety of those who are currently suffering into the hands of God," according to Marbid. 
    In conjunction with their religious practice, the members at Newman watch football together, host game nights, and other activities to let loose. One of their latest events was a St. Nick party that will be followed by a St. Lucia celebration this Tuesday, Dec. 13, before the fall comes to a close. Though it's alive and booming again, the physical Newman Center, that's turning 40 years next fall, was not as lively as it is today. At the pandemic's peak, members of Newman carried on virtually. Over time, however, their member count dwindled as people graduated or seemingly moved on. But being back from COVID, the Center is thriving again. 
   "And then, all of a sudden, we had this rush of people like Phoebe and Alex that were just coming into the building, and it was like an answered prayer," said Michael Martinez, Newman's spiritual director, a BC graduate student, and an ex-official e-board member who officially joined the club in 2017. 
   Witnessing the center before, during, and after the COVID shutdown, Martinez noticed that the center's demographics have changed, especially with more LGBTQ Christians visiting the Newman house. "Which is a first for us. We have also a lot of non-Christians who would join in and just come in and learn about Christian life and we take pride in that," said Martinez, who noted there was more house participation with students coming to Newman to study, pray, or sit in each others' company. 
    At the core of this boom in participation is the center's extension of invitations to all students and friends. For Martinez, who has strong connections with the campus' Tanger Hillel, a center that revolves around Jewish faith, is just one example. "We kind of have this exchange where I come in and experience their faith and culture, and then they come in and experience mine," said Martinez, who noted there is a service for Christians to visit Israel. 
   Though the house has seen more activity since the beginning of pandemic times, it's also undergoing some infrastructural challenges. From some molding incidents to problems with plumbing, Newman members, alongside members of Kappa Sigma Fraternity, are working out the maintenance of their late-Victorian-style center located at 2401 Glenwood Road. In doing so, they are conscious of trying to make the most of their space and tangible resources to host more students regardless of their background or religious affiliation. 
   "We're speaking on that note of making this space not just exclusive for Catholics, but really accepting all students with these different backgrounds. I think I do want to emphasize this space being a safe space," said Marbid. 
     Before the fall semester comes to a close, Newman is inviting students to relax in a laid-back finals event filled with grilled cheese sandwiches and soups on Wednesday, Dec. 14.  Once the spring comes by, members will be hosting studies of parables in the Hebrew bible on Tuesday nights, a Mardi Gras celebration, planning the 40-year anniversary of their house, and potentially embracing the cultural and religious intersections of students through an event. All while focusing on building a stronger community and larger turnout for religious practices. 
    "I feel like Newman has been a great place for intellectual discussions and also being able to be with others and to spend time and make new friends there, to delve deeper into the Catholic faith," said Ocasio. "Even if you're not Catholic, at least open yourself up to those questions about God, religion, and reality itself."