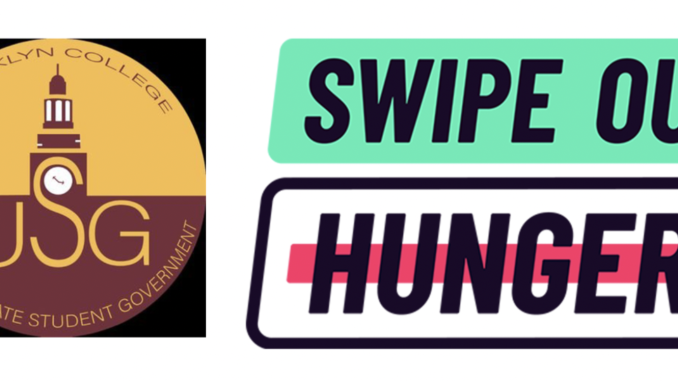 By Radwan Farraj
   The Undergraduate Student Government is beginning its partnership with Swipe Out Hunger to address the prevalence of student hunger at Brooklyn College. Swipe Out Hunger is a non-profit working with colleges throughout the country to better provide for students who face food insecurity.
   "Swipe Out Hunger actually reached out to us in student government so that they wanted us to help promote their campaign for the Hunger Free Campus Act," Robert Adler, USG's student advocate, told The Vanguard, "which has been passed in many state legislatures, but is currently on the docket for the New York State legislature."
   The Hunger Free Campus Act has passed in six other states and aims to bring state investments to campus food pantries and basic needs hubs, according to Robb Friedlander, director of advocacy for Swipe Out Hunger. The non-profit currently works on more than 450 campuses across the country in all 50 states and Canada, he added. 
   "Our goal is to make sure that as we are advocating up in Albany and here in the city for funding for this bill, that at the front and center of that, are Brooklyn College student voices," said Friedlander, "making sure that you all have the ability to speak straight to legislators, to let them know what's happening on campus, what the reality is on the ground, and how much we need their support in order to serve students."
   Swipe out Hunger is already partnered with several CUNY and SUNY campuses, working to improve food pantries at all their partner organizations. Campus partners work with Swipe Out Hunger to attain a Hunger Free Campus designation, which shows that a campus has met particular requirements for providing food assistance to those in need.
   Having an on-campus food pantry, information about other local pantries, the provision of food vouchers for grocery stores or meal donation programs, and pantry staff that can help students to enroll in Supplemental Nutrition Assistance Program benefits, are some of the milestones for campuses to reach. 
   "Once a school is designated as a Hunger Free Campus, they're then eligible for a grant that can go right back to growing anti-hunger and basic needs programs on campus," stated Friedlander.
   BC meets most of the requirements for the designation and is working with Swipe Out Hunger to better improve access to the campus' food pantry in 312 Student Center, which is currently open on Tuesday from 10 a.m. to 3 p.m. and Wednesday 2 p.m. to 6 p.m. Some of the needs that could best serve BC students include more refrigerators, staff that can assist students with SNAP, homeless and housing services, and clothing centers for students to borrow professional clothing for job interviews, according to Friedlander.
   "And we wanna make sure that students are able to have a supportive environment at Brooklyn College. And that's our major goal going forward," said Adler. "Working through the legislature, working through local governments, and working on the local level in terms of helping get the administration to recognize a lot of the needs that students face and working with them towards achieving meaningful solutions."
   Swipe Out Hunger and USG soon plan to meet with New York state Senators Zellnor Myrie, Kevin Parker, and Jabari Brisport, who represent neighboring parts of Brooklyn, to talk about the Hunger Free Campus Act. Members of Swipe Out Hunger and student representatives from different campuses, including BC, will go to Albany in February to campaign for the bill.