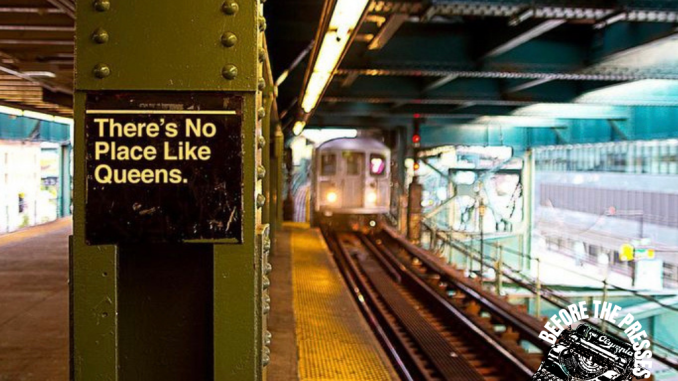 By Gabriela Flores
    In my three years and counting at Brooklyn College, I've been closer to home than I had hoped. Most of the students I've come across hail locally from BK, a few from Staten Island, and a good chunk from my beloved borough Queens. If you look at the stats, it's not hard to see why. This past fall 2022, about 9.9% of enrolled students at Brooklyn College said they live in Queens. This begs the reasonable question of why many of us decide to brace the long bus rides, sketchy trains, and cold winter walks for Flatbush. As I type this away, with my hands defrosting on the train ride home, I cannot seem to explain why. But since this is my last semester as a Brooklyn College student, and thus my final weeks as this paper's editor-in-chief, I figured I should finally represent my home base. And, of course, show once and for all that Queens is nothing like Staten Island as some folks like to unsolicitedly opine (no shade, SI). 
    Let's get into it. 
    You can't go wrong with Dani's House of Pizza in Kew Gardens. Sure, it may be near the outskirts of Queens, and perhaps there is nothing worthwhile to visit besides Forest Park within the pizza shop's radius, but rest assured. The dough is baked to perfection, not too flakey, with just the right amount of salt to balance the sauce's sweetness. If you're someone who gets slightly rumbly in the tumbly from lactose, you're not alone – tread at your own risk. If you have room for a drink or two after, I highly recommend stopping next door at Austin Ale's House for a Moscow Mule. Most spots with the word "house" in them tend to bode well for foodies like me and presumably you. 
    Munching and sipping are the epitome of nightlife in my native Astoria. If you have never heard of the strips of restaurants lined along 30th Avenue or haven't tried the award-winning boba at Tea and Milk, you are, in summary, missing out. Reader, do be careful; some spots are more aesthetic than tasty. And for as much as Instagrammable content may be tempting, a hearty meal at Seva, an Indian restaurant that's in the higher price range; Sasura Ramen, an intimate ramen shop that will warm you up in this senseless, numbing cold; and El Mariachi, a casual Mexican restaurant, will make the trip Uptown worth your $2.75. At all costs though, do not order any tacos al pastor from El Mariachi. Even the finest gems have their flaws. 
     By the looks of this piece, please don't think that Queens only offers culinary gold. Sunnyside, for instance, hosted the filming of "Spider-Man." Flushing was the muse of "Nora from Queens." Forest Hills gave birth to the Ramones. To top it off, Queens is nicknamed the "world's borough." And for a good reason. About 47% of Queens residents were born outside of the country, according to the U.S. 2021 census. If you take the 7 train or happen to stop at Roosevelt off the R, you're bound to find a rich mixture of Bangladesh, The Philippines, Nepal, Mexico, Colombia, and much more on most streets of Jackson Heights and Woodside. Growing up, there was never a dull moment in my parent's old restaurant on the corner of 63rd Street. I had a window into diversity and was embraced by those who couldn't speak much English but were always down to make a connection with an oddly wide-eyed, pig-tailed girl. Hopefully, if you stop by and walk about, you can get that same sentiment. If you need a breather with some live music or a good ambiance nearby, visit Terraza 7 on Gleane Street. 
     To close this short list without mentioning more favorites would be blasphemous. But, unfortunately, Queens' beauty is too much to encompass in a 700-word piece. My sincerest apologies to those neighborhoods that will be left unmentioned. 
    Before the newspaper hits the presses, and I share the final words of my first informal column with you, I would like to kindly invite you to explore sites like Flushing Meadows, Astoria Park during the summer, Gantry Plaza, and most of all, Jamaica. The latter of which helped build the queen of rap, Ms. Nicki Minaj. Not to mention, Jamaica gives you access to some of the best Caribbean eats and the LIRR, for those of you who are sick of the city. Last but certainly not least, try going to Rockaway, Bayside, and Ridgewood. I wouldn't, but whatever you do, show Queens some love.