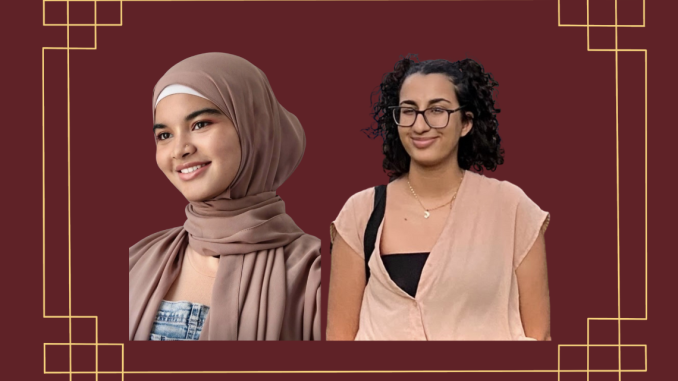 By Michela Arlia
   On the second Undergraduate Student Government presidential slate this election season is Asma Ramisa and Yafa Abulawi, who are running for president and vice president, respectively. 
   Ramisa, a junior at BC, and Abulawi, a sophomore, first met in an introductory psychology course, where they immediately hit it off. Since they share similar values on what could be improved at Brooklyn College, they decided to join the race for USG's next leading heads. 
   "Trust is also huge, we trust each other's capabilities a ton, so we knew we would make good running partners," wrote the pair in a statement to The Vanguard.
   At the age of 8, Ramisa moved to Brooklyn from her birthplace Bangladesh and is currently pursuing a computer science major. Abulawi is a communication science and disorders major who was born and raised in Brooklyn with Palestinian roots. 
   Using their official campaign slogan #RecreatingBC, the pair plan to tackle big-ticket campus issues, including student life and the quality of education BC offers. Using their platform to speak to students and hear their concerns, Ramisa and Abulawi aim to make the student voice the drive of their campaign and their entire run in office, should they be elected. 
   "Ultimately, our goal as the executive branch will be to take note of the experiences of the students around us, and implement those concerns into real action plans for improvement," they wrote. 
   Two serious issues circulating on campus are the continuing decline in student enrollment and the allegations of anti-semitism and discrimination circling the student population. These issues are ones that speak loudly to the candidates and are of importance for their campaign.
    To aid in increasing enrollment and retention, Ramisa and Abulawi plan to increase outreach and marketing strategies if elected. On the anti-semitism and discrimination front, the ticket plans to unify campus, as discrimination is a topic that has a personal connection to them. 
   "As people of color, we have both experienced the devastating effects discrimination has had on our lives and the lives of our fellow community members," wrote the duo, explaining that their best efforts to unify the campus would be through exposure. "We want to make sure that the different groups on campus are able to express themselves in any way they feel necessary and feel safe and comfortable doing so." 
   As fresh faces to the USG campaign trails, Ramisa and Abulawi intend to bring changes to the student government. 
   "We ran because we believe we can make real change on campus, and that things in the USG have been stagnant these past few years," they wrote.
   In hopes of broadening the line of communication between USG leaders and students if elected, Ramisa and Abulawi hold strong in their belief that their campaign can offer a new perspective to BC students come election time. 
   "Although we don't have prior USG experience, we believe that our fresh perspective can really shake things up for our campus," they said.