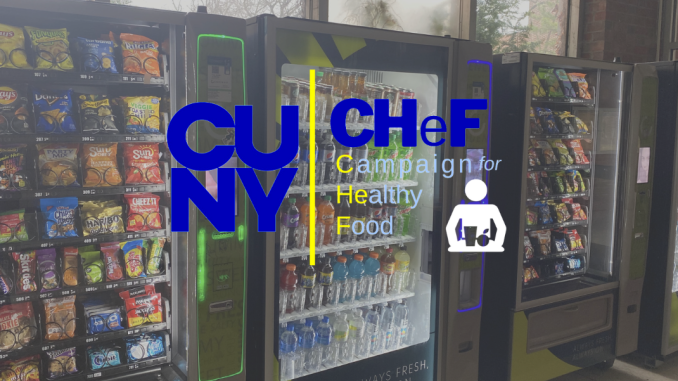 By Gabriela Flores
     Vending machine options and healthy eats can often be overlooked in the bustle of college life. In looking out for the CUNY community's well-being, the Campaign for Healthy Food (CHeF) works to definitively end the university's pouring rights contract with Pepsi, expand dining options for students, and overall, promote a healthier and more sustainable campus. At the heart of their drive, a team of students, faculty, and food policy professionals tackles economic, environmental, and nutritional aspects that impact CUNY's public health. 
   "When it comes to food and dining, and when it comes to the vending options, many colleges promote this sustainable campus and involvement in foods and nutrition," said Mark Hachicho, a CHeF student organizer. "But is it really reflected through the lifestyle that they promote?"
   CHeF is an initiative led by Healthy CUNY, a program created by the Urban Food Policy Institute, which seeks to make CUNY the healthiest public university system in the country. Through a range of services, including enrolling students in food assistance programs, Healthy CUNY works to advocate for students and their health. Composed of about 15 students, and food policy advocates like Eman Faris, CHeF represents a diverse group of CUNY students looking to better the university. 
   For Hachicho and Abeir Anasseri, a Brooklyn College student who forms part of the CHeF research team, joining the initiative back in November has enabled them to delve into aspects of health and nutritional sciences that they were not previously exposed to. Whether it be building skills outside of the biochemistry realm or dietician studies, they both gained insight into how to effectively advocate and research for food policy. In doing so, they've collaborated with other students hailing from Baruch, Lehman, Kingsborough, and other campuses. 
   "I think just the research and the education that goes on in our coursework and our professional work really prepares us on how to build a more resilient food system," Hachicho said.
   The crux of CHeF's purpose is to permanently end the $21 million, ten-year pouring contract CUNY has with Pepsi. With the contract's end approaching, they aim to give the university's top-ruling body, the Board of Trustees, concrete reasons for cutting ties with Pepsi. Pouring rights contracts grant universities incentives and compensations for the exclusive rights to serve, sell, and market a company's products on campuses. To CHeF and other food policy advocates, the current Pepsi contract limits CUNY students' options to sugary beverages and unhealthy choices, which could bode community health problems in the long run. 
   At BC and other CUNY colleges, these Pepsi-confined options are reflected in vending machines. 
   "A lot of students also are in a time crunch where they don't have a lot of time to like leave the campus to grab something. And so they're left stuck with whatever's in the vending machine," said Anasseri, noting that CHeF aims to diversify food options on campuses, not get rid of Pepsi or similar products altogether. 
    Those involved with CHeF have learned how to communicate their message for a healthier CUNY, as well as find better alternatives that benefit not only public health but the city's economy, too. While they look into the logistics of the Pepsi contract, CHeF members go beyond the issue's surface and consider how CUNY's partnership with an enormous company impacts small businesses. The university's vendor policy emphasizes the importance of partnering with businesses that are owned by women, minorities, or service-disabled veterans. But as researchers and advocates working in CHeF found, the contract with Pepsi does not align with said values. 
   "When you're giving money to what could be the monopoly of Pepsi, you're not really encouraging the economic development of the small businesses around you," explained Hachicho. He noted that moving away from a Pepsi contract renewal and towards local businesses could "help service and create this economic development between CUNY and the small businesses around us." 
    CHeF also considers the environmental impacts of the plastic waste that can come from limited vending machine and lunchroom options. While they finalize their proposals for contract switches to healthier, local alternatives before the Pepsi contract is up, CHeF members keep in mind biodegradable products that could have a lighter impact on the environment. 
   "I also think that's a great thing about this campaign that we're not just encompassing like nutritional aspects, but also like how it affects sustainability," Anasseri said. According to her and her team's studies, Anasseri found that the Department of Health and Mental Health suggests no more than two columns with high-calorie beverages. On BC's campus, however, they found that only three out of 84 vending machines follow this guideline.
    Besides their focus on the pouring rights contract, CHeF students intend to address the dwindling food options across lunchrooms. As members have discussed and noticed on their respective campuses, cafeterias have been hard hit by COVID. With Boylan Cafe's scarce food options, questions of consumer rights and CUNY's food vendor contracts were something that Hachicho pondered. 
    "There are just so many different ideas, and it leads us to ask the question of where do we draw the line? And how much does the consumer have a say in these contracts, and how are they gonna support the consumer," he said, noting that the community's health and the broader economy's state should be considered. 
    Experiencing first-hand the challenges and consistent efforts of advocating for a healthier CUNY, CHeF members have benefited from their experiences in the initiative. Looking to their career pursuits after graduation this May, both Hachicho and Anasseri plan to implement their lessons related to food policy into their respective careers. 
   "It's [CHeF's] encompassing of different things and it helps me have a good balance between nutrition and dietetics, and how it is an encompassing of community and the gastronomy behind the food," said Anasseri, who is working towards becoming a registered dietician. "So I think it's also really cool to do that at all."