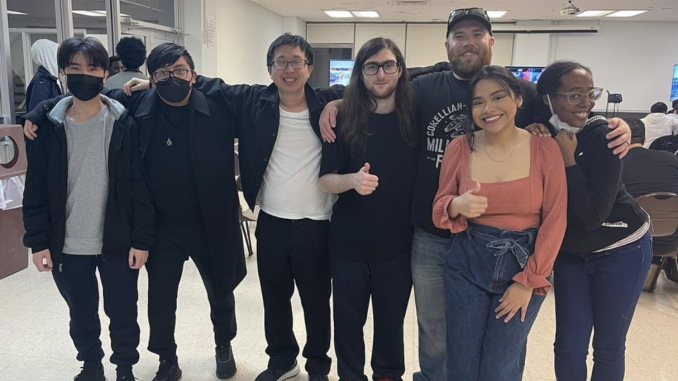 By Gabriela Flores
   The Esports Club is picking up wins left and right in national competitions, putting Brooklyn College on the map within the sport's realm. Esports, or competitive video gaming, has been a relatively new phenomenon at BC, seeing over 400 members and counting since it informally began in April 2022 on Discord. Now, with four teams playing in League of Legends, Valorant, Rocket League, and Super Smash Bros Ultimate singles, they're pushing for the college to back their momentum. 
    "We have a really strong natural talent pool," said Xander Raff, who wears multiple hats as the club's president, coach, director, and player. With all the competing members hailing from the college's student population, esports has aided in retaining students at the college. 
   In the wake of the ongoing student government elections, the club is spreading the word about the included referendum that undergraduates can vote on until Friday, Mar. 31. Currently, the referendum seeks to increase fall and spring student activity fees for undergraduates from $114.85 to $120, with $5 allocated to esports to form a department. If 10% of the student body votes in favor of the referendum by the deadline, and it makes way for the CUNY Board of Trustees' approval, the Esports Club can gain referendum status that would ensure their future fund allocation. For Raff and other members, these overdue funds could give their teams the support they need to continue beating the competition in most matches, all while providing the esports athletes the coaching they need to better their craft in their respective games. 
    Soaring at the top ranks are the League of Legends and Valorant teams. The League team has managed to become part of the upper bracket in esports's consideration of Division 1, with an undefeated 7-0 record as of press time in the Champions Division of the NECC, a collegiate gaming competition. Raff, who coaches all teams while also playing for League of Legends, consistently ranks 1500 out of 2.7 million ranked players in the game. With two weeks left until playoffs, the League team has already managed to secure their seat. In a similar fashion, the Valorant team has earned a 7-1 record, clinging onto its stake in the NECC's Challengers Division – the equivalent of lower Division 1 – and a spot in playoffs. Coming into this spring semester, two more teams were added to the roster: Rocket League and Smash Ultimate, landing significant wins and scarce losses. Competing at a level resembling lower Division 2 and higher Division 3, the Rocket League team carries a 5-3 tally with one more match needed to make it to playoffs. In Smash Ultimate singles, a BC player by the alias of "Reeduck" landed his part in playoffs on Friday, Mar. 24, by beating Arcadia University in a close 3-2 final score. As three of four teams warm their controllers for NECC playoffs, the Esports Club is looking to continue building what they've already sowed over countless hours. 
   "We have an opportunity to be a national caliber program, to be ahead of the curve when it comes to CUNY, ahead of the curve when it comes to New York City, and ahead of the curve when it comes to the entire Northeast region," said Raff, explaining that a stable financial backing could cost the college less than a traditional athletics program. 
   In collaboration with other student organizations, including Kappa Sigma as well as the Anime and Manga Club, the Esports Club has managed to put together on-campus watch parties for BC members to see their gaming chops. Besides competition, the club enables its community to connect on and off campus. Whether it be by playing casually, creating posts for the club's social media, or chatting through their Discord group, members have shown their commitment to e-sports. 
   As a collective that's been fully student-led, and has no direct line of funding from the college yet, the BC Esports Club hopes to work with the Undergraduate Student Government to secure a physical space on campus, hire coaches, purchase PCs for any student to compete or use for fun, along with other resources. 
   "It's one of those things where we have a really golden opportunity here. We're trying to get the students to show the administration that they're willing to put their money into it," said Raff. 
    In preparing to best their competitors hailing from universities like Cornell and Ithaca, the Esports Club is also slated to host two events in April, including a casual gaming hangout and Smash Ultimate tournament. For more information, visit the club's Discord chat: https://bit.ly/BCEsportsClub.