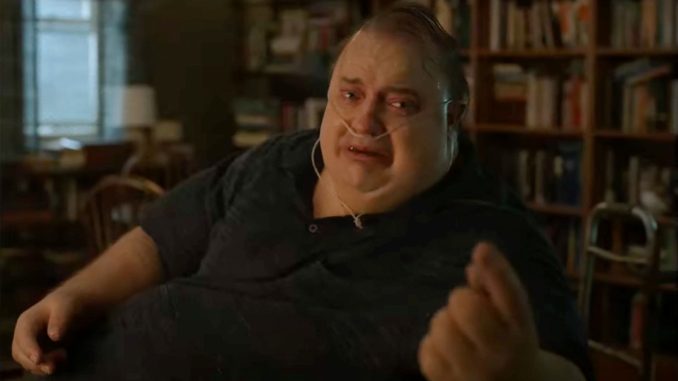 By Samia Afsar
   Trapped in the four walls of Darren Aronofsky's "The Whale" (2022) are shame, guilt, loss, and two meatball subs with extra cheese. 
   Based on the award-winning play written by Samuel D. Hunter under the same name, Aronofsky's drama follows, or rather sits at home with, college writing instructor Charlie (Brendan Fraser) as he suffers from an eating disorder that has left him at 600 pounds. With his health deteriorating, Charlie makes one final attempt to reconcile his relationship with his brusque 17-year-old daughter Ellie (Sadie Sink), as he confronts buried trauma and reignites lost love. 
   In his film, Aronofsky, alongside his director of photography Matthew Libatique, confines audience members to the four walls of Charlie's apartment where the entirety of the almost two-hour film is shot. 
   Sure, there are one or two exceptions with somber exterior shots of his Idaho apartment as a much-needed breath of fresh air. Still, "The Whale" serves as an ode to claustrophobia as Charlie's apartment is often crowded with either his friend and caretaker Liz (Hong Chau) or the Evangelical Christian missionary Thomas (Ty Simpkins). The film's intense dialogue over sexuality, suicide, addiction, and religion even imprisons viewers to the mortification that has led to Charlie's isolation.  
   As captivating and impacting as its story is, Fraser truly stole the show with a hauntingly stellar performance that ultimately nabbed him the Academy Award for Best Actor in a Leading Role at this year's Oscars. 
   Through each wheeze, each painfully fulfilling bite of food, to every plea for forgiveness – and all while wearing a 300 lbs fat suit – Fraser undoubtedly proved himself worthy of the Academy Award, and social media users were quick to applaud his performance.
   Twitter user @sofiaRoldann tweeted, "[…] the most profound performance I've ever seen. It's easily the best performance of the year. When I stood to leave the entire theatre was crying at the end. Every. Single. Person. I've never seen anything like it […]."
   Other audience members viewed the acting as the film's only saving grace. "The whale was not a good movie…good acting but that's about it," said Twitter user @IAMWESLEYCURTIS.
  Although Fraser has starred in numerous blockbusters, his performance in "The Whale" was his first Oscar win, and arguably the only role he has played worth awarding. 
   Perhaps it was the industry overlooking Fraser's capabilities by primarily casting him in physical comedies such as "Encino Man" (1992) and "George of the Jungle" (1997), before finally being cast in the original "The Mummy" franchise. Or maybe it was simply his role as Charlie in Aronofsky's film that enabled him to deliver such an incredible performance. Either way, Fraser's win is one that is not only well-deserved but one that rightfully diverges him from his portfolio of comedies.
   Through its utter audaciousness and phenomenal performances, Aronofsky's drama perfectly captures the poetic intricacy of self-destruction and the desire for redemption. Whether you decide to watch it for its plot or for Fraser's incredible performance, "The Whale" is a beautifully gut-wrenching film dissecting the complexities between relationships with one another and oneself.
   "The Whale" is currently available to stream on Amazon Prime Video, Apple TV, Vudu, Redbox, and YouTube.