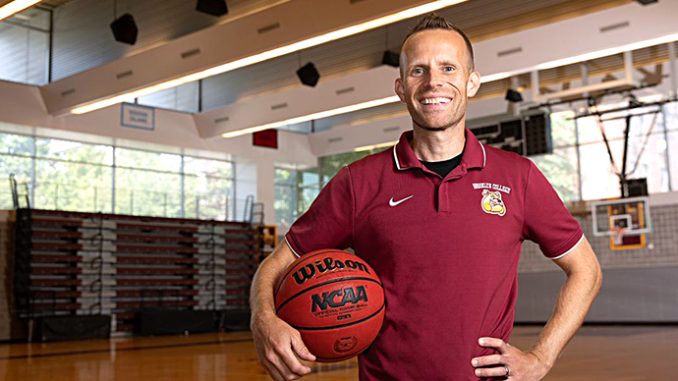 By Gabriela Flores
    Garnering 340 wins throughout his 20-season run as head coach of Brooklyn College's women's basketball team is one of the many accomplishments Alex Lang has accomplished. Turning a winless team into a nationally-recognized one was no easy feat. At the heart of his success is his dedication to his players, assistant coaches, family, and the game. Through it all, he's learned valuable lessons that have shaped him beyond his role on the court. 
   "There have been countless memories, amazing wins, and of course tremendous players that I have coached over the years," Lang wrote in a statement to The Vanguard. "It is difficult for me to pinpoint one lesson that coaching has taught me, however, I know that it has made me a better person, made me a better father and taught me patience."
     Lang, alongside long-time assistant coaches, is responsible for re-inventing the college's CUNYAC powerhouse basketball team. Since arriving at BC in 2002, he's coached three CUNYAC Player of the Year winners, WBCA All-Americans, and several collegiate basketball stars, according to Brooklyn College's Sports Information. Beyond the court, the players Lang has coached regularly earn one of the highest team GPAs in the college's department. From the get-go, Lang has put in the work and then some, leading him to become the coach with the most career wins in CUNY, and gaining honors on a regional and national level. 
   Recruitment of players was the key to it all, not to mention on-court practice, scouting, scheduling, equipment ordering, handling of media, and most importantly, building relationships with players, coaches, officials, and parents. Establishing this foundation allowed the team to thrive, giving student-athletes the space they needed to grow and ultimately succeed. 
     "The most rewarding thing about working with our women's basketball team has been seeing all of the great friendships and bonds, and knowing I had a part in bringing people together," said Lang. 
    Knowing that improvements could be made each year, Lang remained consistent in his leadership. Not only did he persist in securing success on the court, but also on the backend. Lang will continue as the associate director for the college's athletics, one of many roles he's covered over the decades. On the administrative side, he's been the sports information director and compliance coordinator. At one point, Lang also coached the women's cross country team from 2007 to 2012, leading the 2008 cohort to a CUNYAC title and Coach of the Year conference award. 
   When it comes to women's basketball especially, his coaching style will remain etched into Brooklyn College and CUNYAC history. 
    "On the court, the style of basketball my teams will be remembered for was a fast-paced, up and down the court tempo on offense, while giving tremendous effort on the defensive side of the ball," Lang said. 
     Though he's hanging up his coaching whistle, Lang will not be leaving BC. He's continuing his administrative work for the Athletics Department, where he'll see through ideas he has for the program as it undergoes a transitional period with its new director, Erik Smiles. Looking back at his 21-year stint as a Brooklyn College head coach, he thinks it's time to switch gears and give it all he's got to the program overall. 
   "We have accomplished a tremendous amount of success and have had great people graduate our program and represent us well. I have no regrets in coaching," said Lang. "I am looking forward to having a slightly different lifestyle and some new challenges. I think it is time for a new coach to have a chance to take this program to even greater heights."
   A day after his resignation from coaching was announced on Apr. 18, a new head coach for the women's basketball team was announced. Megan Campbell is set to climb the ranks from assistant to head coach and is credited with the success the team has garnered over the past two seasons. Campbell is no stranger to BC, having graduated from the college with a bachelor's and master's degree after being an accolade-studded athlete herself. 
   "Brooklyn College has had a major impact on my life, it is an honor to be named head coach of a program that means so much to me," Campbell said in a BC Athletics press release. "Alex [Lang] has had a tremendous amount of success over his 20-year career.  He has laid a strong foundation that I look forward to building upon."