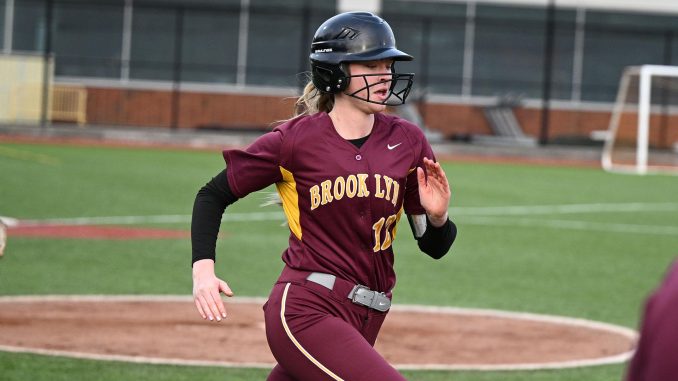 Women's Softball Drops Double-Header
By Owen Russell 
   The women's softball team suffered two brutal losses in its only double-header of the week on Thursday, Apr. 27, against Baruch College.
   The Bulldogs hosted the Bearcats on Brooklyn's Senior Day. While hoping to celebrate their seniors with at least one victory, that proved not to be the case. Brooklyn faltered from the start, allowing four runs in the first inning of Game One. Baruch scored on two singles and one double, capitalizing on an error by the Bulldogs. Brooklyn struggled to get bat on ball, managing just four hits for the game. In the sixth inning, Baruch tacked on two more runs to make it 6-0. With a mountain to climb in just two innings, Brooklyn needed to find offense fast, but could not produce. Shortstop Melanie Millan grounded out to second base, scoring Brooklyn's lone run of the game. Baruch held on to win Game One 6-1.
   Having dropped Game One, the Bulldogs hoped to bounce back in Game Two. The Bearcats had other plans. In six innings, Brooklyn allowed eight runs, scoring none of their own. Despite what you may think, the Bulldogs were within striking distance for much of the game. Heading into the sixth and final inning, Brooklyn trailed by two. All the Bulldogs needed to do was to hold Baruch scoreless, and they might have had a chance. The Bearcats went on to score six runs in the sixth, chipping away piece by piece. Three singles, a wild pitch, and a lot of crafty base-running later, Baruch led 8-0. 
   Brooklyn could not recover. Senior night ended with two stinging losses, closing out the Bulldogs' home schedule.
   Brooklyn's regular season wraps up on Thursday, May 4, against Hunter College on Randall's Island.