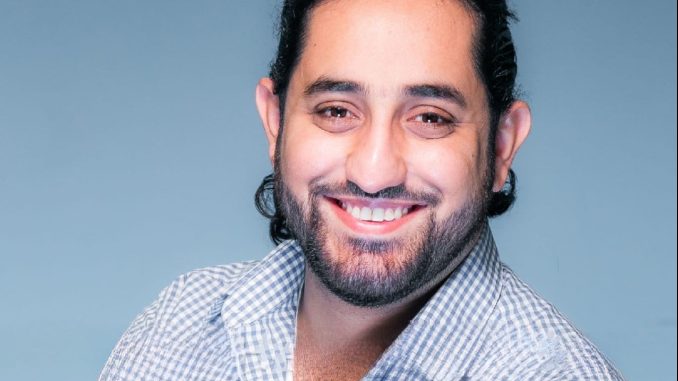 By Gabriela Flores
    Climbing the ranks in student government and every environment he has found himself in has become synonymous with Aharon Grama's character, the Undergraduate Student Government's outgoing president. Though Grama is set to graduate this May, his legacy and impact on the college's student life will remain. 
    "I'm really impressed by the way that we [USG] are moving, and I'm hoping that this will be maintained in that way," Grama said. 
   Grama is a non-traditional student, who joined Brooklyn College back in 2019 through the BC Bound program, which aids those who received a high school equivalency certification to smoothly transition into their undergraduate career. Before returning to his native Brooklyn, Grama was raised as an ultra-Orthodox Jew in Israel. For years, the innate critical thinker who sought a life beyond the restrictions set around him was isolated from secular living, including secular education. Once he left the life he knew, he served in the Israeli Defense Force, making trips back to the States in the years leading up to his time at Brooklyn College. 
   "I strongly believe in education, and wanted to get my education – wasn't specifically to Brooklyn College, but just in general, wanted to get an education," he said.
    In valuing the educational opportunities he has, Grama wanted to ensure the needs and concerns of his fellow peers were met with problem-solving. Grama's start in student governance came somewhat coincidentally, after he met his predecessor Ethan Milich while he campaigned for USG. Once he joined Milich's cabinet as chief of staff, Grama began a new chapter unconventionally yet again. His first term in USG coincided with the university's pandemic-induced shutdown. The budding student leader took the move online as an opportunity to reshape and restructure the student government that merged two former entities, CLAS and SGS, into USG. 
    "Many students did not know what USG  is, but it feels different now," said Grama. "It feels like many students know that student government exists, knows that they're over here to support them."
   At the height of the pandemic, Grama and his colleagues fought for the credit/no credit policy to be extended for students given the unprecedented circumstances of COVID-19. When the university attempted to implement ProctorTrack, an online proctoring software, Grama began a petition that collected over 30,000 signatures against the decision. Grama and his colleagues asserted that the program infringed on students' privacy, tracking more than their test responses, but their personal history and files as well. CUNY did not move forward with ProctorTrack, and Grama decided not to stop there. 
    He continued the momentum of Milich's administration and aimed to better organize the University Student Senate, the university's student government. To do so, he joined forces with a powerhouse co-president, now alumna Iqura Naheed. After they won their seats, they boosted the presence of USG among students and helped the community transition from remote to on-campus learning in 2021. 
    In the midst of helping student leaders and addressing student concerns in real time, USG flourished into a significant line of support for students on campus. On the backend, college committees where students had seats but were often left vacant without representation in previous years became filled under Grama's terms. Better communication and collaborative efforts with the college's administrators also improved. In handling all the minutiae and major issues that impacted campus, Grama hoped to extend his efforts on a CUNY-wide level. In his stint running for USS chairperson, Grama's goal of becoming a student trustee in the CUNY Board of Trustees, the top-deciding body in CUNY, was cut short. He was disqualified by USS's Elections Review Committee, who alleged he used The Vanguard newspaper for campaign purposes. His removal from the race was followed by disapproval from many student representatives across the university, and a months-long delay to the appointment of a new USS chairperson. For Grama, he learned to accept the loss and keep moving forward. 
   "It felt really like there was injustice over there. But I learned that I can be stuck in that kind of dimension," said Grama. "Sometimes you need to move." 
    Today, Grama also serves as USS's Vice Chair for Senior College, where he advocates for students enrolled in CUNY's senior colleges. Beside him is USG's second-in-command Carrie Ebbin, who was recently elected to take over as president with her running mate Huda Ayaz. 
    "They will do great. They care, and they're invested in it. And I feel like that's the most important thing. You wanna have leaders that actually care about it," he said about the newly-elected winners. 
    Seeing the immense strides and connections he's made with his team, students on campus and beyond, Grama is proud of the work he's accomplished for Brooklyn College. His work in politics is far from over. After considering computer science as his major, Grama settled with philosophy and is looking to study law after BC. Once he becomes a lawyer, he envisions getting a taste of local politics. The innate leader, who manages to turn most no's to yes's for the sake of his community, will continue working at the college after graduation. His drive, detailed organization skills, and dedication to improving student life have set him apart as a student advocate. Now, as he leaves his undergraduate years behind, he'll carry on the lessons and experiences he's garnered at USG. What he'll miss most of all are cabinet meetings with his colleagues. 
   "It might be boring for many students, but the amount of information that comes inside that meeting, that one meeting, and we get to know exactly everything that moves on, what's the status of what we're working on," he said. "I'm gonna miss that for sure."