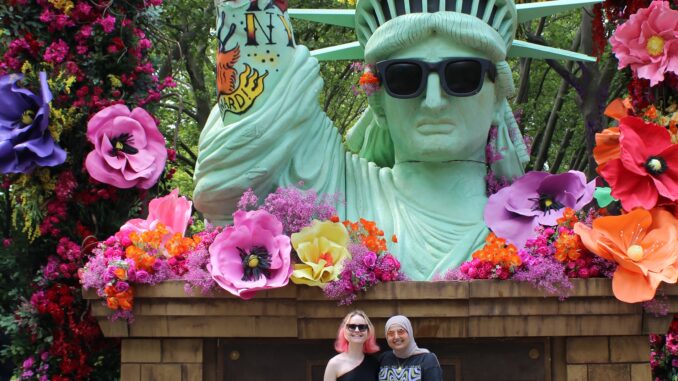 By Serin Sarsour and Kate Dempsey
   The Governors Ball Music Festival returned to New York City to kick off summer fun and festivities on Friday, Jun. 9, through Sunday, Jun. 11, at its new location at Flushing Meadows Corona Park in Queens. CUNY students, and New Yorkers alike, got to see some of their favorite artists perform while enjoying the festival's new setting full of pop-up experiences and delicious food trucks. 
   Artists ranging from Ice Spice to Lil Nas X to Kim Petras, and headliners Lizzo, Odesza, and Kendrick Lamar, exceeded all expectations with their outstanding performances, which we were lucky enough to experience as a part of the festival's media crew. The artists' performances were spread out on three stages that represented different Gov Ball partners: the Verizon stage, the Gopuff stage, and the Bacardi stage. 
   What guests were not expecting to see, however, were alerts declaring hazardous air and potential festival cancelation earlier in the week.
   New York experienced a historic amount of polluted air beginning on Jun. 6 due to wildfires in Canada that billowed smoke toward the United States, blanketing the northeast in a noxious orange haze. According to the New York State Department of Environmental Conservation, the average Air Quality Index (AQI) on Wednesday, Jun. 7, and Thursday, Jun. 8, was 200-300 and was deemed "Very Unhealthy," with a peak of an AQI of over 400, which is "Hazardous." 
   Singing, screaming, dancing, and doing any physical activity outside in such conditions is extremely harmful, so continuing a music festival in such conditions seemed to be absurd at first. Deciding the show must go on and with the prospect of the haze clearing up, the Governors Ball team released a statement about the possibility of cancelation due to the harmful conditions. 
   "We are closely monitoring the air quality with weather experts and are in close contact with city officials. As always, the health and safety of New Yorkers is our top priority," stated the Gov Ball team on their Instagram page on Jun. 7. "At this time, the festival is continuing as planned. We are hopeful that conditions will improve in the coming days and are looking forward to a great weekend!"
   Despite the potentially harmful conditions, festival-goers flocked to Flushing Meadows Corona Park. 100,000 people in total attended the festival over the weekend, according to The New York Times. As festival-goers ourselves, we were hesitant to join the thousands screaming for their favorite artists while potentially inhaling toxic air the entire time. But as the festival began on its first day, the AQI lowered to an amount sufficient to healthily enjoy what the festival had to offer.
   Gov Ball was definitely a unique and fun experience for us. Some of our favorite performances came from Kendrick Lamar, Lil Nas X, Ice Spice, and Giveon. One of Serin's highlights was getting the chance to hear "Heartbreak Anniversary" by Giveon live. As for Kate, her favorite moment was fireworks being set off to the tune of Kendrick Lamar's incredible performance. Unsurprisingly, the crowds were as lively as ever; everyone knows New Yorkers know how to have a good time.
   Besides offering an extensive list of diverse artists, the festival also had interactive pop-ups with various photo ops that made the festival even more special. For instance, there was a pop-up shop that was sponsored by Red Bull where Red Bull drinks were being served alongside a DJ that was hidden in a space that was made to look like a subway station on the outside and a miniature version of NYC on the inside with a fake deli, flower shop, and construction site. Guests even received a special Red Bull MetroCard and wristband to go inside. Here, guests were able to take cool photos, including some in front of distorted funhouse mirrors.
   At other pop-ups, attendees had the opportunity to get funky face paint designs and free snacks like M&M's. Additionally, there was a wide variety of food options that included kosher, halal, vegetarian, gluten-free, and vegan meals, with popular vendors like Van Leeuwen Ice Cream, Mao's Bao, The Halal Guys, and more.
   Something that delightfully surprised us at the festival was the presence of booths of advocacy organizations, such as HeadCount, a nonprofit organization that works at music festivals to increase voter registration. Other booths offered free Narcan in case of drug overdoses, as well as a sensory deprivation room for guests who needed to rest.  
   Flushing Meadows Corona Park is huge, so we were also pleased that there were free water stations where guests could refill their water bottles and stay hydrated in the heat throughout their stay at the festival. We really appreciated how the Gov Ball team looked out for their guests and made several resources accessible to them.
   Gov Ball '23 was a weekend we'll never forget. The festival brought New Yorkers from all different backgrounds and walks of life together to enjoy something they all have in common: a love for music.