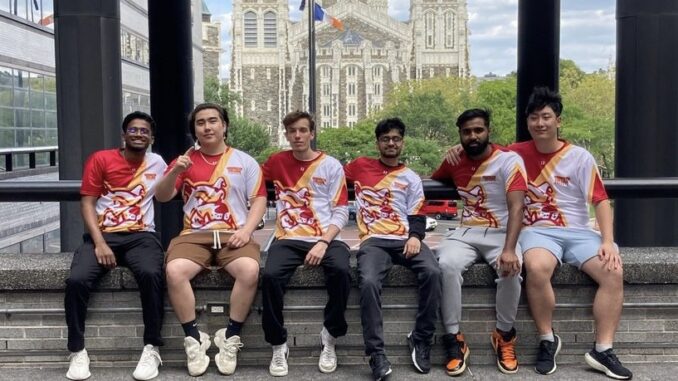 By Kate Dempsey
   Brooklyn College's Esports Club went head-to-head against other CUNY schools at the City College of New York's Valorant Exhibition on Aug. 19, coming out on top at the first intramural tournament of the season. Esports is made up of teams that face off in the digital world, playing games like Call of Duty, League of Legends, and more. For this tournament, the BC team went up against Baruch, City College, and Hostos Community College in the game Valorant, a first-person, character-based shooter game.
   To the BC esports team, the win comes as no surprise due to the team's practice, dedication, and support for one another. "We had a lot of practice and scrims [scrimmages] the week prior to the tournament. During the week, we mainly focused on the synergy and coordination within the team. As a result, we got the wins," said Anthony Wong, BC's esports team captain and a senior at the college.
   The four teams playing were single elimination until the final match. There were 12 rounds in each half, a team needing 13 wins in order to claim victory for the whole match. As the BC team played, there were rounds that came down to the wire. In the end, the team won quickly, with a 13-5 win on Fracture and 13-4 on Icebox, and did not need to go into a 12-12 tie that would have required going into overtime.
   "There weren't really any intense moments. I was pretty relaxed the whole time, and I think that's the best mindset to keep for the tourneys [tournaments]," said Grant Finkelstein Smay, a tournament player and a sophomore at BC.
   Established in fall 2022, the club had its informal beginnings on the video game platform Discord, where it went from a group of 40 to a team of 400 when established at BC as a club. For the first year as a club, they were unable to receive the funding needed to buy computers and have a space to practice on campus.
   A referendum calling for a $5.15 increase in the student activity fee was proposed by BC's Undergraduate Student Government and was ratified for the fall 2023 semester after the Board of Trustees passed the referendum on Jun. 26. As a result, the increase in the activity fee enabled the esports team to meet their funding goals.
   Esports Club President Sasha Calderon predicts that the club will continue to rack up wins in the upcoming season as they look forward to competing in the National Esports Collegiate Conference.
   "It was really an honor to win the tournament and we hope to win more in the future," said Calderon. "We have some really talented players and we cannot wait to see how their respective season plays out this semester."