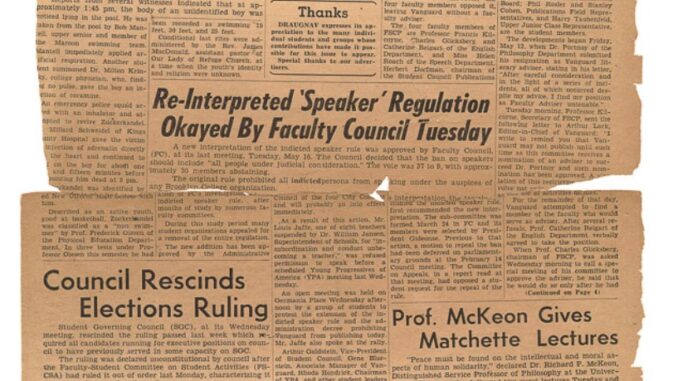 By Kate Dempsey
   This issue marks not only The Brooklyn College Vanguard's 100th issue since our return in 2019, but it also marks a milestone in our team's commitment to ensuring that Brooklyn College students are informed of issues relating to campus, and sharing student voices that make up our diverse community.
   We've come a long way, to say the least. The Vanguard was originally established in 1936 during BC's early years as a school. On May 12, 1950, the paper was suspended by then president Dr. Harry D. Gideonse due to a controversial article being published about internal politics involving the history department. Vanguard's charter was revoked, and locks were changed on the Vanguard's office door.
   Nevertheless, the editors and staff writers persisted. These students rallied together and BC's underground newspaper The Draugnav ("Vanguard" spelled backward) was born, crowdfunding for resources and using a staffer's home basement as the office. President Gideonse, unhappy with the resurgence, suspended all five editors and the staff writers. Funding then folded, and a newspaper for BC seemed bleak.
   However, that did not stop the journalist's quest for justice and truth, as BC's next student newspaper, The Kingsman, was established in 1950. And later, The Kingsman's rival newspaper, The Excelsior, was established in 1988. Many of the original members of The Vanguard went on to write for and become editors at news organizations like The Wall Street Journal, The New York Times, and The New York Post. Others went on to found important institutions, such as Vanguard staffer Myron Kandel, who co-founded CNN, and Ann Lane, who founded the Women and Gender Studies department at the University of Virginia. The list of contributions goes on.
   The Vanguard we know today was re-established in 2019, when the two former competing papers, The Kingsman and The Excelsior, joined forces. Based in Roosevelt Hall room 118R, our presence on campus allows students to not only be aware of what is happening on campus, but to also connect with all that BC has to offer.
   Even after only four years, the paper has been through a lot. For an entire year, we had to report in a digital world due to the onset of the COVID-19 pandemic, working remotely to try and keep students informed on what was happening at BC. We have been here through all of BC's ups and downs. From being in the streets covering protests, to capturing sports and music events, we are here for all of BC's important moments.
   Over the years, our staff members have won many accolades, including awards from the New York Press Association. Our paper itself has received several awards, the most recent being BC's Undergraduate Student Organization of the Year for 2023. We are very proud of our writers past and present, and appreciate knowing that we will continue to uplift student voices.
   A sincere thank you to all of the writers and editors before us who have made The Vanguard what it is today. And a big thank you to our readers, without whom this would not have been possible. We look forward to the next 100 issues, and the many more after that.