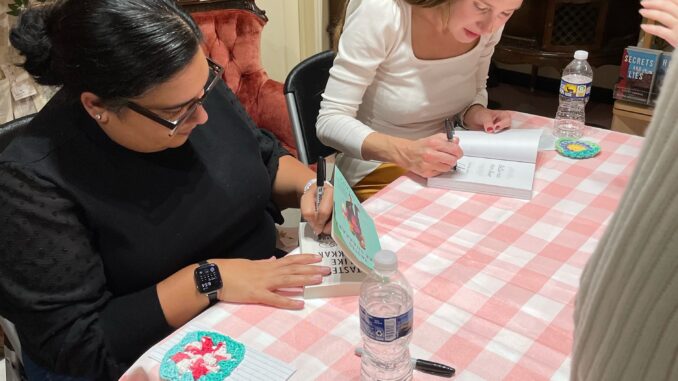 By Paulina Gajewski
   The ever-expanding world of contemporary literature differentiates itself from the constructs of the past. Modern audiences call for the diversification of books so as to gather representation both in the characters and the topics tackled. In an attempt to heed that call, a conversation was held between romance authors Chloe Liese and Nisha Sharma this past Saturday, Oct. 21, at The Ripped Bodice bookstore in Brooklyn.
   In 2016, The Ripped Bodice was a location that romance novel connoisseurs swooned over in its initial opening in Los Angeles. This past summer, owners and sisters Bea and Leah Koch opened a second location in Park Slope, one of the very few genre-based book shops in New York City. With its striking pink facade and walls plastered with book pages and pastel flowers, the store is filled to the brim with all the varieties of subgenres of romance novels.
   The location has been host to a plethora of events since its opening, including book club meetings and trivia nights. It has also functioned as a space for author book talks. Unlike larger retail bookstores like Barnes and Noble, the snug interior of The Ripped Bodice feels more local than commercialistic.
   Liese's book, presented first, is titled, "Better Hate Than Never." The main character, Kate Wilmot, struggles with ADHD and chronic migraines. Characters from other books of Liese's also struggle with barriers in their lives pertaining to autism, inflammatory bowel disease, celiac disease, and anxiety.
   Liese has become a staunch supporter of destigmatizing neurodiversity in her books, along with opposing ableist barriers that, as she stated on her website, "view the neurodiverse and particularly autistic as less capable, human, and worthy of opportunity, independence, and love."
   Liese herself was diagnosed with autism later in her life. During the talk, she recounted that it was, in fact, a romance novel that convinced her to seek out a formal diagnosis after she had related to a character who shared the same diagnosis.
   Many of Liese's characters tend to be in their late twenties and thirties. "I like to write characters who know their flaws," she said at the book talk, responding to a question about her character demographics. "A lot of us in our twenties and thirties already know what our flaws and vulnerabilities are."
   Similarly, Sharma shares the same values of representation and diversity within her novels. As a native from India, the representation of women of color in romance novels is integral. This representation has been close to nonexistent in a field dominated by predominantly white women. Her new book, "Tastes Like Shakkar," is the second in a series called "If Shakespeare Was an Auntie," blending classical Western literature with facets of her own culture.
   Sharma's work for representation began when she worked at corporate jobs. She spearheaded diversity, equity, and inclusion initiatives at multiple companies. Now, as an author, she writes and advocates for marginalized authors in publishing.
   Both books were Shakespeare retellings: Liese's retelling of "Taming of the Shrew," and Sharma's "Much Ado About Nothing," hence the pairing of the authors. The reclamation of classic Western literature by infusing it with representation and themes of modernity lends itself to the versatility of romance as a genre.
   The New York Public Library provided a brief history of the romance novel. When the romance novel originated, it reflected the desires of the audience, so the characters were able to not only express their individuality and desires but were also rewarded with successful marriages. From this budding genre, historical romance novels and gothic romance novels became popular, adding nuanced plots to the already existing one. Years later, the demand for scandalous mass market novels rose.
   Though the history of the romance novel is long and stems from some of the most prolific authors of the eighteenth century considered classics today, it is often undermined as a genre. To this day, it is the only genre written predominantly by, for, and about women. Its readership has become diverse, and so have its topics and characters. The importance of representation is a value held by both Liese and Sharma.
   "Everybody deserves a love story," Liese said towards the end of the talk.