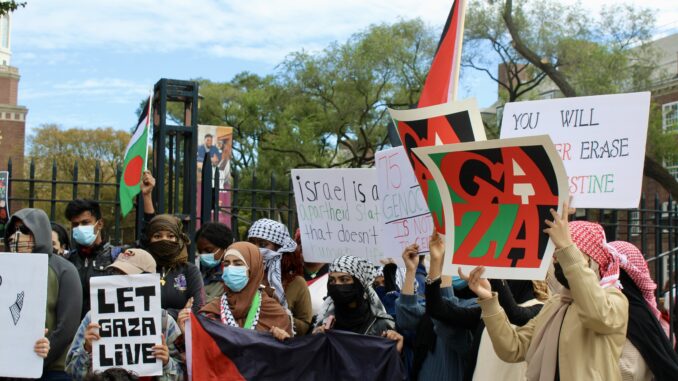 By Kate Dempsey
The Vanguard would like to encourage readers to read the Editors' Note on this article.
   Protesters organized by the Students for Justice in Palestine (SJP) club at Brooklyn College clamored for an end to Israel's siege on Gaza and for more fair Western media coverage on Wednesday, Oct. 25, as they joined a national school walkout day coordinated by Palestinian-led youth movements across the U.S., which included the National Students for Justice in Palestine and the Palestinian Youth Movement.
   Much like the protest organized by SJP on Oct. 12, ralliers were met with police and barricades as they made their way just outside of BC's East Quad to Bedford Avenue at noon. This time, however, pro-Palestinian organizers were not met with counter-protesters. The pro-Palestine protesters also saw a smaller group which, according to organizers, is attributed to NYC Councilwoman Inna Vernikov showing up to the Oct. 12 protest openly carrying a firearm, leaving many worried something else might happen again if they organize.
   "Since the recent incident with Inna Vernikov, of course, there are some students who might feel worried, especially since there's a rise in hate towards pro-Palestinians and Islamophobia," a leader of SJP told The Vanguard, who wished to remain anonymous in fear of being doxxed. "But we will never be silenced or afraid to speak up for what's right."
   CUNY Chancellor Félix V. Matos Rodríguez released a statement in an email at the same time as the walkouts, addressing CUNY students' mental well-being as students continue to grieve during an "emotionally charged atmosphere" across CUNY's campuses.
   "As we continue to process the tragic events still unfolding since the Hamas terror attack, including the horror of the Israeli hostages and the deepening humanitarian crisis in Gaza, I want to update our community on steps being taken to ensure the physical and emotional well-being of all our students," the statement read. "We acknowledge that many of our Jewish, Palestinian and Muslim community members and families are concerned and frightened. We have increased the availability and visibility of counseling and support resources for students, faculty and staff."
   Chancellor Rodríguez attributed students' worsening mental health to the news reports and images coming out of Israel and Palestine. To protesters, Western media coverage has been biased and misinformed, contributing to the humanitarian crisis in Gaza rather than helping it. Protesters chanted "Every time the media lies, a neighborhood in Gaza dies!" and "Media, media, you can't hide; you're helping genocide!" Speakers at the rally highlighted the need for more ethical media standards in order to more accurately portray the situation.
   "An alarming trend has been growing within the corridors of news media outlets in which twisted narratives and selective storytelling has become common practice […] This distortion of reality has been fostering a culture of misunderstanding and hostility among communities and individuals based on misconceived notions rather than facts," a speaker at the SJP walkout said, who also wished to remain anonymous for safety reasons. "The time has come to demand a change to advocate for responsible and ethical journalism that prioritizes truth over sensationalism […] It's a matter of fostering understanding and empathy in a world already besieged with conflict."
   The speakers called attention to the real-world consequences that the reporting on Israel and Gaza can have. For instance, a six-year-old Palestinian boy in Chicago was murdered by his landlord in reaction to the conflict, according to The New York Times.
   Many of the pro-Palestine activists remained covered up in keffiyehs, traditional Palestinian scarves, in fear of being identified through the media. Some faculty members at the walkout acknowledged that it will remain difficult for students to advocate while fearing being targeted, both by the administration and by media outlets.
   "Palestinian activists are being harassed and threatened, from members of Congress to leaders for Students for Justice in Palestine," said Tatiana Cozzarelli, an adjunct professor at BC. "Students' job offers have been rescinded, people have been fired, even more people are afraid to speak for fear of getting fired […] We must stop the witch hunt against activists that are just denouncing the atrocities in Gaza."
   Protesters argued that the BC administration has left Palestinian students isolated and fearful of retaliation for speaking out. On Oct. 18, a coalition of 19 student clubs and organizations called for the resignation of BC President Michelle Anderson at a Faculty Council meeting. The student leaders wrote in their statement that President Anderson used "divisive language" that threatened the safety of protesting students, as well as stating that they "no longer trust Michelle Anderson's interests will ensure [their] safety."
   Since the call for President Anderson's resignation, students and faculty feel that the administration has not done enough to guarantee campus safety for Palestinian students, who feel threatened even when they are not protesting.
   "The administration has done nothing to protect you all, nothing to demand accountability and that is unacceptable […] Even if the administration is not on your side, know that many CUNY faculty and staff are here with us today," Corinna Mullin, a professor at BC and member of the CUNY for Palestine group, told the crowd at the rally.
   For activists who do decide to continue to advocate, shadowbanning – the partial or full blocking of a social media user's content – adds another barrier to sharing information about the worsening humanitarian crisis in Gaza. For journalists on the ground in Gaza who also attempt to post on social media, they are facing difficulties in sharing information due to a blackout that has severed reception for mobile devices to connect to the internet, according to Reuters. The news agency additionally reported that Israel's military has told international news organizations that they cannot "guarantee the safety" of journalists in Gaza; 24 journalists have been confirmed killed as of Oct. 26, according to NPR.
   While there has been criticism that the media's role in covering Israel and Palestine is harmful, speakers expressed that they are hopeful that it may improve.
   "Media serves as a beacon of truth, fostering a society grounded in empathy, justice, and an unyielding pursuit of truth," a speaker at the walkout said, who also wanted to remain anonymous for their own safety. "We must urge our media outlets to portray the siege and the crisis in Gaza with the impartiality and the honesty that it warrants, shedding light on the human suffering and the urgent need for peaceful resolution."
   The Vanguard reached out to BC's Communications and Media Relations Director Richard Pietras for comment from President Anderson and the administration on Oct. 25 in regards to the walkout, and only received a forwarded email from Chancellor Rodríguez.
This is a developing story. The Vanguard will report on updates as they are made available.