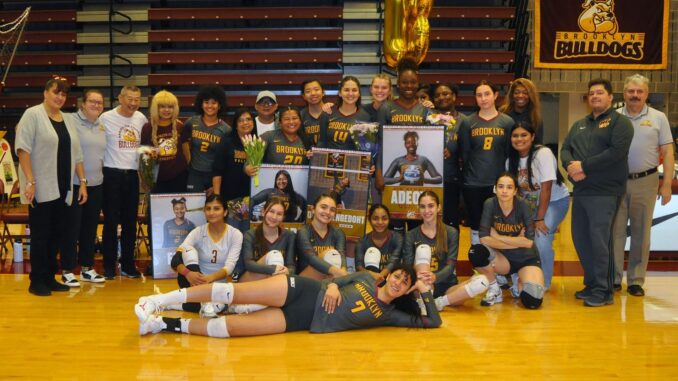 Women's Volleyball Ends Regular Season With Win And Loss
By Oscar Docavo
   Brooklyn College's women's volleyball team battered York College on Tuesday, Oct. 31. The Bulldogs' penultimate match of the season ended in a dominant sweep (3-0). The York Cardinals never came close to touching their hosts as Brooklyn won all three sets with scores of 25-5, 25-8, and 25-6 respectively.
   Senior Katia Mercado and sophomore Emma Steele gave everything they had for Brooklyn in the first set. Mercado supplied the Bulldogs with two aces at the beginning of the first set as Brooklyn would go on to cruise to victory. The first set ended with similar dominance as Brooklyn closed out with seven straight points.
   The Bulldogs practically ended the second set at will. Already 16-8, the Bulldogs scored nine unanswered points to end it. The Cardinals watched any hope they had evaporate as they went from trailing by one point to trailing by 12 in an instant. Brooklyn had stomped out most of York's spirit at that point as the sweep was completed.
   Brooklyn produced 32 aces, while York had none. The Bulldogs were led by Steele in this category with 14. The Bulldogs also produced far more kills than the Cardinals, 22-6. Junior Aleah Rafat was in sensational form with a team-high seven kills, as well as seven aces and three digs. Even without star senior Ashley Fung, the Bulldogs rolled.
   The Bulldogs celebrated Senior Night on Thursday, Nov. 2, as they hosted Kean University at the West Quad. A 3-0 loss to Kean did not stop the crowd from giving the seniors the standing ovation they deserved.
   Seniors Ashley Fung, Katia Mercado, Megan Ortiz-Mengedoht, and Ayomide Adeoye got to play in front of the West Quad crowd for one last regular season game.
   "Definitely felt the love, especially from my parents, team, coaches, event staff, and absolutely from the crowd. I also felt this mutual connection between the other seniors," Fung told The Vanguard.
   Unfortunately, it was not an ideal sendoff for the senior Bulldogs. Brooklyn lost each set with scores of 25-8, 25-16, and 25-11 respectively. Though, they did have four blocks to Kean's two.
   Fung came back into the line up with four kills, seven digs, and a block, bowing out with a characteristically tenacious performance. Mercado led the team in assists with eight, and Ortiz-Mengedoht had two blocks. Rafat built on her Tuesday night performance with nine kills (leading the team) and four digs.
   Fung, Mercado, and Ortiz-Mengedoht were all part of the 2021 championship team, cementing themselves in Bulldog history forever. Brooklyn ends the regular season this year with an overall record of 11-12 and 4-3 in CUNYAC play.
Men's Soccer Has Incredible Run End In Heartbreak
By Oscar Docavo
   Brooklyn College's quest for a first-ever CUNYAC men's soccer title will have to persist for at least one more year after facing a 2-0 loss against Baruch College in the final on Saturday, Nov. 4. The Bulldogs met the Baruch Bearcats at Queens College for a duel of the underdogs.
   Brooklyn entered the CUNYAC tournament as the fifth-seeded team, while Baruch was ranked third. Brooklyn and Baruch went on to put these rankings to shame as the Bulldogs beat first-placed Lehman and the Bearcats dispatched second-placed Hunter.
   The Bulldogs started off strong against an opponent that has appeared in the past three CUNYAC men's soccer finals. Brooklyn limited Baruch's ability to attack down the flanks and disrupted their attempts to string together coherent attacks. Due to the effectiveness of the Bulldogs' press, Baruch had to try and play the ball over Brooklyn's defensive line. Brooklyn won the key aerial duels and played the ball out from the back effectively. The Bulldogs' counterattacks forced Baruch into conceding multiple corner kicks. Though Baruch defended well, it seemed like Brooklyn would break through eventually.
   Tempers flared briefly with a little less than 20 minutes left in the first half after physical play, harsh words, and shoves were exchanged between members of each team. These kinds of interactions are not uncommon in an evenly-contested final. Though there were several players involved in the bust-up, Brooklyn College's senior goalie, Carl-Henry Obeissant, was the only player to receive a yellow card. Three minutes later in the thirtieth minute, Baruch scored from a set piece. Baruch's Ammar Ahmedshaker played a ball into the box, which was then slotted home by substitute Julio Ramirez.
   The second half was even in the opening exchange with neither team attacking very effectively. Obeissant was called into action at the 59-minute mark when CUNYAC player of the year, Baruch's Arman Celebi, ran down on him one-on-one. Obeissant pulled off a heroic save with his right leg to keep the score 1-0.
   The game turned on its head at the 67-minute mark when sophomore Danny Torrentes was sent off after his second yellow card. Brooklyn almost equalized when freshman Adan Khodorkovsky let off a rocket of a shot, forcing Baruch keeper Jon Legasa to make a save. Baruch was able to dictate the flow of the game with much more ease, having a man advantage on Brooklyn. Baruch put a dagger in Brooklyn's heart at the 89-minute mark when Andrew Kinal assisted Diego Sachun's goal. Baruch went on to collect their seventh title, a CUNYAC record.
   Bulldogs fans can take solace in the fact that the core of this team will be back next year. The likes of George Koufos, Adan Khodorkovsky, and Bradlej Cupi are all underclassmen. Fans should expect to see a hungry team next fall.