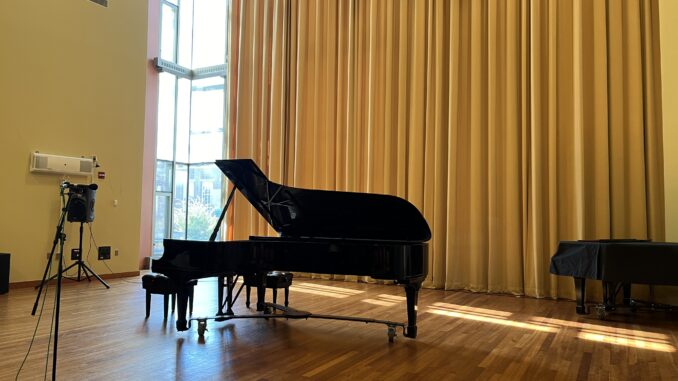 By Rami Mansi
   The yellow-lit Topfer Recital Hall inside the Leonard and Claire Tow Center for the Performing Arts at Brooklyn College hosted "Afternoons At The Piano," a showcase of four various piano pieces played by four different student conservatory pianists, on Nov. 2. These pieces ranged from soft-spoken songs to powerful demonstrations of instrumental prowess, which the plentiful audience was delighted to hear.
   Kicking the afternoon off was Christopher Tavernier playing Beethoven's "Piano Sonata No. 21 in C Major 'Waldstein', Op. 53: I. Allegro con brio," enticing listeners from the start. The switch-up of tempos led to dramatic pauses, where the audience wasn't sure when the artist would begin again. Tavernier played not just through the sound of his art, but also through the expressions painted on his face. With powerful lifts planting delicate hits on his instrument, and dramatic expressions with a glare never leaving the piano, Tavernier was confident enough to demonstrate precision with his piece mixed with the right amount of suspense, leading to a beautiful showcase of his talents.
   Next, Maxwell Hinton performed Alban Berg's "Piano Sonata, Op.1." This piece gave the audience a sorrowful and heart-tugging story told through a master class in instrumental performance. Hinton performed the heartfelt piece with delicacy and precision; every press of the keys was calculated, and the sounds came out almost effortlessly. The audience adjusted to the switch between Tavernier's ever-changing emotions leading up to Hinton's consulting sonata with ease as both performers helped the audience dive into the music.
   Ziling Julia Ma added the graceful energy needed to stand out in this collection of performers. The other pieces focused on prowess and were invigorated by the piano. However, Ma focused on the more elegant side of the instrument. Performing Claude Debussy's "Ballade Slave," Ma used the keys to not only play the music presented, but also as a way to help convey the emotions needed. By pressing the keys with more delicacy and kindness compared to her fellow performers, the song was carried out through a gorgeous symphony.
   Rounding off this assemblage of performances, Nikita Tumanov thanked the audience for coming and congratulated his preceding pianists on their beautiful performances.
   Tumanov performed the last piece of the collection: "Improvisation No. 7 in C Major" by Francis Poulenc. Tumanov focused on the ease the piece delivers to the audience. Improvisation is already known for its complexity; this piece, although originated as an improvisation, was not performed as one. Tumanov demonstrated to the audience his understanding of how to carry out Poulenc's piece with enough emotional energy to match his preceding performers. A piano piece dedicated to its demeanor, this final song closed the session and left the audience with a proper goodbye.
   "Afternoons At The Piano" provided the audience with a handful of dynamic performances. From heart-strung ballads to a sophisticated show of prowess, the four pianists demonstrated their diverse techniques on the piano.