This fall season brings in a surge of migratory birds into New York City, with Brooklyn College inevitably becoming their nest.
   But for some unlucky birds, BC will double as their grave.
   Since April 2019, BC's Associate Archivist, Marianne LaBatto, has recorded thirty cases of bird-window collisions along the library's premises.
   "There's a possibility there's more birds that I am not seeing," LaBatto said.
   Without an indication, birds will see their reflection in the glass windows of a building and assume they're actually looking at another bird.
   "They will accelerate to avoid impact," explained Associate Biology Professor Tom Wilson. "A simple Google search can show you the correlation between the light-glaring windows and collisions."
   This matter is not only posing a threat to BC birds, but worldwide. According to The New York City Audubon Society, approximately 80,000 to 230,000 birds die yearly from their collisions with glass windows in New York alone. Annually, between several hundred million and one billion birds die globally. 
.    In sharing her concerns with her fellow librarians and communicating with custodians that dispose of carcasses, LaBatto sparked the conversation of bird conservation. 
Through her extensive research on the preventive measures against bird collisions, LaBatto came across decals. These patterned stickers warn flying birds that glass is ahead, similarly to the exterior glazing that the NYC local bill entails. While these decals are in use 
   However, this solution is not in use campus-wide, meaning that the number of accidents happening along the West Quad or other buildings remain hazardous.
   Professor Wilson states that decals are examples of "cost-effective" solutions that can be acted upon if BC is "willing to pay a couple of hundred dollars."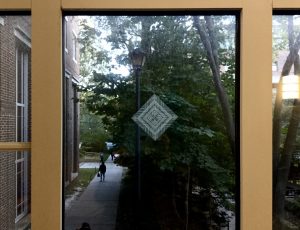 Prof. Wilson thinks it's unlikely that the busy college community is aware of the birds' plight.
   "Most here are overworked," said Wilson. "They may be hearing a loud thump on the windows, but it's a matter of whether they are willing to go outside and see what it was."
   Assistant Professor and Health Sciences Librarian Lee Ann Fullington was initially unaware of the issue before LaBatto informed her. She thinks that the current solution of decals is a positive step forward, but that more needs to be done. "It's a good start, but where will it go next?" Fullington asked. "We [the BC community] should care for our feathered friends."
   Luckily, birds on campus have friends in high places.
   "Recently, there has been more political pressure to apply these measures," said Wilson. On March 28, 2019, NY City Council member Rafael L. Espinal Jr. introduced Int. No. 1482. This bill calls for a "new definition of bird-friendly glass" and demands that all glass exteriors standing 75 feet or below be glazed. As reported by NBC New York, these measures will end up costing investors 5 percent more spending as opposed to if they were to install standard glass.
   Even without government intervention, LaBatto thinks the campus community can resolve this danger to bird life.
   "If people are interested in helping these students, it can be an interdisciplinary project. I see that this can be a bigger project, and Brooklyn College can be a model for others in the CUNY system," she said.
   With this in mind, LaBatto filed a work-report for Facilities to aid the cause. Two weeks after filing, the Office of Facilities continues to review LaBatto's request. Currently, there is no budget dedicated to preventing or dealing with birds colliding with the windows on campus.
   "We do not have a specific line item in our budget for this," said Alan Gilbert, the Senior Vice President for Finance and Administration. However, a Facilities representative stated that "there's a long list of other things in the process." In other words, no one knows when this project that requires the help of Campus Construction will happen.
   Though there is currently limited awareness both on- and off-campus of bird-window collisions, LaBatto and other birdlife conservationists will continue their work and advocacy.
   "The way I see it, we all live in this world together," LaBatto said. "We gotta help each other out, because everybody needs a little helping hand."