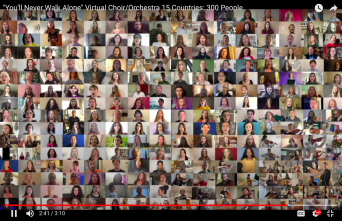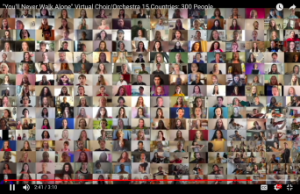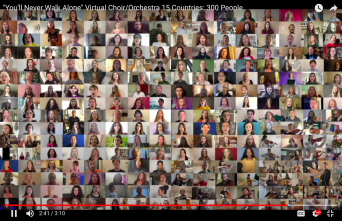 Written By: Carlos Daniel Martinez
 Harrison Sheckler, a Brooklyn College student pursuing a Masters in Piano Performance, posted a video collaboration on YouTube in which 300 singers and musicians from fifteen countries all sang and performed "You'll Never Walk Alone" from the musical Carousel. Sheckler spoke to the Vanguard about the daring project, which took a month's worth of editing and mixing every audio/visual piece from each of the 300 collaborators that come from places like Germany, Spain, Australia, South Africa, and more.
   "The week of March 15th, the Brooklyn College choir, directed by Malcolm Merriweather, we were working towards having a week of concerts with the New York Philharmonic," Sheckler said. "Suddenly that was gone. So when I was home, I wanted to figure out a way we could still collaborate as artists from the safety of our home."
   Sheckler was inspired by what he calls the "groundbreaking" work of Eric Whitacre, a composer who's drafted over 3,000 people into his "virtual choir."
   "That was pretty amazing," Sheckler said. "I thought, 'maybe I can do that myself.'"
   In the beginning, the project started off with a couple friends of Sheckler's.
   "And then it came into April and I thought, you know, I think I can reach even more people," Sheckler said. He shared the idea with Merriweather, who shared it with others, including Orchestra Director George Rothman. Rothman spread the word around Brooklyn College, opening the floodgates for talented people to become involved in the YouTube video.
   "It took me about a month to get all the submissions in," Sheckler said. "I'm just amazed with how many people were willing to participate in this."
   As of press time, the video has over 300,000 views.
   Sheckler's other YouTube videos showcase his wide variety of interests. From playing classical pieces by Gershwin and Bach to covers of modern musicians like Coldplay and Sam Smith, to even showing his passion for baseball with clips from games at ballparks and a collection of baseball memorabilia), Sheckler doesn't limit himself to his music and neither to his other interests.
   Sheckler began to play piano at age six in his hometown of Charles City, Iowa. He later studied the violin and received his Bachelor's degree in Piano Performance from the University of Cincinnati College-Conservatory of Music. The audio mixing and mastering for the YouTube video was done by Josh Meyer and Grant Bayer of Zated Records, people that Sheckler met back in Iowa.
   His decision to come to Brooklyn College was for the opportunity to study close to Conservatory of Music and Grammy-winning Professor Jeffrey Biegel.
   "He was just so supportive, and has a great personality, and great approach to teaching so I wanted to study with him," Sheckler said. "And there's so many positive things about Brooklyn College. The community and the student body are so supportive. There's so many opportunities that Brooklyn College presents for their students. Internships and career opportunities, the connections are abundant. And just being in the city is a positive aspect for a classical musician. That was exciting for me, being from a town with only seventy-five hundred people in Iowa."
   Sheckler has an album titled An Easy Smile, out now on Spotify, in which he performs compositions from Handel, Debussy, and Rachmaninoff, as well as classical church music and an original composition. His sister Emma, an artist who just graduated with a major in Interior Architecture and Design from the University of Northern Iowa, designed the album cover.
   "I can't wait to see everyone back in the fall," Sheckler said, "to get a little normalcy. It's not gonna be completely normal. But I think everything's gonna be okay. I'm happy to spread this little message of hope during this time."