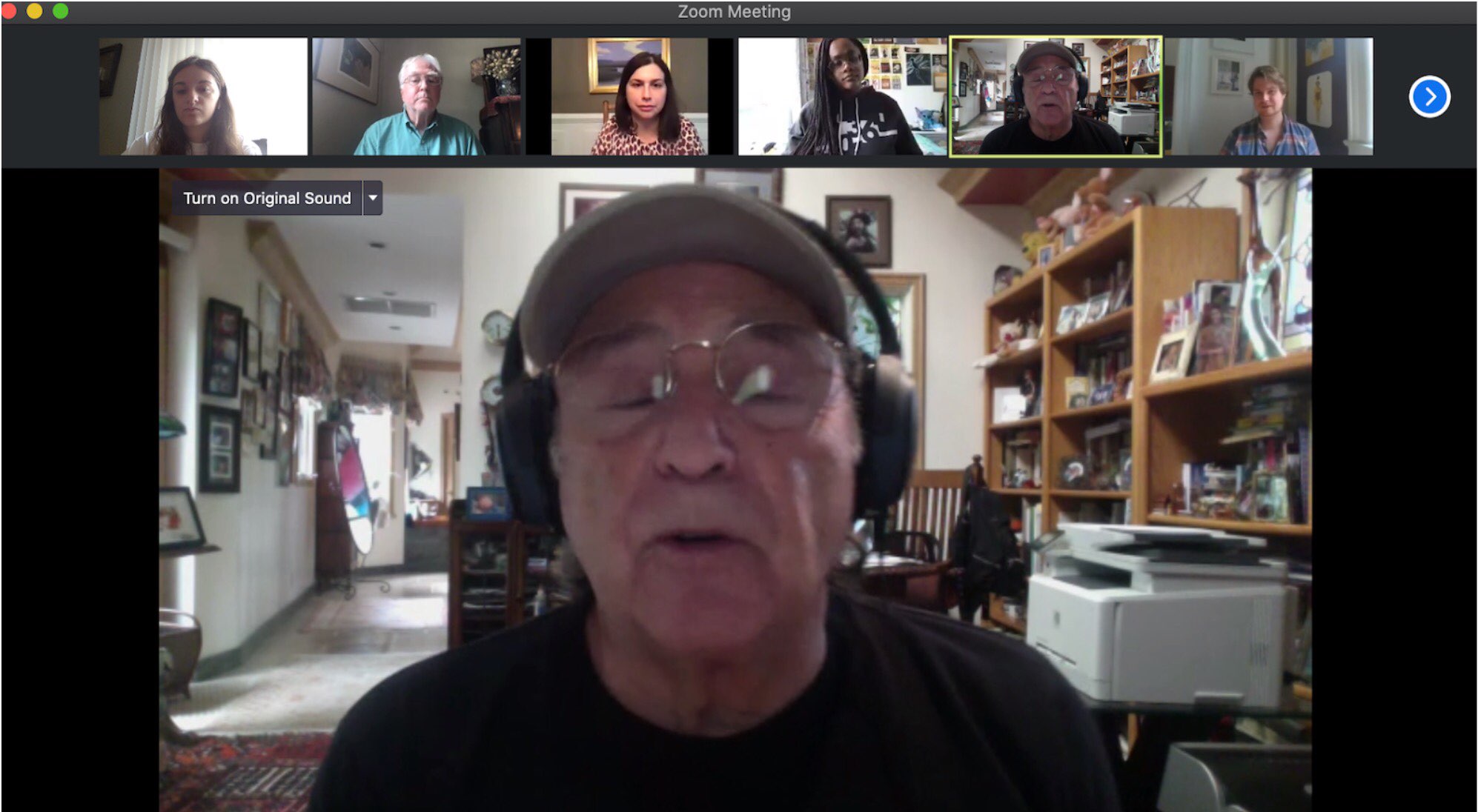 Written By: Michela Arlia
On September 10, Michelle Hecht from the Brooklyn College Foundation along with other professors and faculty within the Theater department hosted a virtual discussion with director Joel Zwick. Famous for many sitcoms and box office hits, Zwick is also a member of the BC family. 
Having graduated from Brooklyn College in 1962 with a B.A. in Television and Radio and with a Masters in 1968, Zwick is most famous for directing hit television shows such as Mork & Mindy, Laverne & Shirley, Full House and K.C. Undercover as well as the highest grossing romantic comedy of all time, My Big Fat Greek Wedding. He is also the benefactor of the annual Brooklyn College Theater Department Scholarship in Directing that bears his name. 
The original event was supposed to take place on campus last semester but was cancelled due to the COVID-19 shutdown. For this semester, the event was rescheduled and made into a virtual discussion.
The event began with an introduction by Thomas Bullard, professor and head of the M.F.A. Directing program on campus, as well as a welcoming address by B.A. student, Nia Blizzard, who served as the moderator of all the questions for the event. 
After serving in the entertainment industry for over 50 years, Zwick gave an address retelling childhood stories and the narrative of how his well known directing style came to be loved by all of Hollywood. Zwick, saying "never give up on possibilities," focused on a recurring theme throughout the address — never lose connections with people you meet, and take all opportunities presented to you. 
"Take opportunities and run with them," said Zwick on giving advice to a younger generation of avid theater makers. 
To Zwick, connections are the most important thing to make in the entertainment industry, and those connections are the people you meet on a day-to-day basis. Reflecting on his own connections that got him to the position he stands in today, Zwick was able to encourage students in the forum to make connections and keep them, even in their early days as Brooklyn College students.
"There is no reflection on what your career was about until you have done it," says Zwick on looking back on his time in BC and his career. 
Growing up in Sheepshead Bay, Brooklyn in what he calls "a spectacularly stupid period of time," from a low income family, Zwick's original intentions in college were to become a doctor and help support his family. This did not work out in his favor, as his grades were never at a standard high enough for medical school. After much shuffling around to different departments to figure out where he best belonged, Zwick found his place in the Television & Radio department, taking acting and vocal classes. At this point in his life, Zwick says "How does a kid like me who has a little bit of talent make connections?" 
From there, he did make his connections and developed his opinion on the three pillars to excel in the industry, which he graciously shared with his viewers. 
The first pillar is understanding the craft which Zwick says is "necessary," always evolving, and should never be second guessed. 
The second pillar is making social connections. "It is more valuable to have people think you are a success than a failure," says Zwick. This pillar is very important to bring people with you on each new project who you know and can trust. 
The third and final pillar is to understand the political nature of the business. Zwick said that because the entertainment industry is no longer a craft, "the dollar is gold," and "speed is money," so it is important to understand the inner workings of the business. 
Following  Zwick's address, B.A. student Nia Blizzard, moderated a question and answer  session with him. He commented saying it was time for him to leave the scene and make room for "fresh faces." Zwick's best piece of advice following most of his questions was "If you don't like laughing and having fun, don't direct comedy."
Another question posed by Michael Hairston, technical director for audio and lighting at BC read, "What were the challenges you faced learning to direct differently between theater, TV, and film?"
In response, Zwick's advice was that learning how to talk to actors was key for any medium, whether it was television, film, or theater. According to Zwick, keeping actors happy and allowing them to feel respected was the greatest challenge.
Concluding the event, Zwick left his viewers with a piece of advice. 
"Take opportunities," said Zwick. "Don't turn them down thinking something better will come along. Get into the opportunity and work hard."