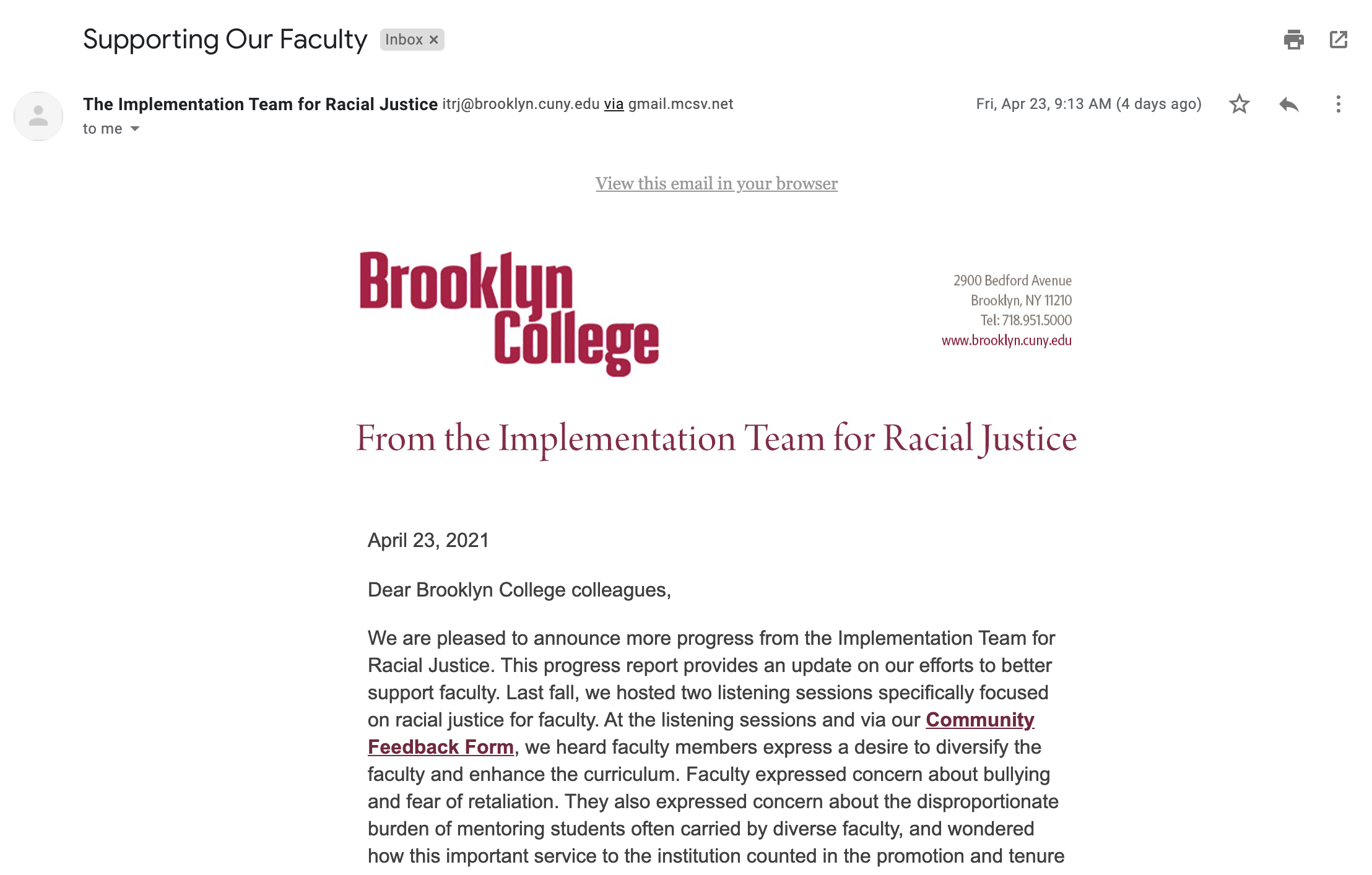 Written By: Matthew Hirsch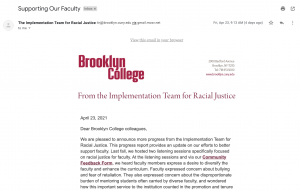 On Apr. 23, the Implementation Team for Racial Justice sent an email to BC staff and faculty to provide a progress report on their goals. Changes to policy regarding promotion and tenure, support for junior faculty, and fundraising have been made to promote equity for employees of Brooklyn College.
  "Last fall, we hosted two listening sessions specifically focused on racial justice for faculty," said the email. "At the Listening sessions and via our Community Feedback Form, we heard faculty members express a desire to diversify the faculty and enhance the curriculum."
  The Implementation Team worked with the Council on Administrative Policy, who were in the process of creating and adopting a new Memo on Expectations for Promotion and Tenure. This would ensure transparency on the college's standards and practices for promotion and tenure under CUNY and BC policy. It was formally adopted by CAP on Apr. 8. 
  Brooklyn College also appointed five faculty mentors at the recommendation of the ITRJ with the goal of supporting faculty for promotion and tenure; one member from each school within the college. Current mentors include Professors Stephanie Jensen-Moulton, Rosamond King, Peter Lipke, Co-chair James Lynch, and Maria Sharron del Rio. "These faculty mentors are working to enhance the culture at the College to support mentorship for both junior and senior members of the faculty and to establish structures of support mentoring across the campus," said the email.
  Fundraising to support diversity initiatives at BC have also been made a priority. These initiatives include new programs, development of curriculum, research, training, release-time for outstanding service, and start-up packages for faculty. Though the fundraising strategy has yet to bear fruit, the email noted BC's support for other initiatives. Such as funds raised to employ activist organization Inspire Justice to develop anti-racism workshops for the School of Visual, Media, and Performing Arts. 
  To address concerns about bullying or retaliation against faculty for filing complaints, the college appointed the Office of Diversity and Equity to investigate. Along with CAP and the Faculty Council, the Implementation Team for Racial Justice highlighted the sweeping prohibition of retaliation for filing complaints in any form. Brooklyn College Chief Legal Affairs Officer Tony Thomas created documents to help department Chairs handle complaints made by students, and against faculty. 
  The email said, "In their discussions with faculty, Tony Thomas and Chief Diversity Officer Anthony Brown have both emphasized repeatedly this semester that retaliation against those who make complaints about faculty members is strictly prohibited."
  Lastly, the email addressed the Team for Racial Injustice's recommendations on the Diversity of the Curriculum, which placed an importance on developing courses in all subjects that relate to diversity issues. Thanks to this recommendation, each School is developing new courses related to diversity and equity. Psychology faculty are developing a course on Cultural Psychology to analyse racism and cultural diversity. The Chemistry department is creating a course called, "Professional Readiness for Chemists," which emphasizes the legal rights of minority groups and women in the STEM workplace. A new Accounting course on how tax measures have different effects depending on the group. And faculty from the English department are working on a slew of new courses.  
  Not only are new courses being created, but some departments are completely reworking their requirements to be more inclusive. Major requirements in the History department now include a course on any part of the world before 1500. Faculty at the Conservatory of Music are establishing an entirely new, broader degree track that looks past western classical music, and focuses on American vernacular music. These are only a few examples of changes to increase inclusion. 
  The email concluded by reassuring the college is, "headed in the right direction in terms of key concerns faculty members identified." And announced the establishment of an External Consultant Subcommittee working with the Anti-Racist Coalition to assist in anti-racist efforts at Brooklyn College.