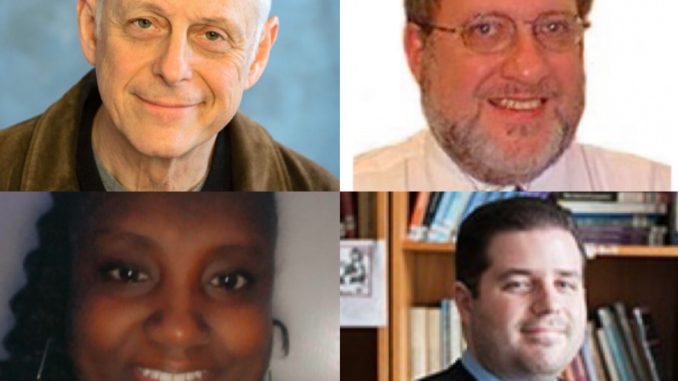 By John Schilling
   Now that CUNY's mask mandate is lifted and COVID-19 cases are going down, it would seem that the Brooklyn College community has started to move on from the pandemic, but this could not be further from the truth. To commemorate those in the Brooklyn College community who died due to COVID-19, a special memorial will be erected on campus sometime in the near future. 
   "We are, as a community, developing plans for a memorial at Brooklyn College for those who died of COVID, hoping to do a memorial ceremony this spring," Brooklyn College President Michelle Anderson revealed during the Feb. 15 Faculty Council meeting. "Some kind of planned display and ceremonial coming together when it is safe to gather in person on the quad in large groups…we hope to do that kind of memorial later this spring."
   When COVID-19 closed campus and moved classes online in Mar. 2020, the Brooklyn College community suffered losses almost immediately. 
   Mark Blum, 69, an adjunct professor in the Department of Theater, passed away due to COVID-19 on Mar. 25 after working at Brooklyn College for 15 years. Soon after, the community faced three more losses with Moshe Augenstein, 73, an alumnus and the undergraduate deputy chair of computer and information science, on Apr. 7; Juliet Manragh, 41, an alumna and the human resources manager, on Apr. 8; and Jay Jankelewicz, 31, an alumnus and the office manager for the Department of Philosophy, on Apr. 9. 
   The losses continued within the year with Health, Nutrition, Sciences, and Kinesiology Professor Kenneth Axen; retired Physics Professor Peter J. Brancazio; Classics Professor James Pletcher; Retired Music Professor Paul Shelden; Computer and Information Science Professor Aaron Tenenbaum; Campus Peace Officer Jeffrey Palmer; and Art History Professor William Gerdts, and others since then.
   The memorial will not only honor those from Brooklyn College who passed away due to COVID-19 but will also extend to family members and friends of the community.
   "We want to honor not only those members of our own community who have passed due to COVID but so many members of our community had family members and friends also pass [due to] COVID," added Anderson. "So we're going to try to pull something together that does justice to those very serious losses to our community."
   Details regarding the timetable and location of the memorial remain unclear as the project remains in the planning stages.
"Brooklyn College is assembling a group of students, staff, and faculty for input […]," Brooklyn College Media Relations Manager Richard Pietras told the Vanguard. "It will be announced as soon as the date, time, and location have been determined."
   The Vanguard will update readers as information is made available.