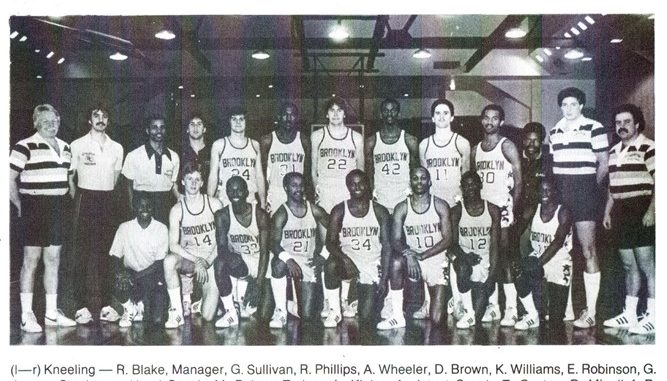 By Owen Russell 
   In 1982, Brooklyn College went on an improbable run and reached the NCAA Division III final four. It was a magical time on campus. Students flooded the gymnasium, packing the house to watch New York City's best basketball team rack up win after win. How did Brooklyn College manage such an impressive feat? 
   Forward Kenny Vickers put it best, "Every guy on that team was a Bulldog."
   Technically, the 1980s teams were Cagers – a nickname given to basketball players back in the day because most courts were surrounded by tall fences, or a "cage." Brooklyn College's official mascot was still the Kingsmen, but the local papers all referred to Brooklyn's final four team as the Cagers. Name drama aside, the men who stepped on that court played extremely well, finishing the season with an 18-8 record. 
   With an emphasis on fundamentals, and impressive team play, the Bulldogs secured their winning record. The highlight of those 18 wins came in the final game of the season, when Brooklyn toppled #1 ranked College of Staten Island. For a moment in the 80s, CUNY basketball was a force to be reckoned with. When Brooklyn College made the final four, there were four teams in the CUNYAC with strong records. John Jay, Baruch (finished with the same record as Brooklyn), and of course, top ranked CSI. In the final game of the season, Brooklyn dug deep and put away the nation's best in front of a packed Roosevelt Hall. Just one of many impressive feats that season.
   Brooklyn's success can be attributed to a dozen factors, but some credit has to go to head coach Mark Reiner, who is an NYC basketball legend in his own right. After becoming the best high school basketball player in the nation at Lincoln High School, Reiner took his talents to NYU. After his playing career ended, he coached multiple state championship teams at Canarsie. It took him a few detours, but he ended up at Brooklyn College. Though Coach Reiner has since passed away, the players still value the lessons they learned from him. 
   "Like many of us said, I looked up to him as a father figure," Kenny Vickers told the Vanguard. 
   While the Cagers achieved astounding accolades on the court, most of the players choose not to dwell on it.
   "When we get together, it's not about points, or rebounds. It's about locker rooms, travels, practices," Forward Dan Byrnes remarked. Sure, Brooklyn College's most successful basketball team remembers the games they won, but they fondly remember the times they shared off the court. You could never tell that some of these guys hadn't seen each other in years. They spent time teasing each other about who used to avoid sprints, laughing about how hot the godforsaken gym used to get, and praising their Hall of Fame coaches. For a group of guys who all commuted to school, they were able to connect through basketball. 
   "We spent so much time on that campus, I didn't even feel like a commuter," forward Eddie de la Guardia added.
   Campus became white hot during the winter months of 1981-82. While Brooklyn was winning game after game, more students crammed their way into Roosevelt Hall. Even faculty members found their way into the gymnasium, including former university president Robert Hess. The atmosphere on campus became "infectious" as leading scorer Rich Micallef put it. While the players were camping out at the Student Center, playing PacMan and Dig-Dug, their popularity grew beyond Brooklyn College. Newspapers from around New York covered the Cagers as they stormed into the NCAA tournament. Soon enough, after ousting CSI from the tournament, Brooklyn became the last show in town. The only NYC school to still be playing basketball. 
   "Now when you hear the name BC, you don't just think of Boston College," guard Ronnie Phillips told the New York Times during the Cagers' final four run.
   Brooklyn, and the sports world beyond, were captivated as the Cagers rose the ranks in 1982. The Cagers marched through the tournament as underdogs, and pulled off heart-stoppingly close victories against the likes of Ithaca, CSI, and Roanoke College. With the National Championship within reach, some thought the magic would never stop. Unfortunately Brooklyn lost 50-49 to previous champion Potsdam State. 
   The Cagers played tough, holding Potsdam scoreless for the final seven minutes. The Cagers would go on to play in the third place consolation game against Cal State Stanislaus. Brooklyn won that game and would officially be recognized as the third best team in Division III. Center Rick Davis earned a spot on the All-Tournament team.
   After an incredible season which saw the Brooklyn campus stirred into a frenzy, the Cagers fell just short of the ultimate goal. At the time, there seemed no greater honor than winning the National Championship, but now comes a silver lining. Decades later, Brooklyn College will finally recognize the 1982 final four team by inducting them into the BC Hall of Fame. 
   "It's one of the top honors of my life, and to share it with these guys is one of the most special things ever," forward Eddie de la Guardia said about the induction. This team put together the strongest season CUNY basketball has seen since 1950 when CCNY won the NCAA and NIT tournaments. Many of them feel that this honor should have come a long time ago, but nonetheless, they are proud to have their names etched in history. Assistant Coach Ted Gustus spoke candidly with his players as their interview with The Vanguard wound down, "I'm so proud of you guys, and I know he [Coach Reiner] would be proud of you too… Congratulations and I can't wait to celebrate altogether." 
   The Hall of Induction will happen sometime in December, according to players.
   It's not easy to form chemistry as athletes. Only the greatest teams develop a connection deeper than sports. The 1981-82 basketball team has that very connection. Forty years after they dominated the hardwood, it is easy to feel the comradery these men shared. They were good players with a good group of coaches, but their connection off the court gave them the boost needed to make a run at the final four. While a national championship may have been nice, nothing beats the lifelong friendships which they forged. "We didn't just like each other, I think we all loved each other," Rich Micallef said.