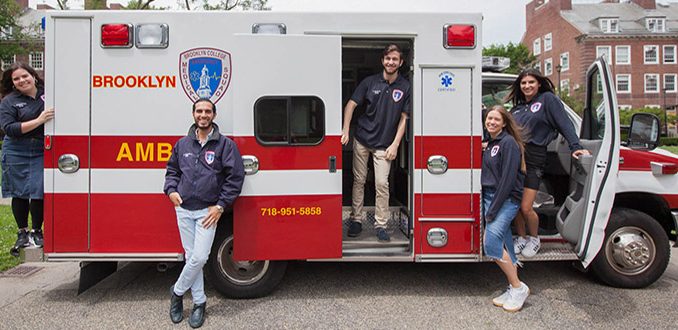 By Gabriela Flores
Reporting Assistance by Radwan Farraj
   Before the pandemic closed Brooklyn College down, a student group called the Emergency Medical Squad (EMS) was a call away from providing pre-hospital and ambulatory services for college members and locals. After recent complaints of unresponsiveness from students interested in joining EMS and new student leaders joining the organization's board, there are plans for increasing the club's student participation.     
   EMS members and other students are looking to revive the organization after a two-year hiatus brought by the pandemic and a year of setbacks they faced last fall and spring. 
   "This school [Brooklyn College] is home to a lot of students who are itching to get their hands on any sort of pre-health experiences. I think this club is a great opportunity for them, and I want it to be as an alum now," said Dave Dodson, a recent graduate and former Undergraduate Student Government (USG) senator who first brought the complaint about EMS's lack of communication to his colleagues. 
   Currently, there are six members in the group. EMS is a referendum student club, meaning its club policies and procedures are overseen by USG. The organization, however, receives funding directly from the college instead of USG. 
   "Referendum groups are established based on a campus-wide vote of the student population. In the case of EMS, undergraduate students voted in favor of allocating them a set portion of the activity fee on an annual basis," Ron Jackson, the college's Vice President for Student Affairs, wrote to the Vanguard. EMS receives $2 of student activity fees paid by all BC undergrads during the fall and spring, and $1 from summer undergraduate fees. Given that it is a student group, all BC undergraduates are able to apply. 
   The group's recent budget of $47,600 was initially tabled during a Brooklyn College Association (BCA) meeting in May, where all student activity fee-funded clubs proposed how they plan to spend their allocated money for next year.
   The student representatives who form part of the BCA pushed back the proposal due to concerns about EMS's transparency on qualifications for students to join and lack of responsiveness to those who inquired. 
   "The goal should be for students to participate, and when you create obstacles, that's a problem," said an anonymous student representative who previously voted to postpone EMS's budget. "You need to give people an opportunity. What we saw this year with EMS, we saw the lack of recruitment, the denial of opportunity."
   Last November, an emergency medical technician (EMT) certified student applied to EMS with the help of Dave Dodson but had their application rejected because "there was an issue with the application." The student received the notice months after submission and has not heard back from EMS after resubmitting their form in March. 
   "I know there are a lot of students from Brooklyn [College] itself that are looking to volunteer or get patient care experience," said the student who wanted to remain anonymous."But because Brooklyn's [EMS] is unavailable, it's difficult for them to get that same experience." The student noted they are still interested in joining if the organization's members reply. 
   Dodson, who recently graduated from Brooklyn College, had similar experiences after reaching out to EMS members and its administrative director, Fred Kneitel. After becoming EMT-certified and being appointed to the college's Presidential Advisory Committee for Emergency Medical Care, Dodson first reached out to EMS in August 2021 after the pandemic shutdown. But most of his inquiries were ignored. Once Dodson submitted an application last November, he was later rejected because he was a graduating senior, and the duration of an interview process and training required to volunteer with EMS were said to be longer than the one semester he had left at Brooklyn College. 
   "This was difficult to hear because all of this started almost a year prior to that [application rejection], so I'm only being told this so late in the game, and maybe there would've been a chance. Or in some capacity, I wish I could've helped – I didn't need to do the job and the exact qualifications, maybe I could've done something to help otherwise," Dodson said, noting possible clerical work or ambulance cleaning. 
   BC's Undergraduate Student Government later intervened and wrote a resolution to address EMS's previous inaction. Though USG oversees EMS's club policies and constitution, the organization's administrative director, Fred Kneitel, is responsible for the ambulance's maintenance, insurance, and registration. He also provides basic training and ensures BC's EMS complies with NYS, NYC, and college regulations. Though USG attempted to address its concerns with EMS's ways of communicating and operating, some misunderstandings arose along the way. 
   "The problem arose when the two got confused – in other words, the director [Kneitel] got involved more with student club business, which he shouldn't be. And the student government thought they could tell the director how to run the agency, and I hope we have that straightened out now," said Professor Yedidyah Langsam, EMS's faculty advisor and chairman of the New York City Regional Emergency Medical Council, a non-profit that coordinates and regulates emergency medical care services city-wide. 
   Langsam has been EMS's advisor for decades, noting how valuable the squad is to the college community and others. 
   "At the time, before COVID, the students provided an extremely important service to the college. They had coverage all hours of the day," Langsam said. "Obviously during COVID, they didn't take any calls because they weren't allowed on campus, and right now, the club membership is very low."
   Like many student organizations on campus, EMS's student participation dwindled in COVID's wake as fewer students were allowed to work in person due to safety concerns. 
   "When nothing happens, people don't join, people lose interest, the student leaders of the club lose interest. It [EMS] needs to be revitalized, it's critical," said Langsam, who noted the club's new president, Patricia Dabrowski, recognizes the importance of accepting more members. Dabrowski was not available to speak to the Vanguard in time for publishing. 
   Since EMS has a working ambulance that must abide by New York State's regulations, only students who are certified EMTs can treat patients. Before the pandemic, EMT-certified students provided free services to the "Brooklyn College community, Midwood High School and P.S. 152" through EMS, per the group's constitution and New York law that prohibits ambulances from operating beyond its designated area. By law, those who are part of EMS could also provide said services to their family members when needed. 
   Free training for dispatching, driving an ambulance, and administering first aid should be available for all undergraduate students, according to Brooklyn College's website. However, the Vanguard could not confirm in time for publication if EMS will continue training this fall.     
   To regulate the ambulance's maintenance, EMS has a Presidential Advisory Committee that consists of the group's president, administrator Kneitel, advisor Langsam, a Public Safety Officer, and other college administrators. EMS has had several meetings alongside committee members and USG, who accepted EMS's budget on the condition that constitutional changes are made. Many overall are hoping EMS's membership increases. 
   "We had several meetings, and I'm very positive that everybody understands what needs to be done," Langsam said. 
   Details of EMS's plans and goals for revamping this fall are developing. The Vanguard will continue reporting on the organization as updates become available.