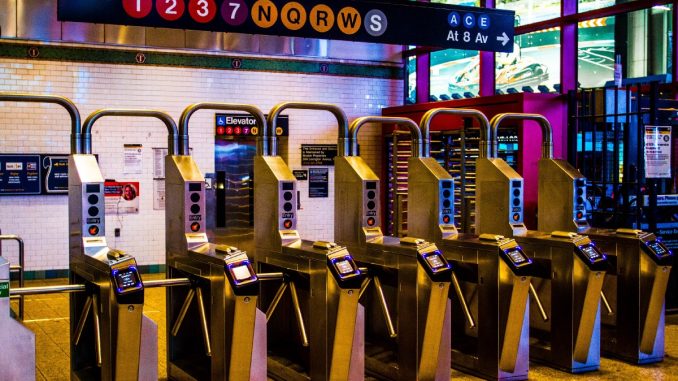 by Radwan Farraj
Reporting Assistance by Michela Arlia 
    The MTA recently announced the end of MetroCard machines and MetroCards, which are to be replaced by the contactless fare payment system, One Metro New York, starting in 2023. OMNY has been available at subway stations and city buses since its initial rollout in May 2019, and the MTA seeks to fully replace MetroCards by 2024 with reloadable OMNY cards.
   "I think that the OMNY system will definitely be more convenient since we no longer need physical MetroCards and entry will be done through an app or just via a phone. We don't have to fish for our wallet when entering the station," said Shannon Wong, a Brooklyn College student. "I can see it [OMNY] help reduce plastic waste too; but since this system is new and the first ever being used in NYC, there could be drawbacks if there is a system failure."
   OMNY allows commuters to pay for fares through smart devices, credit/debit cards, and $5 OMNY cards that are available for purchase and refills in some retail stores. Features, such as the ability to refill one's OMNY card online, require making an OMNY account. After 12 paid trips using OMNY starting on Mondays, riders will automatically have free rides through Sundays. 
   Fare-reduction programs currently exist for the elderly, disabled, and students through MetroCards, and while there are plans in place to incorporate these same programs into OMNY, they are being enacted on a rolling basis as of press time. Commuters that take advantage of these fare-reduction programs can register their contact information with OMNY to be informed of when these programs are available through the service. Concerns over OMNY's effectiveness in curbing fare evasion have risen among New Yorkers.  
    "Honestly, it's going to cause more crimes and situations in the trains. People already hop the turnstiles, so if we remove the machines and rely on OMNY more people will be hopping that turnstile," Iliana Calderon, a senior at BC, wrote to the Vanguard via Instagram. "On top of that Pre-k-middle schoolers don't own debit or credit cards, not even all high schoolers. What's going to happen to them?"
    With MetroCards first introduced in the 1990s, many question the new contactless system's accessibility for older generations. 
   "I understand that the switch is mainly to phase out cash payment and transition to credit, but this doesn't actually make riding the train easier for all commuters," opined David Kreyn, a senior at Stevens Institute of Technology in New Jersey. "OMNY will require commuters to make a switch from a very long status quo and especially the older generation will find it difficult."
    Others found that the removal of MetroCard machines in stations can present its challenges to some commuters, but overall, many who have contactless forms of payment find it beneficial for riders on the go.