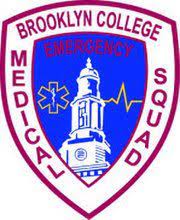 By Gabriela Flores
   The Emergency Medical Squad is up and running again after its COVID hiatus, with members on call to provide ambulatory and patient care services. After a year of club issues and complaints of unresponsiveness, members aim to better engage with the Brooklyn College community and provide interested students with first-hand experience in emergency care. 
   "I hope EMS can rebuild its membership and expand its impact on campus back to its pre-pandemic levels," student Patricia Dabrowski, EMS's president, wrote in an email to the Vanguard. 
   Prior to the pandemic, students ran and operated a working ambulance for those on campus, Midwood High School, and P.S. 152. EMS offers different roles and training for all undergraduate students who apply. Regardless of their certification, all students start as dispatchers who take calls and relay them to those operating the ambulance. Members could eventually become a "Med-1," or take the full role of being an emergency medical technician if they are licensed in New York State and have completed the necessary training. This fall, EMS began with four members after many graduated but have received applicants in recent weeks and are "actively recruiting."
   "As long as our office is open, we are ready and able to respond to calls," wrote Dabrowski, who was elected as president in May. 
    Last year, before Dabrowski became president, the Undergraduate Student Government received several complaints of unresponsiveness about EMS. Previous applicants, including Dave Dodson, a former student government member, were waiting months for a response on whether their application was rejected or not. This led to EMS's budget of $47,600 not passing in May and for USG members to demand that EMS make changes to its constitution. These reforms included clarifying why an undergraduate student is rejected, among other reforms. As of press time, no constitutional changes have been made as discussions between EMS and USG remain, but the club's budget, backed by undergraduate student activity fees, has passed in the summer. 
   "I expect everyone at Brooklyn College to allow everyone to participate," said Aharon Grama, the president of USG. "And if I as the president hear that people are gatekeeping [others] from using services they are paying for, I would fight for them."
   Grama noted that the government's responsibilities include addressing student complaints and working with student groups like EMS. "I hope it will result in a more transparent process with EMS and possibly better communication between USG and EMS," Grama said. 
   According to Dabrowski, EMS was gradually returning to campus last fall and spring, which may have led to longer turnarounds than usual. 
   "​​With many students having classes online, the office was often closed. Just like most campus clubs and services, we could not function normally under such unprecedented circumstances," she said. "Now that we're fully open, this problem should not occur anymore."
   Making its awaited and anticipated return, EMS is providing its resources for all students and enabling undergraduate students the opportunity of responding to calls and potentially serious emergencies on campus. For Dabrowski, her decision to join EMS was a natural one. 
   "I've always been interested in medicine, particularly emergency medicine, as it combines my love of science with a fast-paced and ever-changing environment," she said. "I also enjoy doing something that has more of a real-world impact. I took an EMT course which confirmed my interest. And so, I joined BC EMS to further pursue my passions using this cool resource already present on campus."
   Many students previously reported being unsure of EMS's application and interview process. Dabrowski explained that the organization requires applicants to fill out a form in-person, where students are asked to state their personal information and previous emergency-care experience. Undergraduate students who are interested in joining EMS can email Fred Kneitel (Fkneitel@brooklyn.cuny.edu), EMS's administrator who oversees EMS's ambulance, its registration and insurance, among other responsibilities. Kneitel would invite those interested to fill out the application in person at 021 Ingersoll Hall Extension with times for when the office is open, according to Dabrowski. Applications are accepted year-round and only reviewed by student members. Following the approval of their application, applicants will speak with student members about how EMS functions and ask them questions. 
   Before joining, students will receive training before they begin as dispatchers, which may result in long turn-arounds in application responses. 
   "Sometimes, turn-around may take a while because training at BC EMS is highly individualized, making mass recruitment difficult. Because we provide a service, must comply with state laws and guidelines, and respond to real calls and potentially real emergencies, we must ensure that each member is appropriately prepared to handle such a situation," Dabrowski said. "This includes individual training sessions. Now that we are running, we will get back to people as soon as possible." 
   The Vanguard will continue reporting updates regarding EMS as they become available.