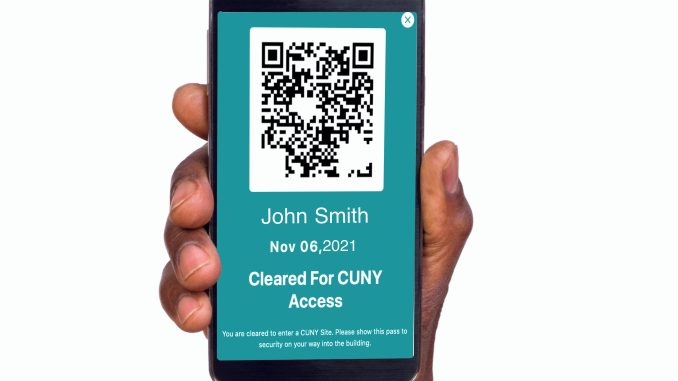 By Gabriela Flores 
   As an ongoing precaution, vaccinated members of Brooklyn College and other CUNY campuses are randomly selected for COVID-19 testing. For some students, they do not receive a notification of their selection and have their access passes to campus removed for not testing on time. 
    "I was just very disappointed by how everything turned out and the lack of communication from the college regarding random testing. It was very frustrating not being able to go to class even after I had gotten tested because I wasn't cleared," said Shanjida Kamal, a vaccinated BC graduate student who was recently selected for testing and stopped at the gate for not having a functioning pass. "The program or policies set in place need to change and shouldn't harm the students' education this way."
     Kamal and some other BC members reported not receiving an email prior to having their green key removed from their BC Navigator identification that grants them access to campus. Since being implemented in November 2021, CUNY's random testing program has been monitored by Cleared4, a health verification platform. Students, faculty, and staff who reported their vaccination status are supposed to be contacted by no-reply@cleared4work.com if they are randomly selected, and are instructed to test at a CUNY testing site within the next two weeks from receiving the notification.  
    At Brooklyn College's COVID testing site, 2.10% of total tests administered in the most recent week were positive. The frequency of random selection is based on "coronavirus positivity rate and the prevalence of variants among other factors," according to the university's official website.
   "The Cleared4 system and the random testing program have done an effective job of keeping our campus safe," wrote Richard Pietras, the college's media relations manager, in a statement to the Vanguard. "We have received a few reports of issues and are looking into the matter, but students are notified of the need for a random test via a Cleared4 alert that goes to their email in the CUNYfirst system."
     Most members who are selected for testing have been notified and tested on time before their access was removed. Notices of random testing are often shared through Brooklyn College Outlook emails, where spam emails are widespread. The college sends a second notice if those selected do not test within the first week, but if they opted out of BC emails, they would only receive a follow-up from Cleared4. 
    "If you're going to use your Outlook email, you're going to get spam emails, perhaps multiple a day. And Brooklyn College hasn't done anything about that, and then they send emails to your Outlook email and expect you to take things seriously," said Flavia Shyti, the Undergraduate Student Government's press director. "So that's been an issue in getting communication you've been selected for random testing." 
   USG has received complaints from students who have not been notified about their random testing, have struggled to find time in getting tested during the hours of operation at a CUNY site, or mistaken the message for spam. According to some selected members who received notice of their selection, the email can be easy to ignore. 
    "I didn't know if it was a phishing email because I know Outlook receives a lot of those, I just ignored it," said Paola Munoz, a BC undergraduate who was randomly selected when the program began in 2021. After hearing from other students who received the email, Munoz eventually got tested before her access to campus was removed.    
    "Even though there's an effort of sending an email that says, 'Hey, you've been selected, get tested now,' the effort isn't really 100% because you're sending it to a student email," Munoz said, noting that all those selected should be initially reached over their preferred emails listed on CUNYfirst and phone calls to help guarantee they receive enough notice for testing. 
   Those who are selected can change their preferences for receiving Cleared4 notices, such as text messages or using a different email not listed in CUNYfirst, after they set up their Cleared4 account, according to Pietras. 
    The random testing program will continue till further announcement. For those that are selected, they are able to get tested at the college's COVID-testing site in the Student Center. If a member's access to campus is removed before getting tested, they must wait up to 24 hours until their results are processed and they are shown to be negative. In certain circumstances, USG representatives have helped students regain access to campus sooner depending on the Public Safety officer on duty at the gates. 
    "I can't blame the students that didn't get the emails. I can't blame the students who got the emails and ignored them. I can't blame a random server in Brooklyn College for not getting an email to a person," said Shyti, who noted that she trusts the administration's efforts to mitigate COVID cases through the random testing effort.
     Though there's support for CUNY's random testing program of vaccinated people, many are opposed to removing campus access if members are not notified or given adequate time to get tested for COVID. 
   "There are important classes and exams and presentations that they shouldn't be barred from going to. Students shouldn't be inconvenienced this way over school policies," said Kamal. "The policies need to change. Especially right now when everyone has midterms and important deadlines." 
   If students experience issues with random testing notifications, they can contact rstaccess@brooklyn.cuny.edu.