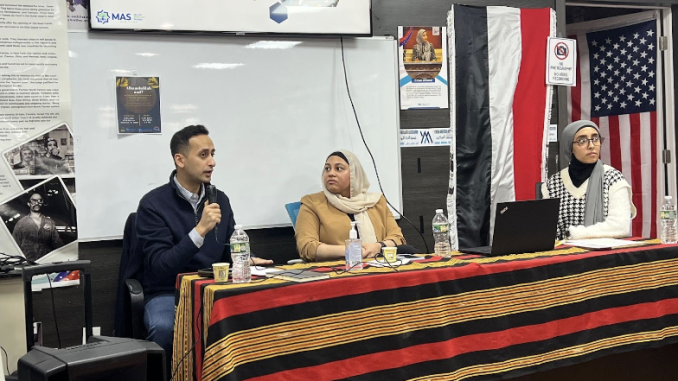 By Kate Dempsey
   Having good mental health is quintessential for one's well-being. Unfortunately, discussing mental health is stigmatized in many countries and the communities within them. For Yemeni Americans, there are added barriers for this ethnic minority in the United States where talking about mental health as a Muslim can feel for some as coming into conflict with their faith.  
   Brooklyn College's Bridges for Yemen club hosted its panel "Alhamdulilah and? Navigating Life Stressors as Yemeni-Americans" on Saturday, Jan. 28, in collaboration with the Yemeni American Merchants Association, the Muslim American Society, and Eiha, a Yemeni community organization based in Brooklyn. Alhamdulihah, which translates to "praise be to God," was paired with "and?" to reflect the panel's open discussion about mental health and its relation to faith, providing resources and support for those in the community who are struggling.
   "The goal of this event is to talk through or just start to educate regarding mental health in our Muslim Yemeni American community. Stigma is universal across all cultures, but we see the erasure and it is deeply stigmatized," said Hanan Yafai, organizer and president of Bridges for Yemen. "We wanted to start by first just educating about what is mental health, what is trauma, and tying trauma to the war."
   The civil war in Yemen has created what the United Nations calls the "world's worst humanitarian crisis." An estimated 24 million, or 70% of the country, are in need of humanitarian assistance. Here and abroad, the war has compounded stressors for Yemeni Americans whose families may be facing the conflict back home. For those living in Yemen's war, air strikes, torture, food insecurity, COVID-19, and other factors have contributed to their stress, according to panelist Waleed Alhariri, director of the Sana'a Center for Strategic Studies. 
   "The Yemeni community is a very close community. So they copy and paste whatever [is] in Yemen and brought it here. So even the same approaches to mental health we see reflected here [is] in the Yemeni community," Alhariri said.
   Alhariri, who recently co-authored a study called "The Right to Mental Health in Yemen: A Distressed and Ignored Foundation for Peace," added that out of every religious group in the United States, Muslims face the highest rates of suicide. Even using words like "depression" and "anxiety" in the community can be a trigger. To avoid further stigma, Arabic phrases such as "My soul/self is tired" ("Ta'aban nafsiyyan") and "There is a mountain on my chest" ("Fi jabal a' sidri") are used to describe mental health conditions. For many in the audience who have experienced their own mental health struggles, coming to this event was a means of expressing solidarity with the community.
   "I've suffered through struggles growing up and wasn't able to identify them as a child or adolescent and learn more about them psychologically as an adult," Nagi Alsubai, the managing director of the non-profit Humanity for Relief and Development, said. "I now see it slowly coming into light for our community, for the Muslim community, for the Arab community. We see how much more common it is, and we learn from a different perspective on the psychology of mental health, especially within that community."
   The panel also discussed reasons why depression and anxiety tend to manifest during the ages of 15-23 across different cultures. These ages form a transitional period where many young adults start to face peer pressure, family and school stressors, hormonal fluctuations, inadequate sleep, as well as navigating their own independence for the first time. Destigmatizing mental health requires education about the causes and treatments for mental health illnesses. Panelists emphasized that social connection and a sense of community are key factors in finding support and improving mental health. 
   "Stigma has no bounds. It doesn't matter if you are educated, uneducated. It doesn't matter where you live, your status, your wealth; we all have these biases and they come from a place of fear," said Dr. Sana F. Ali, director of mentorship for the Institute for Muslim Mental Health. "Talking about it [mental health] is scary […] but maybe we take away one more morsel of hope."
   During the panel, a jar was passed around for audience members to write their thoughts or questions down on post-its to share anonymously. To a member in the audience, the event itself gave them hope that they could overcome their mental health struggles.
   "I am one who went through a very traumatic experience, and because of it, I went through intense stress, anxiety, and severe panic attacks. It got bad for me because I couldn't speak to anyone about it. This event helped me so much. Thank you, and looking for more," the anonymous note read.
If you or someone you know is in crisis or experiencing suicidal thoughts, help is available. Call or text the national Suicide & Crisis Lifeline at 988 or 1-800-273-TALK (8255).