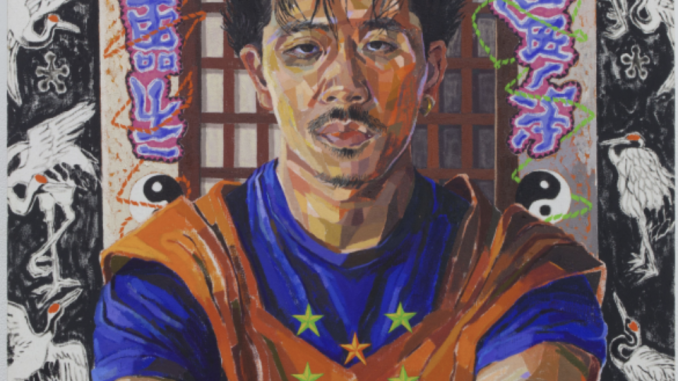 By Gabriela Flores
   There's always something to admire about conviction, especially when it comes through incredible art that oozes talent and wits. In 24-year-old Oscar yi Hou's exhibit, "East of sun, west of moon," the young artist leaves no stone unturned as he delves into what it means to be Asian American in the United States. Backdropped by his 11-piece installation is the heightened violence against Asian Americans following the rise of anti-Asian hate during the COVID-19 pandemic. But to say that yi Hou is simply confronting centuries-long racism against people of East Asian descent is to ignore what the Liverpool-born creative is attempting to accomplish. That is, he aims to reclaim through his exhibit at the Brooklyn Museum what years of bigotry have tried to erase: the multilayeredness of Asian American identity. 
   Through oil on canvas, the occasional charcoal, and other mediums, yi Hou beautifully links the present to the past. Using Western images, Chinese calligraphy and zodiac signs, Taoist symbols, and other visual references to the cultures he's commenting on, yi Hou creates an iconography unlike no other. Seriously, you can't help but be captivated by the busyness of the symbolic backgrounds and how it draws your attention to the portraits at the forefront. 
    Seeing the strokes of his brush up close, anyone can see the rich details and vibrancy exuding from pieces like his self-portrait "Coolieisms, aka: Sly Son Goku turns 23," which carries the weight of uprooting Asian stereotypes in such an unapologetic, yet arguably playful way. You see yi Hou with the signature Son Goku hairstyle from "Dragon Ball Z," dressed in the same blue and orange apparel the anime character sports. In the background, a collection of references to Chinese culture collectively build frames within frames to allow a viewer's attention to zero in on the subject's deadpan expression and crossed arms.  
    Honestly, you're left conflicted as a curious onlooker. Do you consider it an illustration of what Asian Americans and their culture are reduced to in the United States? Or do you interpret it as reclaiming Asian American identity by wittingly depicting the "stereotypes" and the community's resiliency against it? I can't tell you, and I'm sure it's not even my place to do so as a Mexican-American.
   What I can tell you is that yi Hou is brilliant in his execution of thought-provoking pieces for his exhibition. Through his intricate use of different symbols and techniques, yi Hou illustrates the complexity of Asian American identity. In doing so, he's reclaiming what Asian Americans have long been targeted for. Take the piece "Coolieisms, aka: Leather Daddy's Highbinder Odalisque," an oil, acrylic, gouache on canvas. The work of art shows yi Hou decked in leather, a cowboy hat, and most notably, a queue – a long braided hairstyle male Chinese migrants wore in the 19th century. This hair-do was eventually taken as "feminized otherness" in the West for its long length, leading to said Chinese migrants being violently attacked or even lynched. Yi Hou, being a queer, Asian, British, and newly established Brooklynite artist, could not have done a more stunning display of figuratively reclaiming what his ancestors were targeted for. 
   You see this poised portrait, with yi Hou holding his queue as a whip, showing how he embraces and finds power in what led to the death of several Chinese men years ago. Without a shadow of a doubt, you can find so much more meaning embedded in these pieces that circled yi Hou's mind for ages, despite being only 24 years young. 
    Yi Hou's paintings and poetry will continue running through Sept. 17 at the Brooklyn Museum.