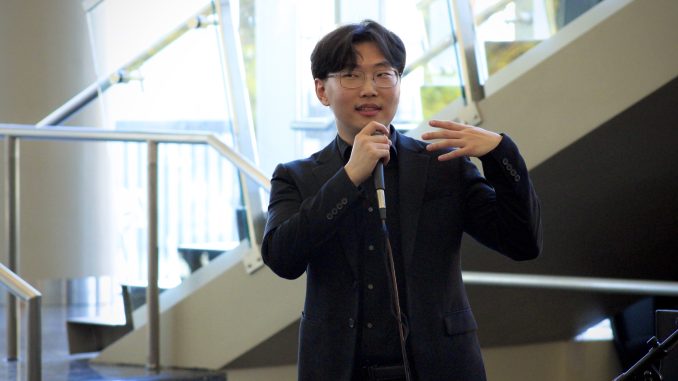 By Samia Afsar
   In his East Flatbush apartment, 28-year-old music composition major Gidong Kim gets comfortable in his chair as he looks down at his keyboard in front of him. 
   "When performing my music, I don't show the sun or any other bright lights. Instead, I make everything look dark, and light a candle," Kim told The Vanguard. "I can say that is the best way to describe my music, I always try to express myself and that's what I love about composing pieces – its art." 
   Kim's relationship to music is one that stems from his early childhood. He recalls learning how to play the piano at seven-years-old. Since then and up until high school, Kim considered the piano merely a hobby. It wasn't until he performed as a keyboardist in a high school band in South Korea that Kim realized where his true passion for music lies in relation to his career. 
   "I played the keyboard, and found myself," he said. "I realized I really enjoy and feel happy when I'm with music, so I decided to take it seriously."
  Despite realizing that music was undeniably his calling, he enrolled in a university in South Korea following his high school graduation. Due to parental pressures and his displeasement with his scores for the Korean equivalent to the SAT's, Kim enrolled as a business major, which didn't last very long.  
   "I couldn't bear with it [majoring in business], so I quit after just three weeks," he explained. 
   Kim's roadblocks to his career path to music continued. As part of South Korean law which, at the time, required all able-bodied-men to serve in the military for at least 21 months, Kim enlisted in the military for a year and nine months. Nonetheless, being the music fanatic that he is, Kim utilized his surplus of time at the military to learn how to play the guitar. 
   After having successfully completed his required time at the military in January 2016, Kim went back to his roots and began to learn jazz piano. Having faced some mental hardships at the time however, Kim inevitably had to take a break.
    "I had a lot of things going on at that time," he said. "So I started to tell myself 'I think it's time for a break [from music]. Let's take a break for a moment.'"
   During this almost two-year break, Kim worked at YTN, a 24 hour news broadcasting channel in South Korea, where he served as a video journalist. In his time there, he witnessed important events and visited secure locations that he believes he would not have experienced otherwise. To name a few – the border between North Korea and South Korea, The Ministry of National Defense, violent protests, and the impeachment of the South Korean president at the time. 
   "After working at YTN, I realized that – 'Okay, I finished my military, I explored and saw the world, so I think I have to come back to where I should be,'" he said. "So I seriously started to study music."
   Subsequently, Kim's private composition teacher, and Queens College alum, introduced him to CUNY, praising it for its low tuition costs and programs, which prompted him to apply to Brooklyn College and start his degree in 2019.
   On campus, you may know Kim as the president of the Composers' Collective, or maybe you know him as the vice president of the TV Club. Perhaps, you have seen him around Whitehead assisting Professor Cheong Young, or you might have attended a BC concert he has performed in. However you may be familiar with his work, one attribute about him remains true in any case – Kim's inarguable love for music.
   Kim is now a senior set to graduate in the fall, utilizing his skills to manage and, when necessary, merge the Composers' Collective and the TV and Radio Club. He is also interested in pursuing a career in film scoring.  
   "I think films are completed by music," he said. "And my goal is to make people feel pleasant, or make them feel something."
   Despite finally having overcome the obstacles that previously had kept him from pursuing music composition as his career, there is still one hurdle Kim understands he must face: chasing perfectionism.
   "I think  […] my biggest struggle is procrastination, and that's coming from perfectionism," he said. "It's two sided, because it pushes me to work, but there's always that self-doubt. […]."
   To combat this, Kim dives into his Korean heritage to assist him in focusing on a given project.
   "There's a saying in Korean that translates to 'starting is the half point.' So, if you start something, you'll always make 50%," said Kim. "I always tell myself, 'Let's just start it and do 50%.' I think that's the big struggle for many artists." 
   In response to the difficulties that one may lay ahead, Kim advises those interested in pursuing music to do just that – pursue it!
   "Being an artist is not a job, like many people think it is. Being an artist is a mindset," he said.
   The Composers' Collective, which Kim is the president of, will be hosting a concert next month, highlighting original pieces composed by its members.