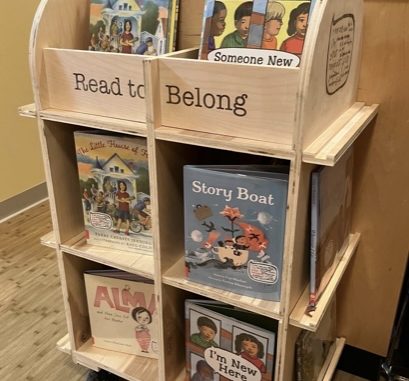 By Serin Sarsour
   A new resource is currently in the works at Brooklyn College and is set to open before the end of the spring semester. This new Welcoming Library will give up-and-coming teachers a look into the types of stories they'll share with their future students, highlighting children's books that represent the often overlooked experiences of immigrant and bilingual families.
    The library will be located on James Hall's second floor, where the school of education is located. Anyone, regardless of their major, will be able to access the library.
   "New York City has such a huge number of bilingual students and bilingual students are not all immigrants, but many of them are. So there's an intersection between bilingualism and immigration," said Dr. Laura Ascenzi-Moreno, a professor of bilingual education at BC and a bilingual program coordinator who is leading the new Welcoming Library initiative.
   Ascenzi-Moreno has worked at Brooklyn College for about 11 years and has noticed an increase in the number of bilingual and immigrant students within the childhood education major. She wants to ensure that BC students are prepared to work at public schools where there are several immigrant students, which is where the new Welcoming Library comes into play.
   "I believe that teachers, once they're familiar with books in their teacher education program, they bring these books into their practice," said Ascenzi-Moreno. "So that's been really important to me to think about how to intersect reading methods with content on immigration and bring that together."
   According to Ascenzi-Moreno, a number of BC faculty have been involved in the BRESI project, which is a CUNY initiative that aims to transform and reestablish the programs in Black, Race, and Ethnic studies throughout the CUNY system. BC received a BRESI grant to revise the entirety of the childhood curriculum to make it more culturally relevant and sustaining. This group of faculty is also involved in the CITE project, focusing on computer integration and educating teachers to critically and equitably look at the use of computational thinking and digital literacies. 
   "All of this is coming in together where we're thinking about how can we get future teachers to think really critically about immigration-related to reading digital literacies and culturally responsive pedagogy," Ascenzi-Moreno said.
   Ascenzi-Moreno's decision to lead the creation of the new Welcoming Library sparked last year with the CITE project when she wrote a proposal for a new division within the reading methods classes, which cover digital literacies. Through her proposal, Ascenzi-Moreno wanted people to look at their social media and other digital texts to zero in on narratives and counter-narratives of immigration.
   "This year, what I wanted to do was find a way to connect digital literacies with traditional texts," said Ascenzi-Moreno. "So I thought if students are looking at narratives of immigration within their digital texts and also alongside some traditional texts, that would be the perfect pairing."
   Although the initiative has just started, one of the obstacles organizers have faced is getting the word out about the library. Ascenzi-Moreno and her fellow organizers want to make sure that the broader community at BC supports the initiative and understands why teacher candidates should be knowledgeable about immigration.  
   "I want all the students who graduate from our program and also from other programs to number one: read and understand how vast immigration is and how different the experiences of immigrants can be. And to bring those stories and understand how to bring those stories to their future students," said Ascenzi-Moreno.
   Ascenzi-Moreno has already introduced the integration of immigration and texts about immigration into her classrooms. For instance, in her Teaching Literacy: Integrated Reading Methodologies class (CBSE. 3204) and her Teaching Biliteracy: Integrated Bilingual Reading Methodologies class (CBSE. 3301), Ascenzi-Moreno's students are currently reading a book called "When Stars Are Scattered" by Omar Mohamed and Victoria Jamieson. This nonfiction graphic novel follows two boys from Somalia who were separated from their parents and placed in a refugee camp in Kenya. Eventually, the boy who wrote the story moved to the United States, graduated from college, and now goes back to Kenya to help people in the same refugee camp.
   Ascenzi-Moreno shared that her students were astonished to read and think about children in refugee camps and the different struggles they face. She hopes that the library will continue to make people think about and understand the "inner stories" of immigrants to ensure that everyone makes them feel welcomed and encouraged to succeed. 
   "I hope that students are really excited about it [the new Welcoming Library] and they borrow books from it," Ascenzi-Moreno said.
    Those interested in donating to the project can visit https://bit.ly/BCWelcomingLibrary.