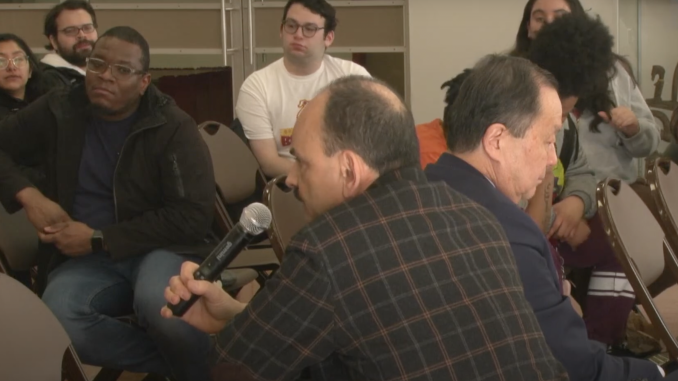 By Radwan Farraj
   Student leaders from The Brooklyn College Vanguard, WBCR, and the Television, Radio, and Emerging Media Department held a town hall on Tuesday, Mar. 7 for BC students and faculty to discuss issues facing the campus community and university. 
   The live-streamed event took place at the Jefferson-Williams Lounge in the Student Center and was split into discussions regarding rising costs at CUNY, academic needs, campus infrastructure, and student life. Panelists began each discussion with general overviews, inviting students and faculty to ask questions, provide comments, and respond to each other.
   CUNY has instructed its 25 campuses to recommend budget cuts for programming and activity expenses for the 2024 fiscal year, with BC tasked to cut about $9.3 million. Students voiced concerns about the pending budget cuts and the governor's proposed tuition increases that CUNY students could pay in the future. "So from what I understand, they're [CUNY] cutting $9 million, but they're voting to raise tuition. So what are we paying tuition for? What are we paying that we're not getting?," asked one student. 
   Governor Kathy Hochul recently released an executive budget proposal that would provide a recurring sum of $94 million in state support for CUNY to address general operating costs, university employee benefits, and financial aid assistance. CUNY senior colleges are slated to receive $484 million for facility upkeep and investment projects. The university's community colleges would receive $120 million for similar projects. 
   The proposal also authorizes annual tuition increases for CUNY senior colleges and SUNY state-operated campuses by 3% in accordance with the Higher Education Price Index, which measures inflation and spending in higher education. SUNY's university centers would see annual raises of 6% in differential tuition for the next five years for in-state students. The tuition increases are expected to generate $97 million and $31 million annually for SUNY and CUNY, respectively.  
   Declining rates of enrollment have created revenue shortfalls for many CUNY campuses, with cost cuts and tuition hikes for enrolled students being the only possible solutions for balancing expenses, explained Peter Tolias, dean of the School of Natural and Behavioral Sciences. "But again, I'm not the fiscal person. I'm trying to figure this all out, too," said Tolias. 
   Participants then talked about graduation requirements, new faculty hires, and class modalities for future semesters. Students commented on the lack of available courses required for major completion and the decrease in courses offered online. "It was kinda disappointing that classes I needed, that I thought I should get, I'm not getting," said one student. 
   The availability of online courses has been dependent on factors outside of CUNY's control, according to Qing Hu, dean of the Koppelman School of Business who was also in attendance. New York State's Department of Education and separate accreditation agencies required that certain courses be returned to in-person formats by 2022. "There should be a healthy decision and mix in terms of what is the most appropriate courses we could offer online, and the rest that need to be held on-campus, especially for the undergraduate curriculum," stated Hu. 
   Discussion shifted to campus infrastructure and resources, where students expressed their thoughts on campus resources available to them and campus upkeep. "Walking on campus, beautiful outside. Walking inside, I was absolutely appalled," said one student who transferred to BC in spring 2022. "It makes you wonder what are you paying for, and why are you paying," the student said. Current total deferred maintenance would cost the college $1 billion to address, with $760 million in maintenance being required for the sciences alone, said Tolias. Deferred maintenance refers to planned maintenance projects postponed by lack of adequate resources.
   "Brooklyn College had problems before the pandemic. We already had deferred maintenance before the pandemic," said Ron Jackson, vice president of Student Affairs. Due to additional upkeep issues brought on by COVID-19, it has been difficult to figure out what needs to be fixed just to get by, according to Jackson.
   The town hall concluded with a discussion of student life, where participants spoke with USG representative Noam Abrahams about club leadership, campus events, student government, and club funding.