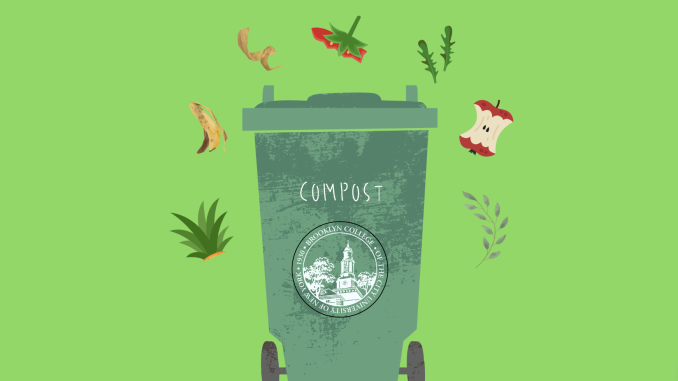 By Gabriela Flores
     Those at Brooklyn College who practice composting, or have yet to pick it up, can soon drop off their compostable materials on campus starting Tuesday, Mar. 28. As of press time, the college's composting program will begin with one bin outside the Boylan Hall Cafe between 11:15 AM and 2:30 PM in approximately two weeks. For student volunteers who helped develop the initiative for its upcoming opening day, the new drop-off site for scraps gives BC an alternative to how waste can be discarded and diverted from landfills. 
   "There was a time in history when people didn't separate out their paper, plastics, metals, and glass materials for recycling, and now it's a regular everyday habit. It could be the same with people separating their food waste for composting," wrote Nathalie Huang, the president of BC's Sustainability Club, in a statement to The Vanguard.
    The college will be partnering with GrowNYC, an environmental non-profit that works with mid to large-scale composting facilities across the city. With its partnered organizations, GrowNYC collects and processes 25 tons of food scraps weekly from 50 drop-off sites. Soon, BC community members can bin their scraps during collection hours, specifically fruits and vegetables – including peels and pits –  rice, bread, beans, nuts, potting soil, and houseplants, such as plant trimmings. Those with yard waste, like leaves and thin-cut branches, can bring in their materials in a separate bag. To avoid contamination from non-compostable items, the BC site will not accept animal meat or bones, seafood or its products, coconuts, dairy like cheese and butter, animal waste, charcoal, insect-infested plants, and overly greasy foods. 
   "I hope the composting program encourages the community to participate in more sustainable action and to take advantage of the resources available," wrote Mark Hachicho, a BC health and nutrition sciences student, in a statement to The Vanguard. Hachicho noted that investment in BC's composting will be beneficial since it contributes to the college's "sustainability mission of improving waste management and recycling."
    Compostable materials that are dropped at Boylan's bin will be transported to the local Midwood/Flatbush site that is set up on Fridays at Flatbush Avenue and Hillel Place, where Huang and other GrowNYC compost coordinators work. The initiative at BC will be carried out by volunteers who will ensure the dropped goods are free of contaminants. Students interested in volunteering during the program's future collection hours can stop by the site on Mar. 28, or fill out this survey: bit.ly/BCComposting.