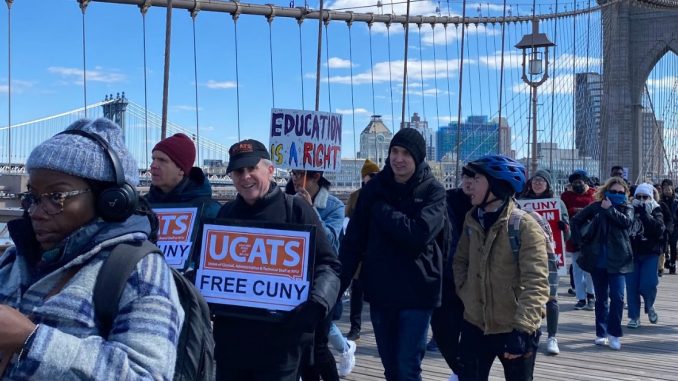 By Gabriela Flores
   CUNY student leaders led a march on Sunday, Mar. 19, calling for the funding of the New Deal for CUNY, a bill that aims to make the university tuition-free, more equipped with mental health counseling, and increase salaries for adjunct professors, among other demands. Students from the University Student Senate spearheaded this year's annual rally across the Brooklyn Bridge alongside faculty, staff members, and allies from city and state legislature. The rally came 12 days before Governor Kathy Hocul's state budget finalizes in Albany.
    "I know my colleagues are here – we're going to do everything we can up in the capital, the people's house, to fight for this New Deal," said State Senator Andrew Gounardes, one of the bill's sponsors, during the rally. "But we need you guys having our backs, we need you marching on the streets." 
    The New Deal for CUNY was first announced in 2021 by the Professional Staff Congress, the union that represents all the university's faculty and staff. Today, it's become an ongoing struggle to implement and lobby for in Albany, with supporters participating in several efforts such as banner drops across CUNY's 25 campuses to demand the bill's funding by the state. 
   Several supporters of the New Deal showed up on the steps of Brooklyn Borough Hall on Sunday, where the march began. Elected officials Brad Lander, the city's comptroller, Senator Iwen Chu, and Assembly Members Harvey Epstein and Zohran K. Mamdani, were also present. Together with leaders from the university and union, they echoed similar calls for implementing the bill in light of the governor's proposal to raise tuition by 3% at CUNY and SUNY. Supporters argued that more funds for CUNY can lead to more success for students and by extension New York. 
    "We advocate for the New Deal For CUNY because CUNY is one of the best institutions we have in our state for economic mobility, it pulls students out of poverty, it allows students the opportunity to learn and grow," Ayesha Schmitt, a Baruch College alumna and coordinator of Hunter College's NYPIRG Higher Education Project, told The Vanguard at the rally. Having parents who graduated from CUNY, with her father teaching as an adjunct professor across three of the university's campuses, Schmitt also advocates for better wages and resources for faculty. "So making sure we're supporting our professors to the best of our abilities as well is super important," she said, noting that she previously met professors who were homeless and living out of their cars with the low pay they receive. 
    Hochul's recent proposals to increase tuition have been met with pushback by elected officials, who question if the governor's executive proposal for the fiscal year 2024 is enough for the multi-million dollar deficits on several campuses, as reported by NY1. CUNY Chancellor Félix V. Matos Rodríguez, and SUNY Chancellor John B. King Jr., testified in late February supporting the hikes. Matos Rodríguez reasoned that the potential tuition hikes could be offset by financial aid. 
   "We need to start caring more about the students who fall through the cracks because we are the heart of CUNY, the underdogs, the nobodies fighting despite the odds to make it in this city," said Enrique Peña-Oropeza, a USS representative, during the rally. Peña-Oropeza explained how he fully funded his own education at CUNY as an immigrant student, navigating through the personal and financial challenges after falling "through the cracks." "And we are tired of the lack of support and lack of humanity and empathy. We need a New Deal for CUNY," he said. 
     For most in attendance, the proposed tuition hikes, underfunding of CUNY by the state and city to address the infrastructure problems on campuses, lack of readily available personal counseling, and other issues pushed them to rally across the Brooklyn Bridge and into Manhattan's Foley Square.
   "CUNY is supposed to be a program that gives opportunities to those who might not have them, and those tuition hikes are stripping these opportunities," Avrohom Malachowski, a USS delegate representative from Baruch, told The Vanguard. "Many people who are coming to CUNY are from disadvantaged backgrounds, single parents, who an extra $300 to them is a difference between education and not having an education."
    Among those leading the rally was Jamell Henderson, the USS legislative director and a CUNY student who is set to earn his fifth degree from the university once he completes his doctorate. Organizers from NYPRIG, PSC, Young Invincibles, the CUNY Rising Alliance, Young Democratic Socialists of America, and other organizations, also shared their experiences learning in the CUNY system. In the rally's final call to fund the New Deal for CUNY, USS Chairperson Salimatou Doumbouya noted that the university's main concern now is boosting enrollment and retention. Serving as a student trustee in the university's top-deciding body, she has shared demands for improving mental health services, faculty pay, and other resources to better the university. 
    "This is about education. This is about growth. And if you care about us, you need to give us the resources for us to grow. And we won't stop asking until we get it," said Doumbouya. "Fund CUNY now, fund CUNY yesterday, and fund CUNY forever."
Editor's Note: The Vanguard previously reported that Ayesha Schmitt, a coordinator of NYPIRG's Higher Education Project, is a Hunter College alumna. This was incorrect. Schmitt is a Baruch College alumna who works at Hunter College's NYPIRG. We apologize for the error.