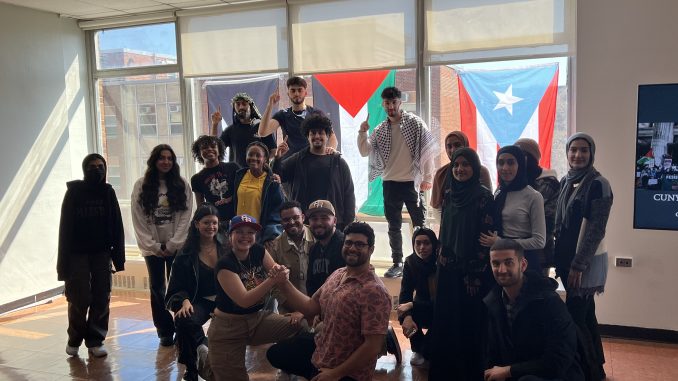 By Jason Lin 
Reporting Assistance By Serin Sarsour
   Brooklyn College's Students for Justice in Palestine and the Puerto Rican Alliance hosted a panel last Tuesday about the interconnected struggles shared with Palestine and Puerto Rico. Together, they invited Professor Conor Tomás Reed, a scholar-organizer of radical cultural movements at CUNY, the 2022-2023 Postdoctoral Fellow in Social Justice in Higher Education at the CUNY Graduate Center, and a Puerto Rican professor at BC, to support and talk more to the audience about situations happening with both groups. 
   "The motivation behind hosting this event was to express solidarity with our brothers and sisters in other struggles," said Jihad Hasan, a senior at BC who is the secretary for SJP. "Internationalism is a key component of Palestinian liberation, so the liberation of Puerto Rico against American imperialism is essential to us."
   SJP and PRA acknowledged similar obstacles their communities face, with both hoping to raise awareness to students of similar or different backgrounds to take action on the oppression of the past and present.
   SJP, a community club on campus, is built on democratic principles to raise awareness about the human rights violations committed by Israel against the Palestinian people and build solidarity with the Palestinian struggle for human rights, justice, liberation, and self-determination. 
   PRA is an alliance devoted to advancing Puerto Ricans and other Latinos through educational, cultural, and political awareness. They dedicate concrete services for students that will embrace their personal and academic experiences at Brooklyn College. Together, the clubs brought to life their long-awaited collaboration. 
   "SJP's former president told us that Professor Conor Tomás Reed was willing to be a guest speaker for any events we'd have in the future. Right away, we reached out to PRA and Professor Conor and started planning," said Laila Mazhar, the president of SJP. "Each club prepared their own slides with background information on the struggle against colonialism, and then Professor Conor presented his slides."
   The presentation captured and informed the audience about the solidarity and anti-colonialism struggles within Palestinian and Puerto Rican communities. Both share goals in the fight against oppressive forces, and have similar experiences with lossing countless lands, resources, and autonomy. Palestinians' efforts for independence have been met with human rights violations and restricted access to necessities. Puerto Rico has faced discrimination, economic exploitation, and limited political power by being claimed as a colony by the US for a century. As a result, the fight against the oppression of colonialism remains a massive topic today, with activists pursuing justice and liberation.  
   "The event started with the SJP explaining colonialism in Palestine, followed by the PRA explaining internationalism and colonialism in Puerto Rico," said Hasan. "Professor Conor Tomás Reed then took the stage and explained how organized both movements in NY and how both movements resisted colonialism in their home country against the colonial powers."
   Professor Reed also helped students gain recognition for the progress and desired goal of the countless protests that have gone through in CUNY and the US. For many of the organizers and attendees, the event enabled them to contextualize the thread that connects Palestine and Puerto Rico. 
   "It allowed us to see from a different perspective how interconnected our struggles are. Anti-colonialism, anti-imperialism, and anti-capitalism were the unifying themes that I thought helped us guide our collective struggles," said Abdullah Saleh, a senior at BC. 
   Through discussions over lunch provided by the hosts, students were able to further delve into conversations that impact their communities on campus and beyond. 
   "It shows us as college students that it is important to be engaged and we interact with various communities from doesn't matter where you come from […]," said BC senior Fehim Hoti. "It is important that we engage and connect because it helps raise awareness and it helps spread the word to implement justice."
   After the presentation, Reed, SJP, and PRA allotted the remaining time for audience members to promote events, comment on the overall presentation, or ask questions. Towards the end, participants discussed and shared their ideas pertinent to the Palestinian and Puerto Rican communities within BC.