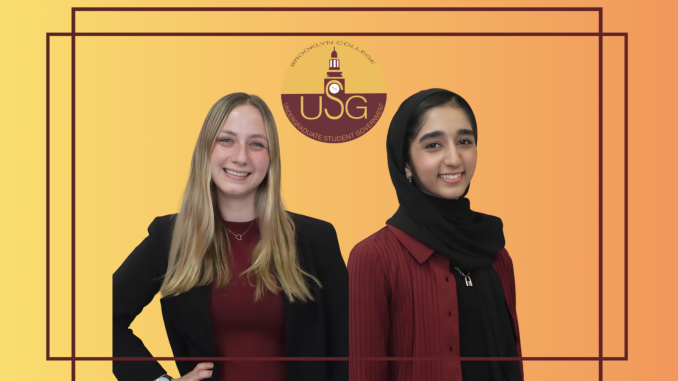 By Gabriela Flores
    In a record-high voter turnout at Brooklyn College, Carrie Ebbin and Huda Ayaz secured seats as the Undergraduate Student Government president and vice president for the 2023-2024 academic year. This year's election saw over 10% of the undergraduate student body cast ballots. After the online polls closed on Friday, Mar. 31, votes were tabulated and certified, showing a landslide win by the Ebbin-Ayaz duo. They are set to begin their term on July 1.   
   "During this time, and throughout our term, we plan on keeping our eyes and ears open to really understand what students want and where we should focus," wrote Ebbin and Ayaz in a joint statement to The Vanguard. "We hope to not only accomplish our goals but empower other student leaders to accomplish theirs as well. We encourage students to bring in their ideas and get involved where possible."
    Preliminary results showed the newly-elected pair garnered over 800 votes, with the competing slate, Malak Yafai and Hozifa Sowkat, earning about 200 votes. This year's elections saw three slates enter the race, but two remained after collecting the 400 signatures needed to add their names to the official ballot during the petitioning period. The latest election follows the second-lowest voter turnout in 2022, where current USG president Aharon Grama and incumbent Ebbin won uncontested. Many student government candidates campaigned on campus to gain undergraduate support. 
   "To see that there was that much engagement, it means that the past year there was some sort of effort that succeeded with engaging the student body and getting them to know what student government is, student activities, and student life," said Grama. "I'm very happy with that." Grama also noted he is hopeful of the duo's impacts in the near future, especially given their experiences and drive to serve in student government. 
   "Student government will always be a work in progress, and it needs to keep on adapting and keep on going. It's very important to have a drive of people," he said. 
   Ebbin and Ayaz are both sophomores who will be transitioning from current leadership positions within USG. In assuming her position as president, Ebbin will be handing off her current role to Ayaz, who is serving as the organization's club director. Together, the duo is looking to boost student inclusion and engagement, recruit and retain students, and fight for affordable tuition, among other goals. 
   "We are being realistic about what we can get done in our term, but we are hopeful that we can all work together to take strides on these important issues that are affecting us all on campus," they wrote. 
   During this election, 21 senators were voted in, including students who are new to student governance. In forming part of the 2023-2024 Student Senate, elected students will be able to discuss, introduce legislation pertinent to student affairs, and vote on said proposals. Two students, including former presidential candidate Yafai, were also elected as University Student Senate delegates. They will be tasked with representing the BC community in the CUNY-wide student governing body. Ebbin and student Jordan Angus were elected to be USS alternate delegates. Another four students were selected by voters to serve as USG's student disciplinarians. 
   Undergraduate voters also considered a referendum on the ballot, which proposed an increase in the student activity fee for BC students. The referendum proposed raising the current $114.85 fee during the fall and spring semesters to $120. USG also proposed creating an esports department that would receive $5 in SAF during the fall and spring. The student government intends to dissolve the referendum status of certain organizations, leading for their allocated funding to be earmarked under the government's club budget. 
   For USG members, these adjustments would allow their body to have better oversight of the funding. In the preliminary results, 55% of voters were for the referendum, 16% were against, and another 29% abstained. With the majority voting in favor, the referendum will move toward the university's Student Life Committee and possibly the CUNY Board of Trustees, the university's top-deciding body.  
   The Vanguard will continue reporting details of the referendum as updates become available.