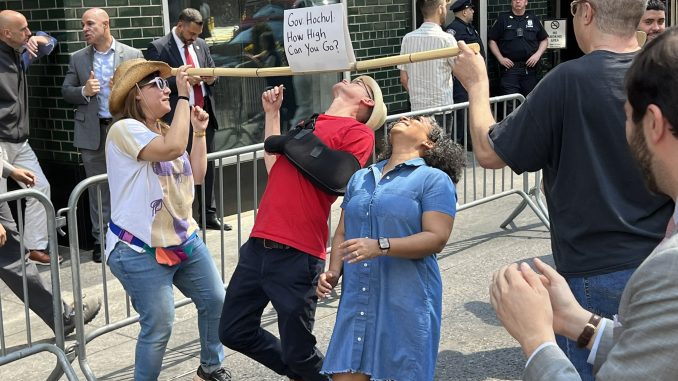 By Gabriela Flores
    Governor Kathy Hochul's executive budget and its funding allocation for CUNY remain in limbo, with state officials missing their Apr. 1 deadline. As the stalemate continues as of press time, CUNY professors, staff, and students continue pressuring officials to pass the New Deal for CUNY, a bill that would make the university tuition-free and fund other campus resources. 
   "If we don't get it passed this year, then we will always keep on trying. It's never going to be, 'Oh we tried, that's it," student Damien Andrade, a New York Public Interest Research Group member at Brooklyn College, told The Vanguard. 
    On Thursday, Mar. 30, two days before the budget's initial deadline, students at BC rallied at Bedford Avenue's main campus gates. NYPIRG and the Young Democratic Socialists of America tabled outside campus to inform BC members of Hochul's pending budget and proposal to increase tuition by 3%, as reported by NY1.  The initial budget allocates $227 billion for SUNY and CUNY, increasing recurring operating funds for CUNY by $94 million, with the projected tuition hikes estimated to bring in $97 million to the state's university system. The proposed tuition hikes come as several CUNY campuses struggle with the enrollment and retention of students. Many state officials are pushing back against the tuition hikes. During the spring break, the Professional Staff Congress, the university's union, hosted a "Spring Broke" rally on Thursday, Apr. 13, outside the governor's office in Manhattan. Politicians including Assembly Member Karines Reyes and Senator Andrew Gounardes joined the CUNY union members, alumni, and students, in their final calls for the New Deal's passing.
   "We are 15 days past our budget deadline and thank God that we're still alive, fighting for a budget that is not going to let CUNY die on the vine," said Senator Goundardes at the rally, who is the lead senate sponsor for the bill. "Fighting for a budget that's going to put students first, fighting for a budget that's going to put the City University at the top of the pedestal where it deserves to be." 
    Among its demands, the New Deal advocates for the expansion of mental health counseling for students, an increase in the ratio of full-time faculty to students, equitable pay rates for adjunct lecturers, hiring full-time faculty from underrepresented groups, and other resources.  For supporters of the legislation, the demands of the New Deal would support CUNY's needs to better its infrastructure and sustain education towards economic mobility for students. NYPIRG members like Ymer Bashir and Damien Andrade, are also working to address public transportation costs through the Fair Fares Act, food insecurity with the Hunger-Free Campus Act, as well as other challenges that students and New Yorkers may face. 
   "New Deal for CUNY, Fair Fares, and the Hunger-Free Campus Act would literally help so many working-class students that desperately depend on trying to get a higher education but can't because they have to determine whether to use their money for paying for college or food or rent," said Andrade. 
    The pending executive budget for New York's 2024 fiscal year would be applicable for this Apr. 1 till Mar. 31, 2024. Hochul's proposals to change bail laws to ensure defendants return to court are taking center stage in Albany's budget talks, with criticism being drawn by Progressive Democrats and criminal justice organizations, according to NY Daily News. As CUNY communities rally and make calls to the governor's office, they aim to invest more funds into the university after years of being underfunded by state officials. 
   "When we fight for New Deal for CUNY, what we are saying is that the university that educates the children of the whole people of the city of New York needs funding. We are saying that because we serve a student population that is majority students of color, they do not deserve any less," said PSC president James Davis during the Spring Broke rally.