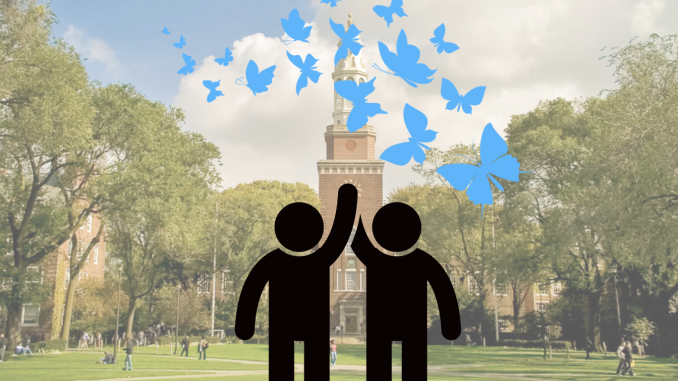 By Gabriela Flores
   Besides hailing from diverse ethnic and racial backgrounds, Brooklyn College students also come from different documentation statuses. For those living undocumented, or not having legal residency in the United States, their pursuit of higher education and opportunities are supported by the UndocuAllies of the Immigrant Student Success Office. Through their long-standing committee, professors and staff members from all scopes of the college work together to better support undocumented students. 
    "It's great being because there's an understanding among the UndocuAlly people that we're all here to serve and how can we understand each other to help them," Elise Goldberg, Academic Program Specialist for BC's Children and Youth Studies, told The Vanguard. 
    Before there was ISSO, a space for immigrant and first-generation students on campus, there were the UndocuAllies. Carolina Bank Muñoz, a professor of sociology at BC, has been a long-time advocate for immigrant students on campus and the immigrant community overall. Together with other faculty and staff including Jesús Pérez, ISSO's director, she became one of the several mentors who aided undocumented students over the years. Since becoming a faculty advisor to a group of undocumented students, Bank Muñoz saw the waves in their advocacy for a resource center and access to the state's Tuition Assistance Program. 
   The demands and voices of undocumented students, however, were catalyzed in 2016 with the election of former President Donald Trump. After a town hall, where students vocalized their fears of xenophobic attacks and deportation, Bank Muñoz, Pérez, and others worked to expand the UndocuAllies initiative. 
   "That was like the next moment where we were like, 'Wow, we really need to do something, to make sure our students feel like they have a safe space on campus,'" Bank Muñoz told The Vanguard. "And to make sure that the faculty and the staff on campus are aware of how to work with immigrant students."
   Over the years, in pushing for the creation of ISSO, the group found that BC's immigrant students "come from everywhere in the world," according to Bank Muñoz. Once the college was able to receive a donation from BC alum Irwin Federman and his wife Concepcion in 2019, BC's ISSO launched and became one of two immigrant resource offices across CUNY's 25 campuses. 
    Shortly after ISSO opened in Roosevelt 117, COVID-19 hit. In transitioning their mentoring and services online, the UndocuAllies looked for their students, some of who would disappear without a trace. 
  "It's scary when that happens because they may have just decided, 'Okay, that's it,'" said Goldberg, noting that those students may have un-enrolled. "And they're doing fine, but you don't know. You don't hear from them."
    Despite the challenges that came with remote learning and a global pandemic that impacted undocumented students significantly, the UndocuAllies are looking to continue their work at ISSO for the long run. In their latest collaborative effort, they managed to secure a full-time program coordinator. 
    "I'm so excited to be teaching in person, and it's been so nice to be meeting students in ISSO," said Bank Muñoz.