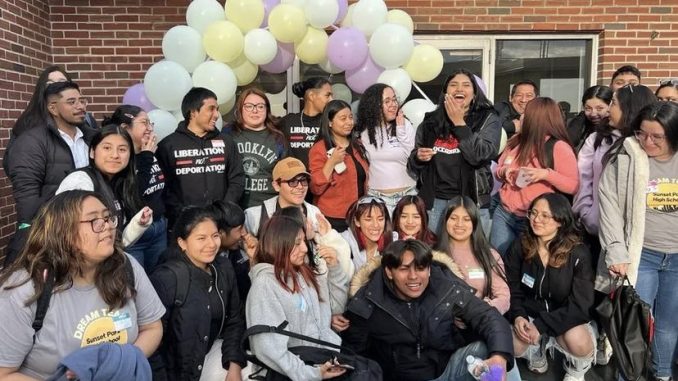 By Gabriela Flores 
    In support of the undocumented students and their allies across New York's high schools and colleges, the Immigrant Student Success Office hosted an Undocu Student Meetup last Tuesday, Apr. 25. Hundreds of students from across the city came to tour Brooklyn College, learn more about advocating for immigrant rights, and find a space to connect with like-minded peers in the Student Center. 
   "Seeing how we evolved, seeing how we've taken up spaces, is admirable and we need to continue pushing for that," said Leslie Ramirez Carbajal, the ISSO program coordinator at BC, during the event's closing section. 
    In collaboration with the New York State Youth Leadership Council, ISSO intended to bring student leaders to campus and inform them of the lived experiences and advocacy that's being done on the ground in Dream Teams, or youth groups that fight for immigrants and their needs. For many of the event organizers involved, seeing the next generations of advocates reminded them of how they started. 
    "I was trying to find my place somewhere in New York, and I got involved through the BMCC [Borough of Manhattan Community College] Dream Team," Maria Vera, a community organizer at NYSYLC, said during the event. Vera noted that the Dream Team she eventually became the president of was her "safe space on campus."
     With the efforts of Vera, as well as her long-time friend and fellow NYSYLC leader Jackie Muller, BC's Immigrant Student Success Office gave students the opportunity to connect and organize for a common goal. At CUNY, only two out of 25 campuses have centers specific to immigrant students: one at John Jay and another at Brooklyn College in Roosevelt 117. For CUNY student leaders outside of these schools, more needs to be done to better support the mental health, academic, legal, and personal needs of immigrant students. 
   "[…] We need immigrant resource centers on all CUNY campuses," said Lorena Modesto, a member of City College's Dream Team, who consistently advocates for a center on her campus. During the pandemic's peak, CUNY and Chancellor Félix V. Matos Rodríguez's emergency relief grants did not adequately support their undocumented students as many struggled with unemployment, deaths of relatives, and other obstacles, Modesto explained at the event. 
    As undocumented students continue advocating for one another, they will continue strengthening their bonds and bettering the ressources available to them at CUNY, high schools, and other institutions. 
   "Just seeing this sense of community, it's honestly just amazing to see that we fostered so much creation, so much change, and we continue to do so," said Sergio Leon Hidalgo, a BC first-year student and member of the budding Dream Team on campus. 
   The event closed with visiting students enjoying meals and playing games before departing from BC's grounds.