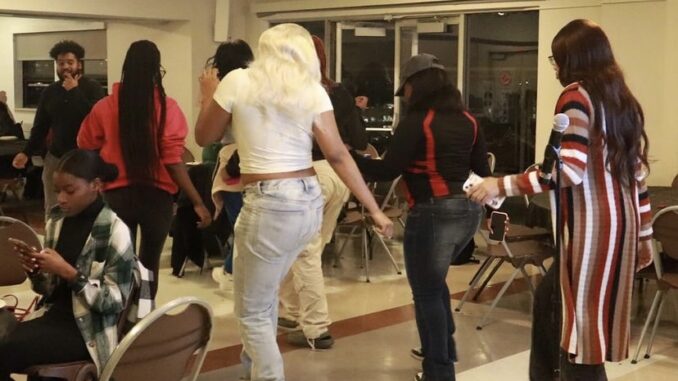 By Reima Choute
   Brooklyn College's Black Student Union (BSU) hosted its annual Black Club Mixer on Tuesday, Oct. 17, collaborating with various other campus organizations, including the Dominican Student Movement, Women of Color, Phi Sigma Chi Multicultural Fraternity, Caribbean Student Union, Haitian American Student Association, and African Student Union. 
   The event, a testament to unity, resonated with attendees through the universal language of music. The soundscape was thoughtfully curated, spanning from soulful slow jams to energetic hip-hop, evoking nostalgia and creating a vibrant atmosphere. The BSU members added an extra layer of entertainment, spreading infectious joy through singing, laughter, and playful jokes, even venturing into the world of TikTok.
   The mixer provided students with a space to be social while offering entertainment to guide them through the evening. "I made some new connections with some amazing people that I have never seen, and I am very social, so it helped me," said BC student Aaliyah Hinckson. 
   BSU is a student organization that is dedicated to addressing the needs and concerns of Black and African American students on campus while providing a safe space for students of color. The club also serves as a platform for promoting cultural awareness, diversity, and inclusivity within the student body and the broader New York City community. BSU organizes events, discussions, and activities related to Black culture, history, and social issues, along with simply bringing students together on campus for a fun time outside of the classroom.
   To foster connections among attendees, the organizers implemented group activities aimed at breaking the ice. One standout activity involved groups competing in guessing song lyrics, testing their music memory skills with popular tracks. These interactive games successfully engaged participants and created memorable moments throughout the mixer.
   "I expect this event to give me a chance to relax and come together as a community and express similar passions," said another BC student named Kayla Havercome.
   Behind the scenes, the BSU members worked tirelessly to ensure the event's success, even though it posed some challenges. Arianna Chapman and Kelsey Ganthier, the BSU president and vice president, respectively, highlighted both the initial stress of organizing the event and the ultimate satisfaction of successful collaboration. 
   "At first, it was a bit stressful, but now that the day is here, it's been easier having help from other students a part of other clubs," said Ganthier.
   Culinary delights added another dimension to the event, with a diverse menu featuring mac and cheese, rice, cornbread, and chicken. The fusion of music, camaraderie, and delicious food resulted in an unforgettable evening.
   Hinckson described the mixer as "extremely fun and a space for everyone to be themselves, get to know others, and create new vibes." These types of sentiments from attendees underscore the significance of such gatherings, where students from diverse backgrounds come together to enjoy a sense of community and shared experiences.