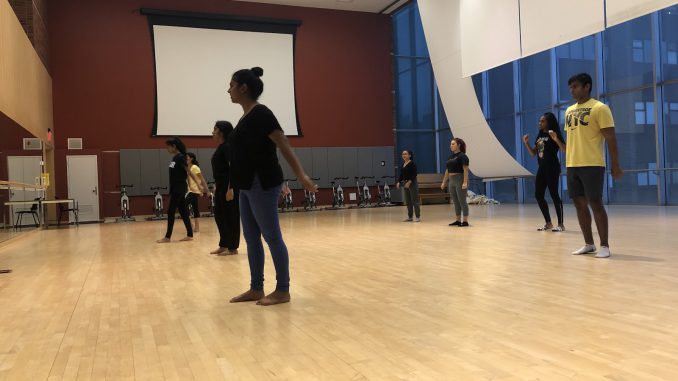 Brooklyn College's very own Brooklyn Bahaadur dance team held auditions Thursday night on Sept. 12th.
The captain of the team is Rebecca Varghese, a junior anthropology major, who led the auditions.
Brooklyn Bahaadur was established last semester by Rebecca Varghese, a junior majoring in Anthropology. Varghese and her friend started the team because most CUNY and SUNY schools have competitive Bollywood dance teams, something which Brooklyn College lacked. Last semester, the team got onto one of Long Island's biggest Bollywood dance competition called Sholay.
   The inspiration behind the Brooklyn Bahaadur team was Varghese's dance history with bharatanatyam.
   "Bharatanatyam is a very old, ancient art form," Varghese explained. "It's similar to yoga, in that the poses and the things that you do are spiritual. But it's also like a cultural art form. There are different components to it."
   "'Natyam' means acting. So within the dance, there are a lot of facial expressions, and your hands have to be expressive, and the way your body has to be held is very structured."
   The team's main dance form is Bollywood cinematic dance, which Varghese described as "kind of like if you take Indian classical style dance and you combine it with hip-hop," but they put their own spin on the dance styles.
   The music that the team danced to was different than if you were to attend a hip-hop dance class, because the music varies between hip-hop, R&B, and Hindi music remixes. Although the music is very upbeat, the teams dance moves were flowy and full of emotion.
   During the auditions, Varghese and her team were very patient when it came to teaching the new students technique, going quite literally step-by-step. They made sure the auditioners were comfortable with the moves, continuingly offering their help and guidance. Their main thing, though, was making sure everyone was having fun. The team is warm-hearted and welcoming. The only thing she expects from auditioners, as the captain, is "to come here with an open mind."
   "It's not about 'I messed up this step' or 'I didn't get that right away,'" Varghese explained. "It's really about your attitude, how much fun you're having with it, because we're all going on to different careers from here, and what we're doing here is having a lot of fun with it. We have to work hard at it but at the end of the day it's really about enjoying it." 
   Bahaadur is the Hindi word for brave and bold, which is what the team wants to bring to the dance circuit. They strive to be a little different and a little edgier, as well as emulate a family dynamic within the squad. Everyone on the team relies on each other, not just for dance, but for outside things like in school, or if they need a friend to talk to.
   It is evident from just one meeting that Brooklyn Bahaadur is a very welcoming group, with a strong captain and team. Anyone and everyone is welcomed with open arms. So if you like dancing, and you want to do it, this is a great area for you to showcase your talents, make a ton of friends, and have fun!
   "Just come with an open mind and bring a positive attitude," Varghese said. "I really value teamwork and kindness as well."